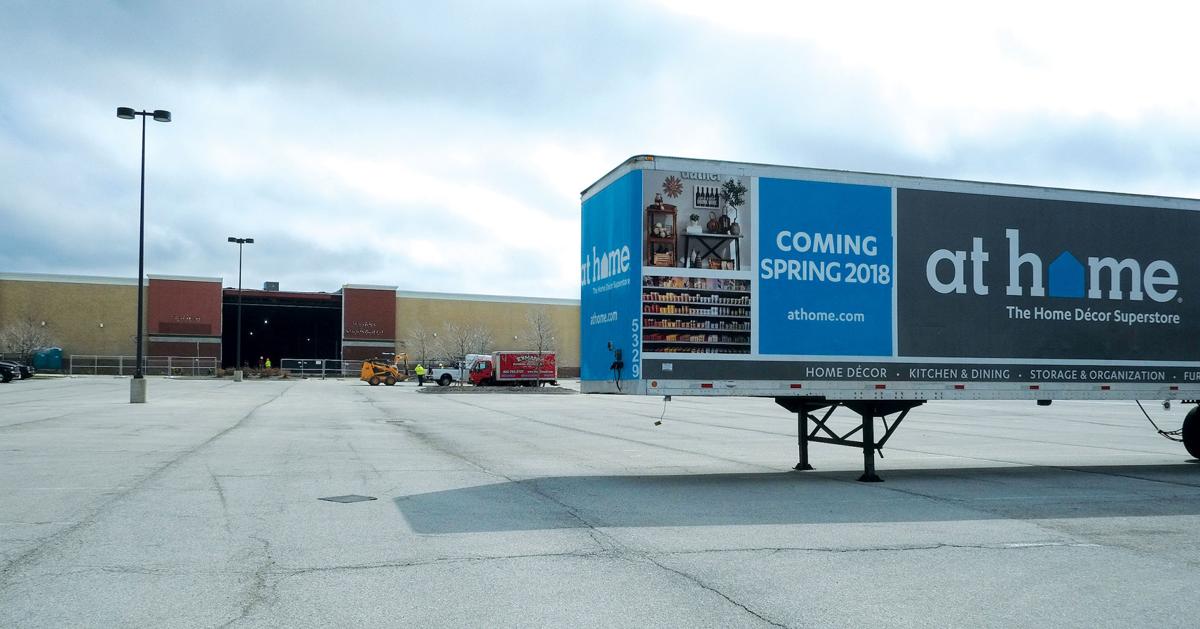 At Home, a "big box" retail chain specializing in home decor products referring to itself as "The Home Decor Superstore," is coming to The Marketplace shopping center on South 24th Street in Council Bluffs.
The new store will be located in the former Shopko space at The Marketplace, which has been largely vacant since Shopko closed its Council Bluffs location in early 2017.
The 80,000-square-foot former Shopko location is being renovated to make way for the new At Home store by Parkway Construction and Architecture of Louisville, Texas.
Jake Bradshaw, Parkway's project manager for the Council Bluffs project, said work began on the remodeling and renovation of the building on March 5. He said At Home's anticipated opening date is June 6. Hours for the new store will be from 9 a.m. to 10 p.m. Monday through Saturday and from 9 a.m. to 9 p.m. on Sunday.
The specialty retailer's stores each carry more than 50,000 unique items across broad product categories including furniture, garden, home textiles, housewares, patio, rugs, seasonal decor, tabletop decor and wall decor.
At Home, now headquartered in Plano, Texas, was founded in 1979 with a single store in Schertz, Texas. Created as Garden Ridge Pottery, the store was later renamed Garden Ridge. In 2014, the company converted all stores to the At Home brand and floorplan.
The company went public in 2016. At Home operates more than 136 stores in 33 states. Attempts to contact the At Home corporate headquarters in Plano, Texas, were unsuccessful.
The Council Bluffs store will be the second At Home store in the Council Bluffs-Omaha area. An At Home outlet is currently located at 12,990 West Center Road in Omaha.
In addition to the Council Bluffs and Omaha stores, At Home has seven other locations within a 300-mile radius.
Iowa stores are currently located in Clive, Waterloo and Fairfield.