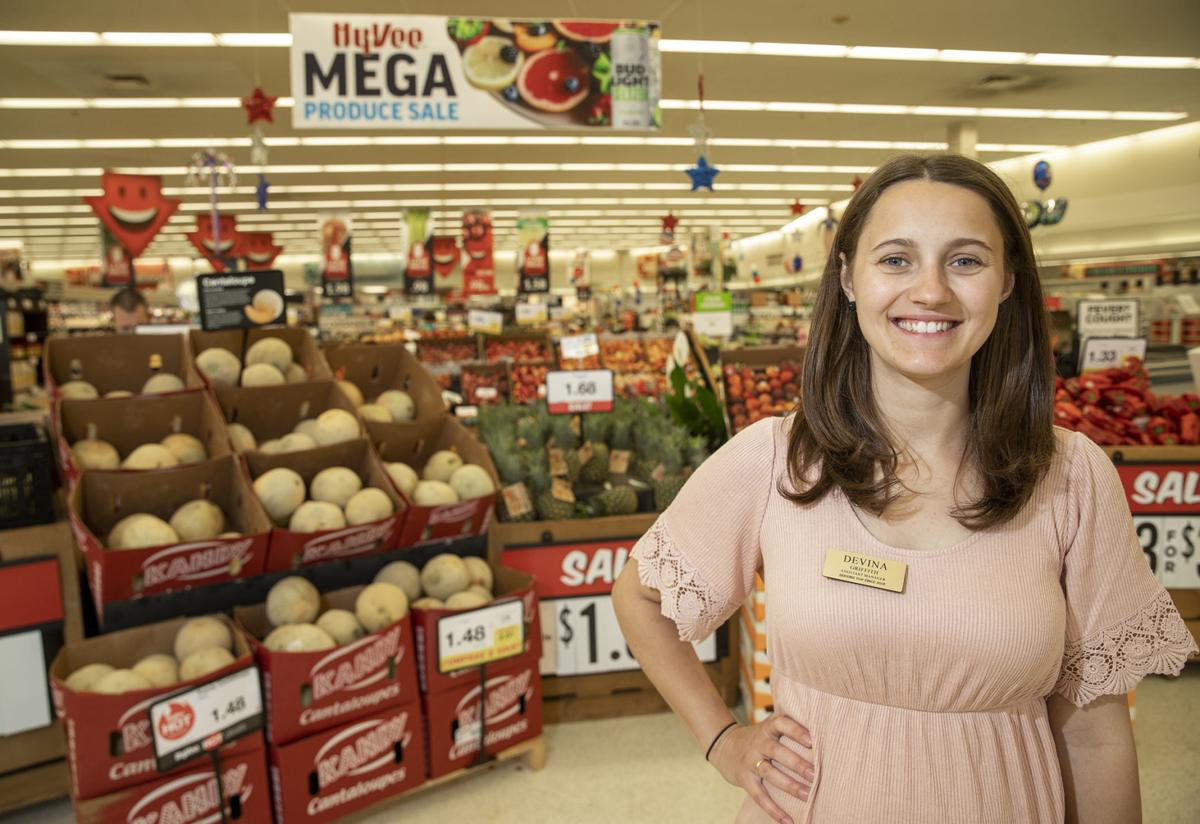 Moving to the Council Bluffs wasn't exactly the plan in Devina Griffith's life.
But that's what happened.
Griffith, born and raised in the Canadian province of Saskatchewan, moved to Missouri in 2015 for Child Evangelism Fellowship training. In that program, she met her husband, who moved to the Council Bluffs-Omaha area to finish school at Grace University that same year.
While waiting a lengthy immigration process, Griffith was approved for a work visa and started to job hunt immediately.
She accepted a barista position at a Starbucks in Bellevue, Nebraska, and was quickly promoted to supervisor. After some time, Griffith found out the Madison Avenue Hy-Vee was hiring a Starbucks manager.
Although she had only a few years experience working at the Bellevue Starbucks, Griffith had a total of seven years of experience working for coffee shops in Canada.
So, she applied. And she got the job.
"I could meet customers who would have never tried Starbucks before except for the fact they are grocery shopping," Griffith said. "Starbucks (kiosks) are some of the leading stores for gathering more customers."
Two and a half years into her managerial position, Griffith accepted another promotion and is now the assistant manager for grocery.
"We had a good, successful two years at Starbucks, with a lot of positive customer feedback, trends for sales were up and it was a good opportunity to develop within the Hy-Vee company," she said.
With a background in coffee and food service, Griffith was excited to pursue the nonperishable side of the aisle.
"It's something I've never done before, so to be able to grow my reputation is exciting to me," she said.
Whenever there is a need in the store, Griffith's department is the first team called to assist.
"We make sure customer wait is not too long and make sure employees are doing the Hy-Vee standard. We also run the backstocks to make sure shelves are full," she said.
In the grocery department, Griffith is often asked to offer a lending hand to other departments in need.
"I've been working in the bakery department, to help and assist them. Right now, Starbucks is in a transition, too," Griffith said. "I get the opportunity to try my hand at different things. I can help the store as a whole."
Griffith's husband recently finished school, but traveling back to Canada has been postponed due to the COVID-19 pandemic. The couple is also expecting another addition to their family in December.
"I have a 10-sibling family and they all live in Canada. It's hard being away from them because they are still growing up and I'm missing out on that. I have young daughter who is 3, and she's missing on that opportunity, too," Griffith said.
While living in the metro, Griffith and her husband are both working full-time, parading a household of pets and renovating a house that was built in the 1900s.
"That has kept us pretty busy," she said.
Although fairly busy, Griffith said she's hoping to volunteer again with the Child Evangelism Foundation.
"We have helped for several years at Hoover Elementary's after school good news club, but they weren't able to do it last year. Hopefully they can this year," Griffith said.
With a large family in Canada, Griffith loves family planning vacations.
"We usually go back several times a year," she said. "If it's not us going there, some will visit us, or we'll have a family vacation. All of my siblings — even grandparents have come — it's a big ordeal if we all do it."
Before moving to the United States, Griffith was heavily involved in the sport curling for 11.5 years.
"I was on a high school curling league and in university," Griffith said. "One of my teams was a runner up for the Canadian Winter Games."
Although they didn't make it to the winter games, Griffith said it was a neat opportunity to be able to participate in such an event.
Swimming and competitive lifeguard training kept Griffith on her feet during high school, too.
"We would do drills on different life saving scenarios. I'm thankful because now I feel competent in a lot of my first-aid abilities and solving issues if there are medical emergencies at Hy-Vee," Griffith said.
Having rooted a new life in Iowa, Griffith said this was something she never planned.
"I always thought it was neat to visit and spend time in the United States, but didn't expect to make roots and live here, that's for sure," she said.
The business news you need
With a weekly newsletter looking back at local history.