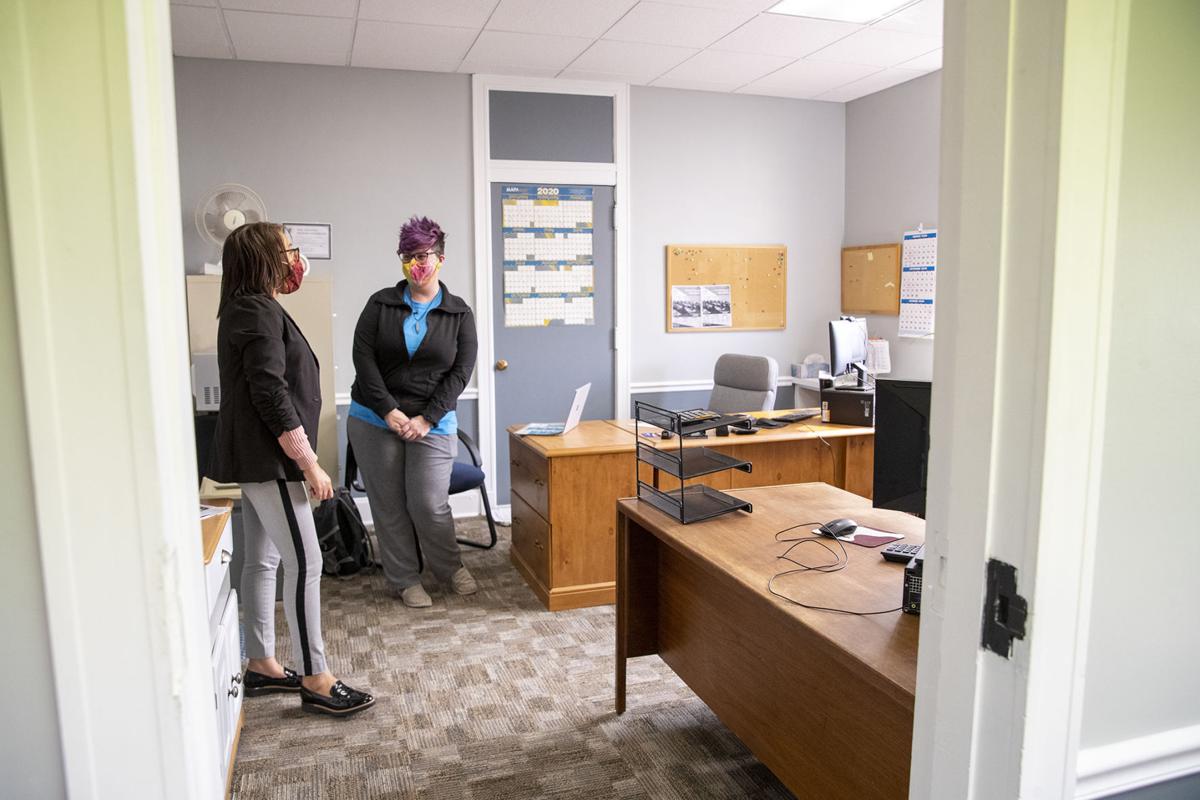 As the federal moratorium on housing foreclosures comes to an end, some lenders and financial counselors do not foresee a tsunami of foreclosures in Iowa, while others are taking a wait-and-see approach while preparing to help those in need.
Some say their worst fears about impact of the coronavirus pandemic on mortgage delinquencies and potential foreclosures have not been realized.
"We've actually been experiencing a decrease in our mortgage delinquency in the last 12 months in comparison to the previous 12 months," said Christina Christensen, account resolution manager for Veridian Credit Union, which has 30 offices in Iowa and eastern Nebraska. "That's a bit of a surprise coming off a pandemic."
Lenders and agencies working to prevent foreclosure attribute that to prompt action by creditors to work with borrowers, including deferring payments and waiving fees, and halting residential foreclosure actions and evictions.
The $55 billion in CARES Act and American Rescue Plan funds to help tenants, landlords and lenders have and will help going forward, they said.
In the Council Bluffs area, as mortgage forbearance agreements come to an end, "a lot of homeowners are looking for mortgage assistance to help pay those back payments," said Donna McFadden, director of the homeownership program with Family Housing Advisory Services, which serves Council Bluffs and Omaha.
"Some of the people who entered into a forbearance agreement didn't understand. They thought it would go away, they didn't realize they'd have to pay that amount. We're working on education and working with various lenders on modifications to repayment agreements so they don't lose their home," McFadden said.
McFadden said Family Housing Advisory Services has seen a 10-15% increase in clients over the past year. In the metro area, including Council Bluffs and Omaha, the agency has assisted 128 households.
Iowa mortgage delinquency numbers are lower than national averages, though. Nationwide, there were nearly 11,000 properties with foreclosure filings in May, according to ATTOM, a nationwide real estate data analytics firm. That was down 8% from the previous month, but 23% higher than a year earlier.
In 2019, foreclosure filings fell to a record low of 493,000 — 0.36% of all housing units in the United States, ATTOM said. That was down 21% from 2018 and a decline of 83 percent from a peak of nearly 2.9 million in 2010 to the lowest level since tracking began in 2005.
However, for a variety of pandemic-related reasons, there are Iowans facing the possibility of foreclosure when the moratorium expires July 31.
For some, that includes the end of the grace period for student loan repayment.
"We've been in meetings and talking as counselors, trying to figure out what it is we can do. We're also looking for funding for homeowners who are in this situation," McFadden said of preparing for what to expect. "We've prepared as much as we can."
For those working on foreclosure prevention, "it's kind of like everyone in the industry has been kind of holding our breath waiting for this influx of applications and it hasn't come so far," added Ashley Jared of the Iowa Finance Authority that administers a Homeowner Foreclosure Prevention Program.
"We have to wait and see to see how bad it's actually going to be, we just don't know," McFadden said. "We are anticipating we'll see a population of (clientele) we've not seen before because of everything that came with the pandemic. people losing their jobs, going down in household income.
"We're expecting the unexpected. We're not sure how it's going to be, but we're prepared to help as many households as we can."
Veridian's Christensen said, "We definitely could start to see that spike in delinquency and foreclosures increase. We just haven't at this point."
According to HUD Comprehensive Housing Affordability Strategy data, cited by Jared, before the pandemic 56% of homeowner households with incomes below 50% median family income were paying more than 30% of income on housing and 31% were paying more than half their income on housing.
The Iowa mortgage bankers association said past due loans in Iowa increased from 3.3% in 2018 to 5.3% in 2020, and seriously delinquent past due 90 days or more increased from 1.6% to 3.4%.
Iowa has received $50 million in federal coronavirus pandemic relief funds to help tenants, landlords and lenders. So far, the state has provided more than $2 million in assistance to homeowners.
Qualifying applicants could receive four months of mortgage assistance up to $3,600.
That's less people seeking help than the Iowa Finance Authority anticipated, most likely due to the mortgage moratorium, and Jared expects the number to rise when it expires.
In addition to deferred payments, some lenders are not reporting suspended payments as past-due to consumer reporting agencies or not charging late fees.
Other options include a continuation of the payment suspension, moving the missed payments to end of the loan or a modification to address longer-term financial changes that may impact their ability to keep up with their monthly payments, spokesman Alfredo Padilla said in a statement from Wells Fargo Home Mortgage.
In other than very specific cases, it has stopped all foreclosure-related activity through the end of the year on occupied properties for mortgage and home equity customer.
Veridian has offered more than 1,000 loan extensions, Christensen said. From early on, she added, Veridian changed how it communicated "to be more proactive, reaching members after a payment is missed so we could really partner with them as soon as possible to find a solution."
"When we realized that this wasn't going to be so much of a temporary situation, that it could be a more of a long-term situation, that's when we really became more intentional about our communication approach," Christensen said.
As the moratorium expires, borrowers who anticipate difficulty staying current on their payments should be touch with lenders so they understand their individual circumstances and can identify the best way to help them going forward, lenders said.
"We want to make sure that what we do today is going to set you on the path, the right path moving forward, so you're going to be able to stay in your home and be able to afford it," Christensen said.