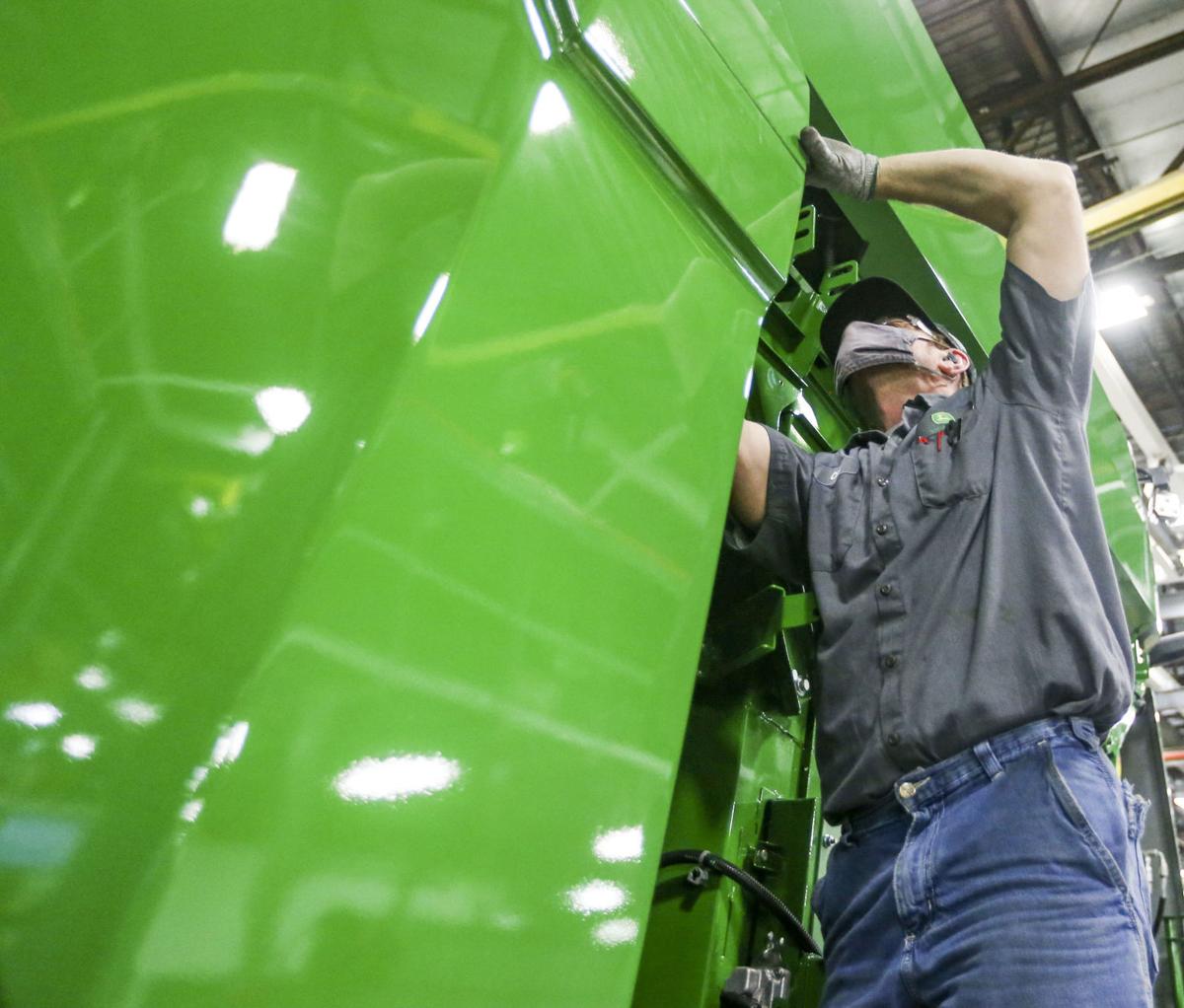 Though they are not on the Deere payroll, countless Quad-Citians rely on the company for their livelihoods.
Economists have long warned of the dangers of communities relying on one or two companies or job sectors for their economy. And the Quad-Cities' economy relies heavily on Deere.
"Your economy is disproportionately dependent on one key industry," said David Swenson, an economist at Iowa State University. "You are disproportionately dependent upon manufacturing and disproportionately dependent upon one company."
With a labor strike looming, the effects of economic dependence are likely to show themselves quickly, Swenson said.
Deere and Co. workers are expected to walk out if no deal is reached Wednesday. 
When thousands of Quad-City workers walk off their jobs, they will take production with them, he said. Beginning immediately, production will drop significantly, which will trigger the "multiplier effect."
An untold number of local businesses supply a range of goods and services to Deere — everything from hoses, valves and fabricated goods to maintenance contracts.
"All of these sectors will have an immediate reduction in demand," Swenson said. "In many cases, Deere is their only or their largest customer.
"Then, if these suppliers' activity is curtailed, then the firms that supply them are hit."
The impacts come in stages, depending upon how long the strike lasts and whether all or most of the union members honor the picket line.
First, workers lose their paychecks. Then Deere vendors lose paychecks. The suppliers to the vendors then sustain losses.
In the long term, the "Main Street Effect" kicks in, which is to say that restaurants and grocery stores — any businesses that supply Quad-City households — are impacted.
More immediately, though, the impacts are likely to demonstrate the Quad-Cities' need to diversify its workforce to create an economy that is less vulnerable to a crisis like a Deere strike.
In December 2019, University of Illinois economist Dr. Kenneth Kriz was keynote speaker at an annual meeting of the Quad Cities Chamber. He warned then that the Quad-Cities' economy is overly dependent upon manufacturing.
"The larger concern with the local economy is the overall structure being very heavily dependent on a couple of industries. Primary metal manufacturing — so your John Deere and your suppliers and things like that — has a disproportionate impact on the local economy," Kriz said at the Chamber meeting.
"That's a sector that's not forecast to grow very strongly over the next 10 years, and so the concern would be there. It's like you're making a bet on a horse that we think isn't going to be as fast-moving into the future."
Kriz said Wednesday that he was speaking specifically to long-term growth in certain sectors, such as manufacturing, but the message was the same: "It points out the danger of concentration in terms of economic reliance."
Swenson said he agrees with Kriz.
Between 2011 and 2019, he said, job growth in the area was just 1.9%, which was less than the average for the state of Iowa.
"That's awful for a metro," he said. "That's just awful."
An economy must have growth and diversification, he said, which would be similar to a healthy investment portfolio that doesn't simply rely on one stock or bond.
"Over-dependence on goods production ... you have a bad mix for growth," he said. "It is essential to diversify."
Paul Rumler, president and CEO of the Quad Cities Chamber, was invited Wednesday to comment on the likely impact the strike by Deere workers will have on many other local businesses and the Quad-City economy at large.
He declined to do so, but supplied the following statement: "John Deere and their workforce are important to our region's economy. We hope that both parties come to a mutually beneficial resolution as quickly as possible."