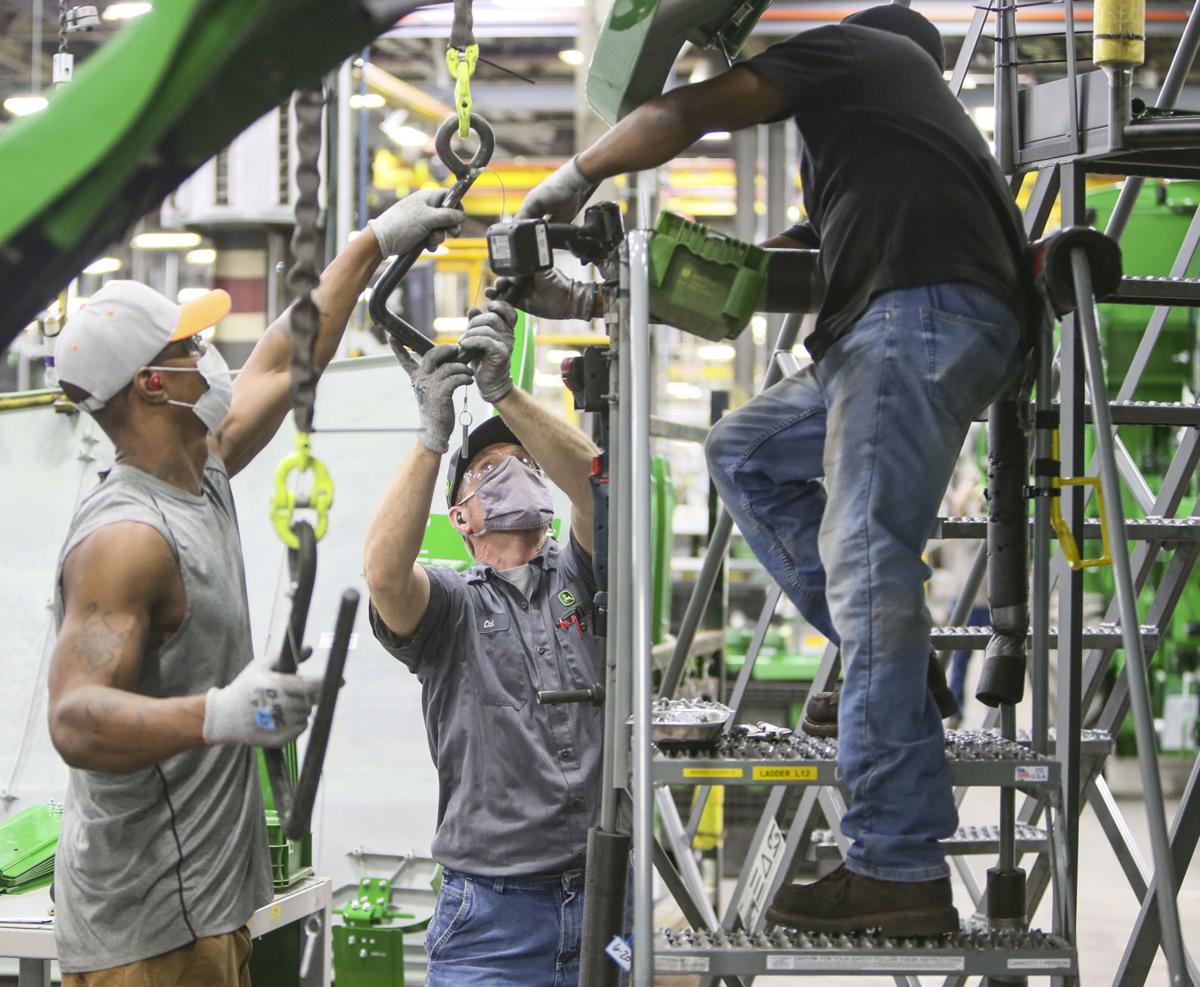 Deere & Co. workers are ready to strike.
With negotiations between United Automobile, Aerospace, and Agricultural Implement Workers of America (UAW) and Deere stalled just before a midnight deadline, workers spent Wednesday making picket signs and bracing for the first major strike by Deere workers since 1986.
The UAW union rejected the company's latest offer on Sunday. 
Workers say the agriculture manufacturer isn't offering adequate wage and benefit increases as the company enjoys record profits. Union members say they experienced mandatory overtime, an increasing workload and lack of support from managers.
Economists say a strike of significant length could spell trouble for the Quad-Cities economy, home to Deere's world headquarters, thousands of employees and dozens of companies that rely on business with Deere. 
One Quad-Cities union worker, who spoke on the condition of anonymity because of the fear of retribution, said he's "given way too many" years to Deere to settle for weak benefits.
"They crapped on us too many times," the worker said. "We've helped this company make all this money, and now it's time that we get our cut."
The strike affects workers in Illinois, Iowa and Kansas. Each Deere plant covered by the contract is organizing its own strike outside of its respective buildings, most of which will begin striking at 6 a.m. Thursday. Once a strike is started at a plant, it will continue for 24 hours a day, seven days a week until an agreement is reached, union leaders have said.
Meanwhile, Deere is reassigning some duties for salaried employees not involved in the strike, according to a salaried employee who spoke on the condition of anonymity because they were not authorized to discuss company matters.
"We were told your old job is second fiddle. Your job will now be showing up at the factory," said the employee.
Despite the change in workload, the employee supported the strike and said, "I feel for the hourly employees."
In its latest offer, Deere bargained for incremental wage increases over six years, equal to about a $1.20 raise in hourly pay at the end of the six-year contract, according to employees. For the 2020 fiscal year, Deere & Co. net income totaled $2.751 billion, according to the company.
Deere is communicating information to the public about benefits within the voted-down contract through the website onejohndeere.com. Most recently, it has posted about retirement benefits and potential wage increases.
Workers say some Deere plant managers, though, have presented misleading information about the contract. 
According to four union employees across two different plants in the Quad-Cities area who all spoke on the condition of anonymity because of the fear of retribution, managers presented information about wage increases but did not make it clear to employees that it would be necessary to work overtime to make the higher income. Union members say it would be nearly impossible to meet the hourly requirements.
"Anybody new that comes in the warehouse wouldn't know any better," one worker said. "(Deere) has been around for a long time; they know how to tweak certain things to make it so people can just barely make out certain parts of their pay plan."
Some managers posted general flyers on community cork boards while others spoke to the hourly workers directly.
Contingency plans
Some union workers have been building savings in case there is a strike for a year and half, following instructions that the UAW sent out to make sure they could sustain themselves financially if a strike was necessary, according to multiple Quad-Cities union workers. Workers with children and single parents will feel more financial strain if the strike drags on over weeks or months.
One Quad-Cities union worker said he accrued enough savings to support his wife and two children "for quite awhile."
"It's not gonna be like fast food, it's a lot of home cooking," the worker said. "Costco is probably going to be our best friend for a while for bulk foods like purchases."
Strike pay will be available for Deere employees. According to the UAW, weekly strike pay is $275 per week, or $55 per day, beginning on the eighth day. A bonus check is paid the week prior to the Thanksgiving and Christmas holidays.
Davenport city officials say they have not spoken with Deere or union representatives about the contract negotiations and pending strike.
"I hope that they come to an amicable agreement soon," Davenport Mayor Mike Matson said Wednesday afternoon. "John Deere is an important member of our community and so are our workers, and that is why I hope they come to an agreement very soon and treat each other with dignity and fairness."
Earlier in the week, Moline Mayor Sangeetha Rayapati expressed similar sentiments, as have the Quad Cities Chamber of Commerce and other community leaders. 
Despite being prepared for the strike, there is still frustration among union members that drastic measures are necessary.
"I'm not happy we have to go on strike to get what's rightfully ours," one worker said.