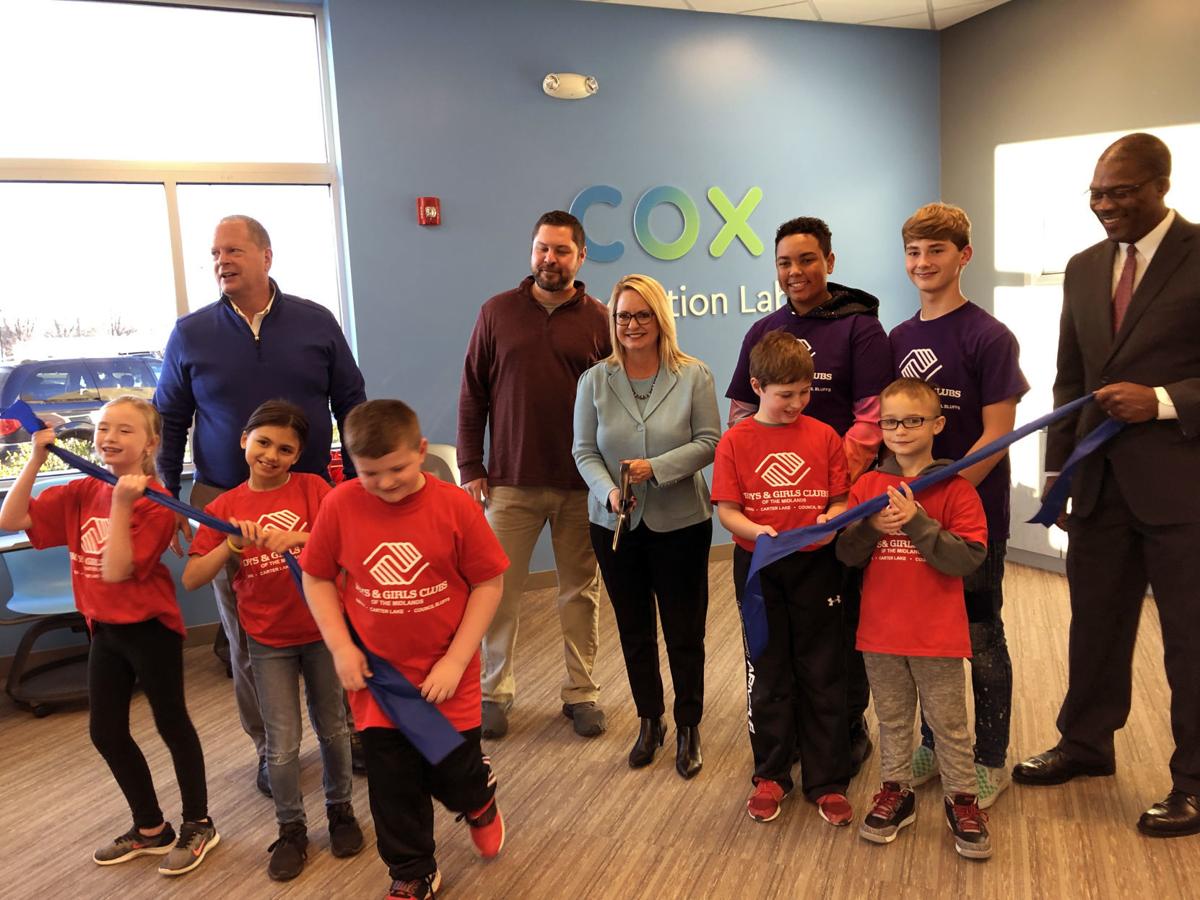 As technology grows and STEM becomes more prominent in schools, Cox Communications and the Boys & Girls Club came together to ensure more children in Council Bluffs have access to the technology they need to achieve.
A Cox Innovation Lab was welcomed with a ribbon cutting held by Cox Communications, the James M. Cox Foundation and Council Bluffs Mayor Matt Walsh at the Boys & Girls Club at 815 N. 16th St. on Monday.
The Lab includes more than $35,000 worth of equipment, including laptops, projectors, screens, furniture and software for gaming and coding.
"Your competitiveness starts when you're very young," said Lynne Reif, market vice president for Cox. "I think it's important to realize by the youngest age youth need to have access to internet and (other) tools."
The lab was put together in six months.
More than 200 children go to Boys & Girls Club each day, and every attendee will have access to the new technology.
Ivan Gilreath, CEO of Boys & Girls Club of the Midlands, said the lab would benefit the children in multiple ways, noting that they wouldn't fall behind more affluent children with these kind of opportunities or skills.
"You'll have things kids wouldn't have access to that they can use here," Gilreath said. "There will be computers and everything you will need when you're trying to do (science, technology, engineering and math) activities."
Cox Communications plans to donate six innovation labs in the area. Gilreath had previously seen four of the labs and thinks it's "great" for bringing more STEM opportunities to children.
"Our goal is to make sure our kids are on the same playing field as all kids in this community so they can achieve, and do well in school," Gilreath said.
Cox Communications and Boys & Girls Clubs representatives stated they had worked together in the past. They both said they are thankful for this opportunity and that the community has been so supportive for the local youths.
"These are fundamental building blocks (created) through this innovation lab," Reif said. "We are dedicated to the Council Bluffs community and to providing youth access to technology and the tools they need for lifelong success."
The business news you need
With a weekly newsletter looking back at local history.