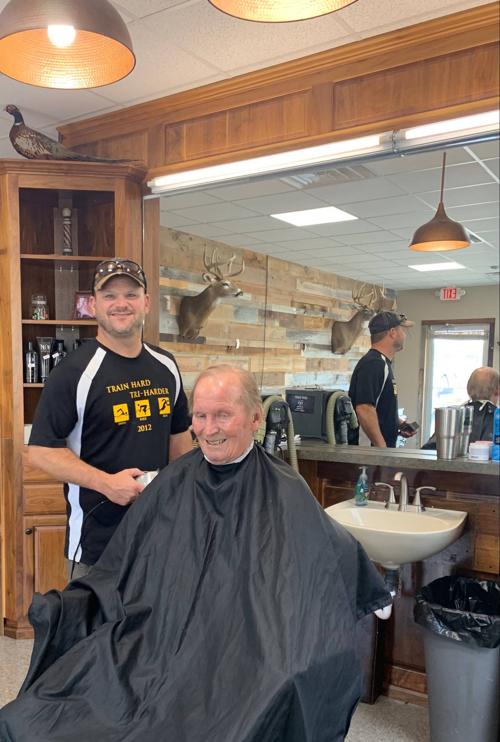 Russ Schmitz, who owned and operated a barber shop in Council Bluffs for more than four decades, passed away at Mercy Hospital Friday morning after a short illness. Schmitz was 76.
A native of Westphalia, Schmitz moved to Council Bluffs in 1964 after graduating from barber school and opened a shop on Bennett Avenue.
Schmitz's son, Jerry Schmitz, said his father operated the Bennett Avenue shop for 19 years before moving the shop to what was then Madison Avenue — since renamed Woodbury Avenue — 35 years ago, two years before the Mall of the Bluffs opened in 1986.
"I got to work with my father for 10 years before he retired in 2006," Jerry Schmitz said.
Although he worked as a barber in Council Bluffs for 42 years, Schmitz and his wife lived in Underwood for a number of years.
"Dad enjoyed a cold beer from time to time," Jerry Schmitz said. "Dad and his partner, Ron Wagner, owned the nearby Driftwood Inn on Harry Langdon Boulevard for 13 years. Between that and the barber shop and living in the Underwood-Neola area, he seemed to know everyone in town and from the surrounding area. When it came to a joke, which he loved, it was pretty hard to get ahead of Dad."
Earlier this year, the shop at 1114 Woodbury Ave. was closed to make way for a Taco Bell that is now being constructed there.
Now Jerry's Barber Shop, Jerry Schmitz reopened his shop at 1040 Woodbury Ave. on Aug. 20. His first customer was his father.
Visitation will be from 4 to 7 p.m. Sunday at the Hoy-Kilnoski Funeral Home. Service will be Monday at 1:30 p.m. at the funeral home with burial in Westphalia.
The business news you need
With a weekly newsletter looking back at local history.