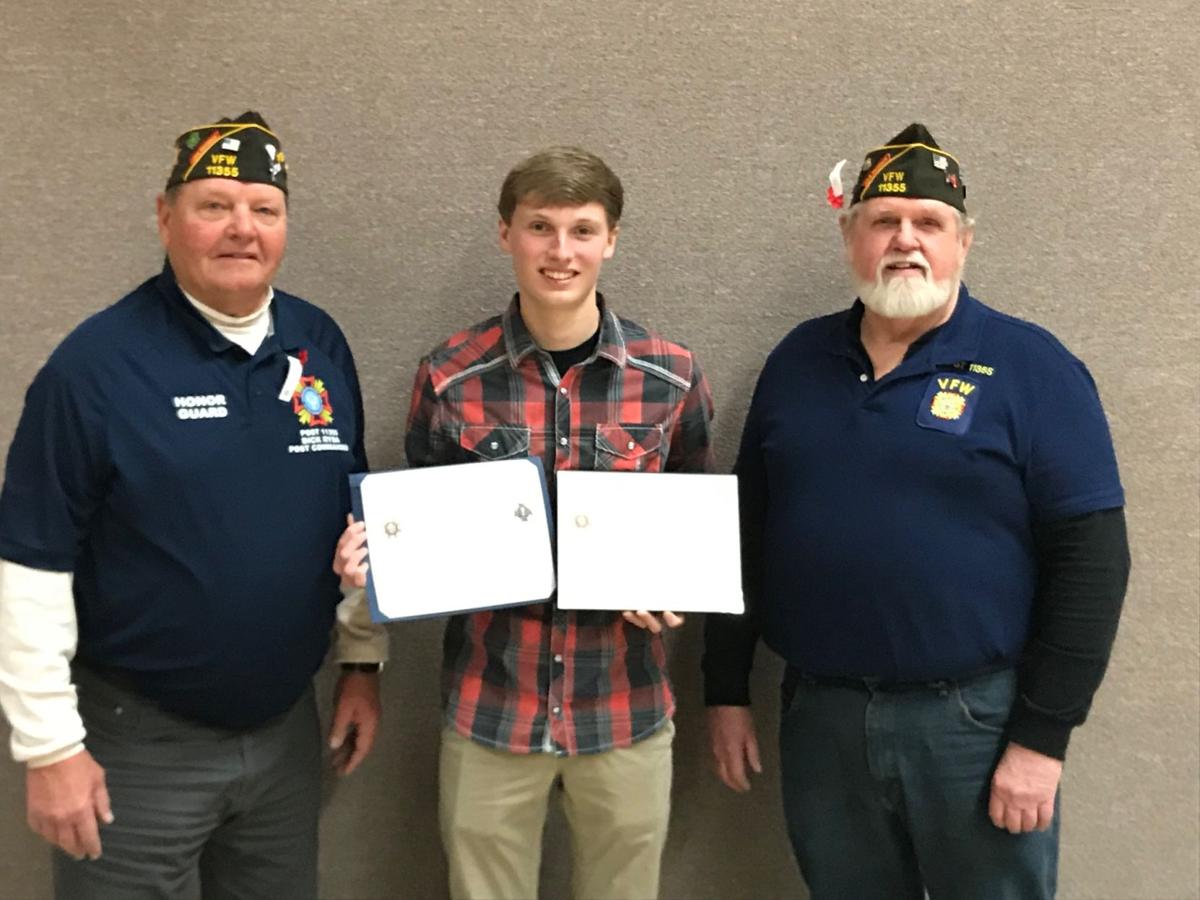 HARLAN — A Council Bluffs teen will have a chance to be a state champion orator.
Caleb Chmelka, 18, won first place in the Veterans of Foreign Wars District 7 Voice of Democracy essay contest.
"It's a great honor," said Chmelka, a Tri-Center High School student, after receiving the award during an event in Harlan on Saturday afternoon. "I'm very happy they chose me; this was a great opportunity to recognize veterans."
Started in 1947, the Voice of Democracy audio essay contest is entered by about 40,000 high school students each year, doling out $2 million in scholarships, according to the VFW. Students write their essay and submit an audio file of them reading it. This contest is open to students in grades nine through 12, while the VFW's Patriot Pen essay contest is for students in grades six through eight.
Chmelka won the Council Bluffs VFW Post 11355 Voice of Democracy contest and will advance to the district level. The district is comprised of 16 counties, including Pottawattamie, Shelby, Harrison and Mills Counties.
Chmelka's essay is titled "American History: A Hope for the Future," recounting the history of warfare and crisis in the country, from the American Revolution to the attacks of Sept. 11, 2001, and beyond, and discussing the need to learn from history and honor veterans.
"Understanding the link between American history and how it continues to impact the future of the United States is needed," he said while delivering the speech during Saturday's event. "Without our veterans, we would not have the freedom, democracy and opportunities to form our own destiny and national identity."
The roughly 50 people at the Harlan event gave Chmelka a standing ovation after he delivered his speech.
Chmelka said he's always been passionate about American history and saw the speech contest as a chance to tie that love together with honoring veterans, all while competing for a scholarship.
Asked what he hopes people take from the speech, Chmelka said "all the sacrifices veterans have made."
"And that the past is linked to the future — to learn from the past," he said.
Chmelka attended the event with his parents, Jeff and Brenda. Brenda Chmelka is an English teacher at Tri-Center.
Caleb Chmelka moves on to the state competition in Des Moines on Saturday.
"I thought his speech was excellent," said Dick Ryba of VFW Post 11355. "We're so proud of him."
Second place in the District 7 Voice of Democracy contest went to Joy Hansen of Harlan, followed by Hanna Sapienza of Tabor. Laura Fairchild of Tabor took first place in the Patriot Pen competition, followed by Natalie Goodman of Tabor and Michael Reed of Shenandoah.