Whether you're wearing green or drinking it, be sure to shamrock and roll into the St. Paddy's festivities this weekend with a few local suggestions to embrace the luckiest day of the year.
Wendy Maloney, right, and Kris Falkenhainer, owners of the new Maloney's Irish Pub in Council Bluffs, pose for a portrait inside their new loc…
St. Patrick's Day at Maloney's
What: Enjoy live music noon to 3 p.m. from Stephen Monroe on the guitar and "Irish metal" from The Mary Ellen Carter from 4 to 7 p.m. Stick around until 5:30 for Omaha Pipes & Drums and 8 to midnight for Fountains of Dane. Remember the night in the morning with a commemorative polaroid picture courtesy of Maloney's.
Where: 162 W. Broadway, Council Bluffs
Cost: $5 gets you in after noon
Malcolm Wilbur of Omaha Pipes and Drums performs at Quarthouse Bar on St. Patrick's Day yesterday. Wilbur said members of the band split into …
St. Patrick's Day celebration at the Quarthouse
What: Devour Irish traditional corned beef and cabbage at 4:30 p.m. while enjoying traditional Irish music by Omaha pipes and drums at 5 p.m. sharp. Partake in the festivities with Guinness bottles for $3.50 all day.
Where: 107 Pearl St., Council Bluffs
Mike Wise pours a beer during Full Fledged Brewing Co.'s grand opening party on Saturday, Oct. 12, 2019. Located at 40 Arena Way, Full Fledged…
St. Paddy's at Full Fledged Brewing Co.
What: Try Full Fledged Brewing's green beer. If you're "lucky enough" to finish one 1/6 barrel keg you win a FFBCo Gift Basket, $25 gift certificate, FFBCo merch and two crowlers filled with your favorite of our beers. Game Time Philly Food Truck will be there at 4 p.m. with some freshly made corned beef and cabbage that is marinated in FFBCo Beer.
Where: 40 Arena Way, Council Bluffs
Celebrate St. Patrick's at The Dock Bar & Grill
What: Do a wee jig to live music by Chris Shelton from 2 to 6 p.m. and music from Happy Endings from 8:30 p.m. to 12:30 a.m. Corned beef and cabbage will be served all day along with green beer and drinks.
Where: 401 Veterans Memorial Highway, Council Bluffs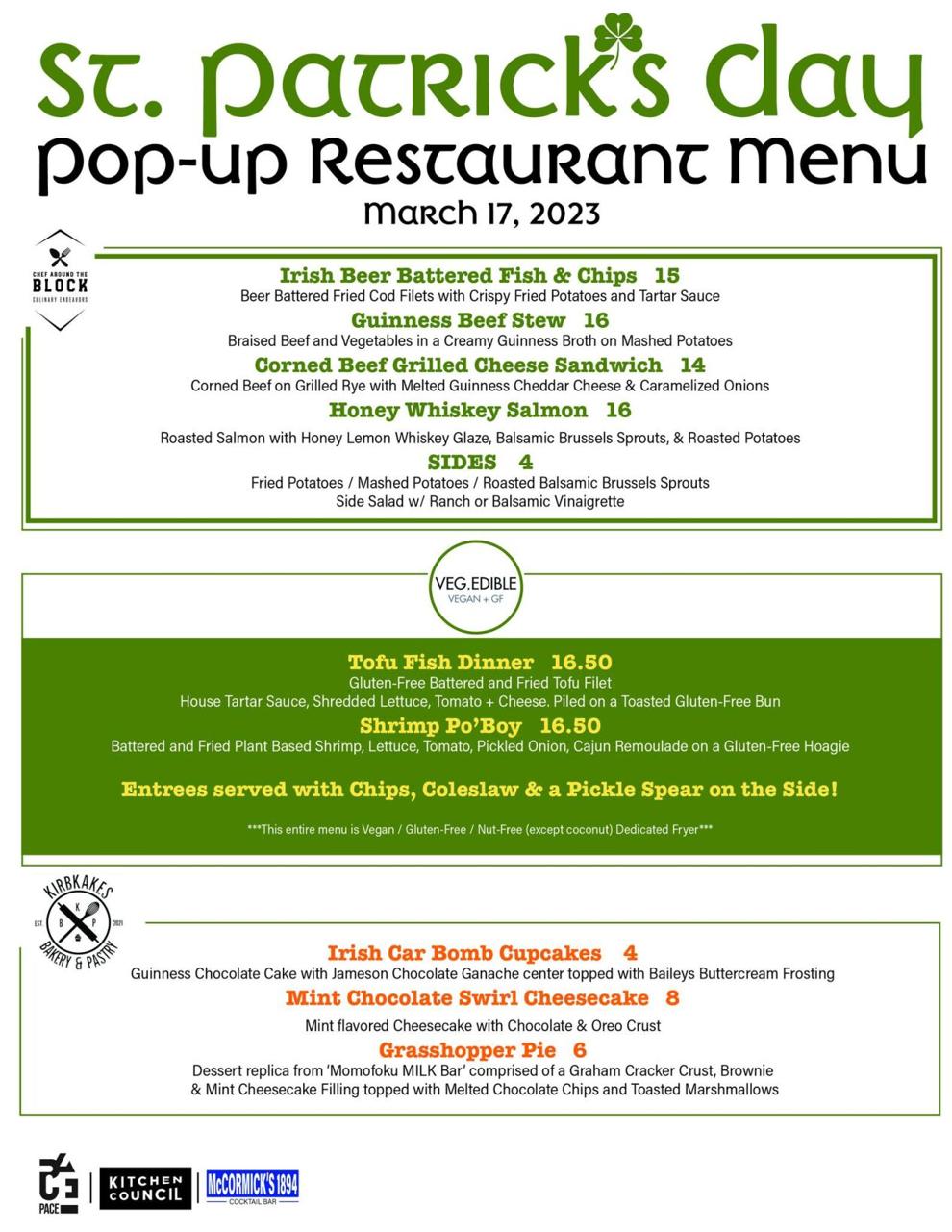 PACE St. Patrick's Day Pop-up Restaurant
What: Visit a special St. Patrick's Day pop up restaurant featuring Chef Around the Block, Veg.Edible and KirbKakes Bakery. The event is family friendly with Irish themed crafts for the wee ones.
Where: Hoff Family Arts & Culture Center, 1001 S. Sixth St., Council Bluffs
Hungry parishioners and other guests line up for dinner during the final fish fry of the 2022 Lenten season at St. Patrick Catholic Church on …
Feast Day of St. Patrick
What: Commemorate the feast of St. Patrick with Stations of the Cross, Mass and a parish-wide potluck.
Where: St. Patrick Catholic Church, 4 Valley View Drive, Council Bluffs
James Petersen, right, watches as Rob Utterback, left, tees off on the 12th hole during a round of disc golf at Iowa Western Community College…
Second annual St. Patrick's Day disc golf tournament
What: Let the festivities continue with a Saturday morning corned beef brunch followed by disc golf. The winning team will receive gift cards and prizes.
When: Saturday, March 18, 10 a.m.
Where: Treasure Cove Disc Golf Course at Iowa Western Community College, Circle Drive, Council Bluffs
Paint a Pint
What: Prove St. Paddy's isn't just about drinking by decorating a pint glass at the PACE center — with a free drink included, of course.
Cost: $10 members and $15 non-members
Where: Hoff Family Arts & Culture Center, 1001 S. Sixth St., Council Bluffs