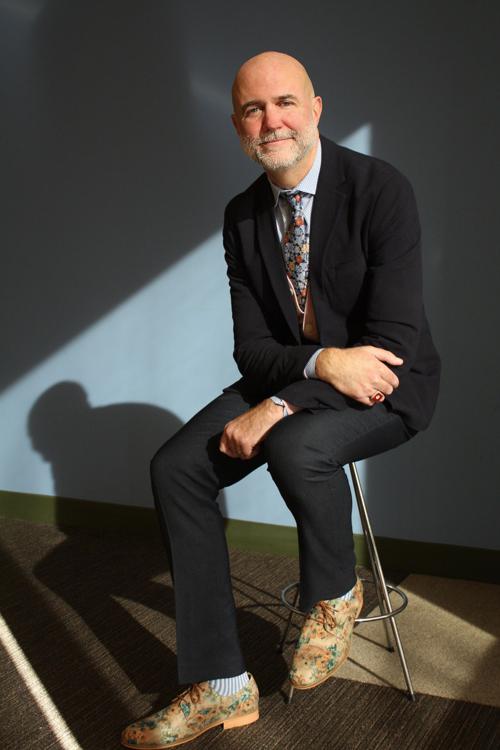 On Aug. 3, Doubleday will release University of Nebraska at Omaha instructor Timothy Schaffert's sixth novel, "The Perfume Thief", and it's already garnering considerable praise.
bout it, Elizabeth McCracken, the award-winning author of "Bowlaway", writes: It's "an exceptional novel told in an extraordinary voice, a book about finding beauty at the most difficult times: in the walls of your room, inside your closets, and in those you love. It's also a hell of a yarn. What more could you want?"
Set during World War II, "The Perfume Thief" — billed as "A Gentleman in Moscow" meets "Moulin Rouge" — follows Clementine, a 72-year-old ex-pat and notorious thief who is drawn out of retirement for one last score. With Nazis swarming Paris, she is recruited to steal the recipe book of a now-famous Parisian perfumer. It is a 368-page historical tale "complete with romance, espionage, champagne towers, and haute couture."
When asked to describe his writing style, Schaffert said that it's the "opposite" of minimalist: "I like lush description drama. I think there's drama and significance in what characters wear, and how they walk, and what they notice."
Despite the international locale of the novel, Nebraska still makes an appearance: "It is set in Paris, but the narrator is from Nebraska," he said.
Schaffert himself is Nebraska-born and earned his undergraduate degree from the University of Nebraska at Lincoln. He has lived in Arizona and New York, but circumstances brought him back to settle in.
"My parents are here, and Nebraska is home, and I've been with my husband for 23 years, and his job is here … Five of my novels have been set in Nebraska. So this wintry desert we live in always finds its way into the fiction. But I do hate winter."
To write "The Perfume Thief", which is set in Paris in 1941 and in Manhattan in 1896, research was "vital," he said.
"Sometimes the characters and plot and settings arise from the research, other times, I go looking for history to provide some foundation to the fiction," he said. "For 'The Perfume Thief', I read lots of books by historians, about Paris before the war, and during the Occupation. I read newspaper and magazine archives. I wanted to know what their daily lives were like during the Occupation, but also their lives before, so I could get a sense of the characters' loss and grief. And since there is some espionage in the novel, I would come up with certain twists and connections, then go seeking the facts that would validate those plot developments."
So where do his characters come from?
"I don't think I have a process of coming up with ideas," he said. "And each of my novels have different origins. My first novel ('The Phantom Limbs of the Rollow Sisters') evolved from two little girls I saw when I was out walking, when I was in college. Their father was walking at a quick pace ahead of them, and they both had to run like the dickens to keep up. He was completely oblivious to the pace and to their exhaustion.
"It was just such a poignant sight, so rich in story, that it haunted me. I wrote a story inspired by those sisters, and then another one, about 10 years alter. I finished a novel that came from those short stories."
Can his readers find him in his books?
"My novels do indeed say something about me, probably a great deal about me, but they're not based on me or my life, he said. "Some of my characters have had the characteristics of people I've known, but most of the time they emerge fully from the imagination."
Many of his novels have female protagonists, a fact, Schaffert explained, is because most of the close relationships that he's had in his life have been with women.
"So perhaps I do find them more sympathetic. Usually I just go where the stories take me, and that's typically in the lives and minds of female protagonists."
An avid reader, Schaffert lists many female writers among his favorites.
"I love the Modernists, especially Faulkner, 'The Sound and the Fury'. And Virginia Woolf. I love 'The Bluest Eye' by Toni Morrison," he said. "I love a little book called 'Who Was Changed and Who Was Dead' by Barbara Comyns. 'The Known World' by Edward P. Jones; 'Pedro Paramo' by Juan Rulfo … I respond to whimsy and tragedy and poetical prose. 'The Kiss of the Spider Woman' by Manuel Piug is one I return to again and again."
"If you want to write good books," he added, "you should read good books. I don't know that I actively set out to imitate my favorite writers, but my favorite writers did speak to my imagination, and you write when your imagination is stirred."
Schaffert is also a self-described "film fanatic" and said that he has "learned a great deal about narrative from movie-watching. Even bad movies might have ingenious design. I love old movies, Billy Wilder, especially. Lately, I've been thrilled by movies by women directors like The Souvenir by Joanna Hogg, and Shirley by Josephine Decker. But it seems these days that every movie I enjoy was either directed or written by a woman."
Interestingly enough, Schaffert's first novel is being made into a feature film.
"(It's) still in the works, and has been cast, but the pandemic has slowed things down," he said. "I've really not been directly involved at all, though I've gotten to know the director, Michael Sladek, and the film's editor, Joseph Krings, is a dear friend. The script, by Sladek, has won some recognition and awards already."
Considering how well he knows the medium of film has he ever thought about writing a screenplay?
"I've never thought about it long enough to actually do it," he said.
So what is Schaffert's writing process?
"I have a very vague outline at the beginning, then it becomes more detailed as I go along, and it certainly changes throughout the process," he said. "I just like to have some sense when I'm starting that there's a sensible end in sight … the beginning is easiest for me, or goes the most smoothly, anyway, though I often go back to the beginning after I've reached the end and write a new beginning.
"When you finish writing a book, you know so much more about it than when you started, so sometimes you need to go back and reconfigure things."
Sometimes, when writing, he said he has music playing, and sometimes he needs quiet.
"I write standing up," he added, "usually at the kitchen counter. A friend I lived with in graduate school (Schaffert received his MFA from the University of Arizona) reminded me recently that we had a big fireplace in our apartment, with a tall mantel piece, and I would write at the mantel. I pace to get things spinning in my head, so once there's something I need to make note of, I can just sidle up to my laptop."
Although it depends on the novel, he said that he does a "fair amount of rewriting" before sending it to his agent.
"She usually has some suggestions for edits, too, and then once an editor takes it on, then there's much more editing."
When he has some free time, Schaffert enjoys creating celebrity sketches that he dresses in glorious clothing that he fashions out of candy wrappers. (He posts them on Facebook and on Twitter.)
"I've drawn movie stars since I was a kid," he explained. "I've always been a fan of old movies. And I've always loved the caricaturists and illustrators like Al Hirschfeld, who captured their personalities with such simplicity of line. Over the years, my drawings melded with candy in various ways. But with the pandemic, I started doing a drawing a day, though I've had some interruptions. There's been much drama of late."
Schaffert's day job is teaching. He's a Susan J. Rosowski associate professor and the director of the UNL's Director of Creative Writing program. So what does literature mean to him?
"The times we're in demonstrate the necessity for complex thought," he said. "Complicated times (and the times are always complicated) require a sophisticated engagement with ideas. Otherwise people fall for feeble plots and conspiracies and ineptly articulated lies. When we don't read, we become gullible pawns for charismatic leadership. Literature arouses our empathy, clarifies by muddying our sense of things.
"Literature doesn't just provoke suspicion; it invites careful consideration of humanity and psychology. Not only do you know more after you've read an intelligent book, you think more too."
Schaffert is also the author of "The Singing and Dancing Daughters of God", "Devils in the Sweet Shop", "The Coffins of Little Hope", "The Swan Gondola", and many short stories. He is director/founder of the (downtown) Omaha lit fest, and was director of the Nebraska Summer Writers Conference.
He is the recipient of many awards, including Oprah.com's Book of the Week ("The Swan Gondola"), The New York Times Book Review Editors' Choice ("Devils in the Sugar Shop"), the Henfield/Transatlantic Review Award, the Mary Roberts Rinehart Award, and the Nebraska Library Association Mari Sandoz Award among others.
"The Perfume Thief" is available for pre-order through Barnes & Nobel, Target, Walmart, Amazon, IndieBound, Powell's, Bookshop.org, Books A Million, and Hudson Booksellers.