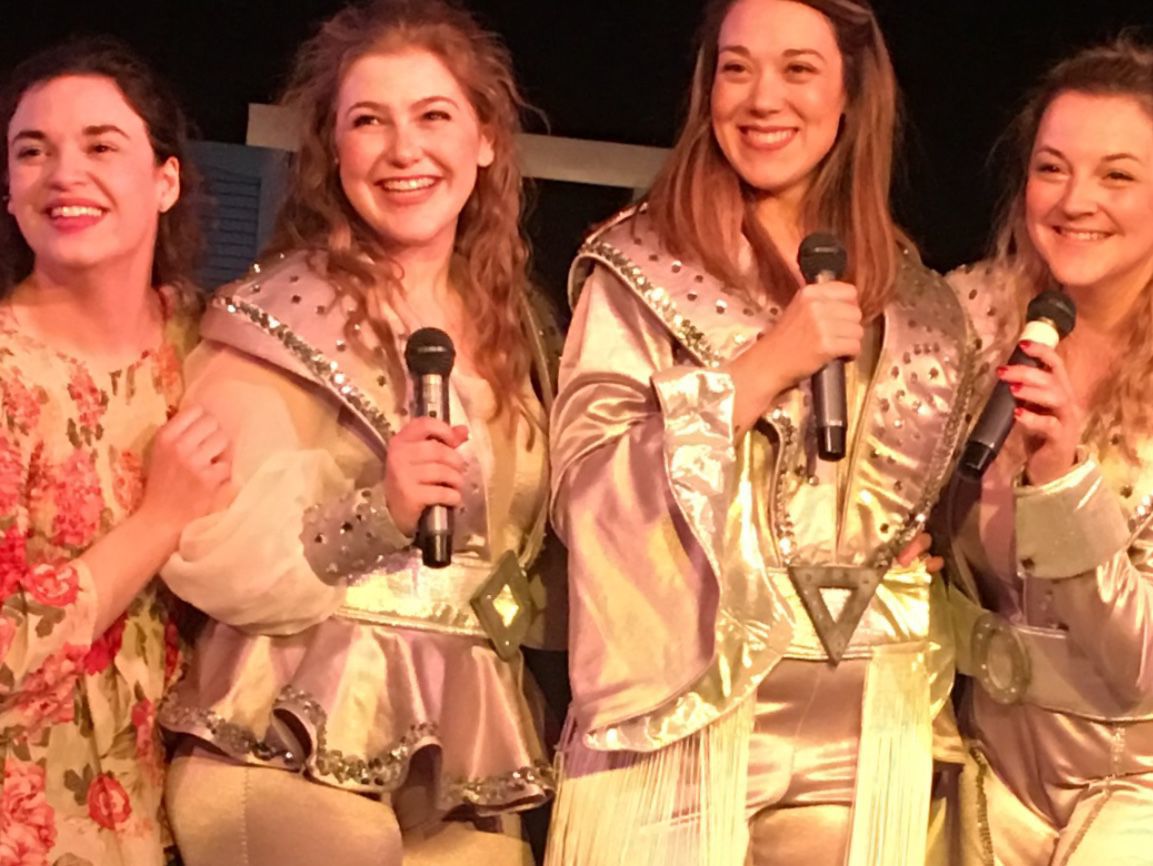 I love 'Mamma Mia.' I have seen it three times and the movie version once. It is so charming and the music is fantastic. I never thought that a small theater inside Crossroads Mall in Omaha would ever attempt this big musical in their small space.
But PART Theatre did, and they did an impressive job.
"Mamma Mia" is a musical based on the music of the Swedish group ABBA. Songs and Lyrics by Benny Anderson and Bjorn Ulvaeus with some songs by Stig Anderson.
Artistic Director Gordon Cantiello has assembled a fantastic and energetic cast. The production team includes Jennifer Novak Haar as musical director, who also plays keyboards and conducts the seven-piece band at the rear of the intimate theater. Laurel Mack and Lillian Kraft play keyboards, Colin Duckworth and Ben Eisenberger are on guitars, Mark Haar is on bass, and Brandon Armstrong is on drums. They sound fantastic.
The musical takes place on a Greek Island where 20-year-old Sophie is about to get married. She is played by Evelyn Hill. She is so cute and charming. Her single mom, Donna, is a former performer who has raised Sophie by herself. Donna is played by Mackenzie Dehmer. She runs a small hotel and has worked very hard raising her lovely daughter.
What Donna doesn't know is that Sophie has found Donna's old diary and has narrowed down three possibilities of who her father might be. And she has invited all three to her wedding. Her fiancé Sky is played by Danny Denenberg.
The three fathers are Bill Austin, played by Marcus Benzel; Harry Bright, played by Jon Hickerson; and Sam Carmichael, played by Chris Berger. All three actors are perfect in their roles.
They have no idea why they have been invited to Donna's daughter's wedding. They have no idea one might be Sophie's father.
Donna's best two friends come to the wedding. they are Rosie, played by Analisa Peyton, and Tanya, played by Charlotte Hedican. They used to sing with Donna in a group called "Donna and the Dynamos."
Sophie invites her two girlfriends to the wedding. They are Lisa, played by Hanna Post and Ali, played by Brittne Thompson. They are bubbly and cute and they give support to Sophie.
There are great dance numbers thanks to choreographer Amber Wilson. The set design by Tom Bertino is simple and colorful. The light design by Ernie Gubbles is great. In addition to the main characters, the ensemble cast is very talented: James Mankle, Raymond Butler, Katie Otten, Matthew Kischer, Carol Cal, Maureen Kitchen, Brooke Fencl, Jamie Tran, and the stage manager Krista Freimuth.
The songs are incredible, the music makes you hum them long after you leave the theater. There are 22 songs in the show, which lasts two hours and 20 minutes, with a 15-minute intermission. The great ABBA songs include: "Dancing Queen," "Honey Honey," "S.O.S," "Mamma Mia," "I Have A Dream" "Super Trooper," "Take a Chance on Me" and more.
Curtain times are 7 p.m. tonight, Friday, Saturday, and Feb. 14; and 2 p.m. Saturday, Sunday, and Feb. 15 and 16. Prices are: $35 for adults; $30 for seniors; and $25 for students.
To reserve your seats call 402-706-0778. You will have a smile on your face for days after seeing this fantastic musical.