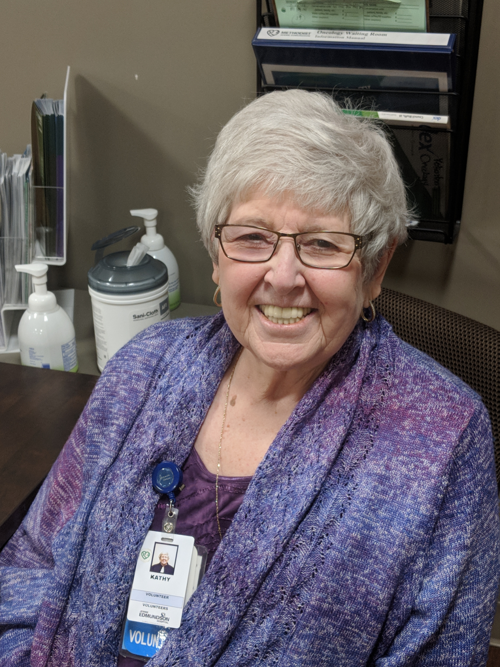 Kathy Halverson-Rigatuso views her volunteer work as a way to give back to the Lord as thanks for each day she is given.
Halverson-Rigatuso spends her Mondays volunteering in the Volunteer Services Office at Methodist Jennie Edmundson Hospital, answering the phone and helping staff with office projects.
Halverson-Rigatuso previously volunteered in the Jennie Edmundson oncology department. A cancer survivor herself, she offers a unique perspective to those she meets.
As Halverson-Rigatuso said, "A cancer diagnosis is different for everyone, some want to talk and some just need someone to be there."
Due to COVID-19 restrictions, oncology volunteers are not coming in at this time. She hopes to continue to volunteer in oncology when volunteers are allowed back.
Halverson-Rigatuso, who's an Episcopal Priest, also serves as an "on-call" chaplain to those in need at the hospital.
"I was called to this training in 2007, and was eventually ordained as a transitional deacon in January of 2011, and as a priest/vicar in the following July. I have also served churches in Red Oak, Shenandoah and Council Bluffs," she said. "It is interesting as to how the skills as a priest and as a volunteer in the hospital overlap so well. I find it all to be such a blessing in my retirement!"
Halverson-Rigatuso currently serves as vice president of public relations for the Hospital Auxiliary, where she oversees newsletters, retired employee and volunteers group and National Hospital Week.
To learn more about volunteer opportunities at Methodist Jennie Edmundson Hospital, call or email Courtney Kay, Volunteer Coordinator at 712-396-6341, or courtney.kay@nmhs.org.
— Methodist Jennie Edmundson Hospital