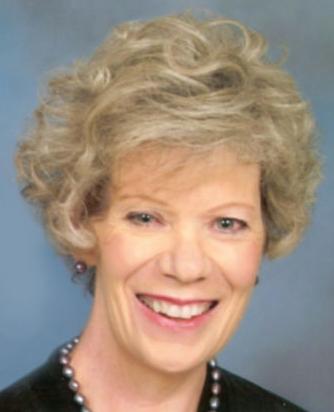 Jan Lookabill was recognized as a Spirit of Courage recipient in 2007.
The early warning signs were subtle — some hearing loss in the right ear and difficulty swallowing — but not all the time. When she returned from a two-week vacation in December of 2005, Jan recalled the right side of her face tingling.
As a nurse at Jennie Edmundson, she knew it was time to call her doctor. An MRI and CAT scan were performed immediately. Her doctor called her at home that same evening and said "things did not look good."
The diagnosis was chondrosarcoma, cancer of the cartilage in her skull. Surgery to remove the tumor took nine hours and the surgeon was able to remove 95% of it without damaging Jan's jugular vein.
Following a two-week stay in the hospital and resting at home for a month, Jan began a series of 38 radiation treatments. A month after completing radiation, Jan went back to work on a part-time basis.
She recalled how thankful she was to have the support of her family, friends and people she didn't even know – "I have to believe that helped me. It helps to have some kind of higher power to grasp on to. Don't give up hope. Nobody would have ever guessed I would come this far in my recovery, not even the doctors."
Sadly, Jan lost her battle to cancer in May of 2009. We asked Jan's husband, Bob, to share with us what it meant to Jan to be a Spirit of Courage recipient and what they would tell others about Jan's courageous battle.
Bob recalled that Jan's sense of humor and her commitment to others played a big part in how she dealt with her treatment.
"She was at her best when she was able to focus on others."
Jan was the person who called patients getting ready for surgery. When she returned to work following her own surgery, making those calls was different for her because she was more empathetic — which she felt made her better at her job. Jan was reluctant at first to be a Spirit of Courage recipient — because she did not want the focus to be on her. In the end, she was glad she accepted because it gave her an opportunity to let people know the importance of Spirit of Courage and that the recipients, collectively, have powerful stories to share.
The Spirit of Courage Virtual Gala will be held at 7 p.m. on Aug. 13. One hundred percent of the money raised that evening goes to the Spirit of Courage Cancer Center Charitable Patient Care Fund that provides assistance to uninsured and under-insured patients who need help covering expenses for medication, treatments, deductibles and everyday living expenses.
Visit the Jennie Edmundson Hospital Foundation website at jehfoundation.org/events/spirit-of-courage/ or call the foundation office at 712-396-6040 to learn more. Please join us as we help our families in their fight against cancer.
Be the first to know
Get local news delivered to your inbox!