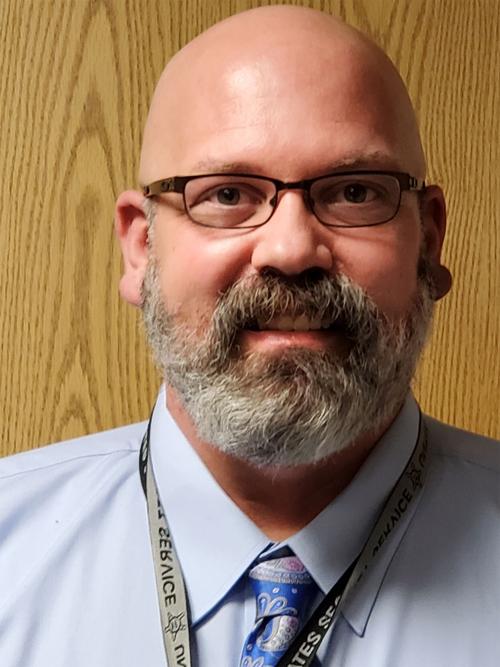 Courtney Schmid has been employed by Methodist Jennie Edmundson Hospital for 11 years and serves as the director of the Emergency Department, Cathlab, Cardiovascular Diagnostics Clinic, Cardiac Rehab and Emergency Rehab. He also sits on the Nursing Advisory and EMS Advisory Boards for Iowa Western Community College and serves as the chairman for Southwest Iowa Preparedness Partners, a 12-county health care coalition created by the state of Iowa.
Schmid has been married to his wife, Sherrie, for 12 years. Together they have eight children and two grandchildren.
When asked what brings him the most professional joy, Schmid said, "Taking care of my staff. My staff is here for our patients and I am here for my staff."
The last 12 months have been particularly difficult for those who have devoted their careers — and their lives — to the health care industry.
Schmid said, "When I came in on March 9, everything had changed. The visitor policy had changed. The end-of-life policy had changed. The way we clean a room had changed. How we interact with patients had changed. Literally, every single thing we do had changed."
Schmid is the lead for the Methodist Jennie Edmundson Preparedness Committee and is continuously readying the hospital and its staff for the quickly changing parameters of COVID-19. Schmid said patient care is different today because of the pandemic.
"Patients are sicker — because they often put off coming to the hospital. We also have to strategically think about everything that needs to be done with a patient before we go into their rooms — because PPE is a precious resource and we can't go in and out of rooms like we used to," he said.
In spite of everything that has transpired over the last year, Schmid is proud of his team — and all of Jennie's staff — for living out his motto: "You control your kindness. In a world where you can be anything – be kind."
February is American Heart Month, a nationwide effort to raise awareness about heart health and urge Americans to reduce their risk factors for developing cardiovascular disease. Dance to the Beat is an annual fundraiser sponsored by the Jennie Edmundson Foundation that provides assistance to Methodist Jennie Edmundson's uninsured and underinsured cardiovascular patients who need help covering expenses for medication, treatments, transportation, deductibles cardiac rehab and everyday living expenses.
Since the event began in 2017, more than $80,000 has been raised. Methodist Jennie Edmundson is the recipient of gold awards from Mission Lifeline for STEMI and NSTEMI procedures. Please join the Jennie Edmundson Foundation at 7 p.m. on Thursday, Feb. 25, for its virtual event. 100% of this year's auction and Fund-A-Need proceeds will go toward patient care.
To find out more about this year's event and how you can join us in the fight against cardiovascular disease, please visit the Foundation's website at jehfoundation.org or call 712-396-6040.
— Jennie Edmundson Foundation