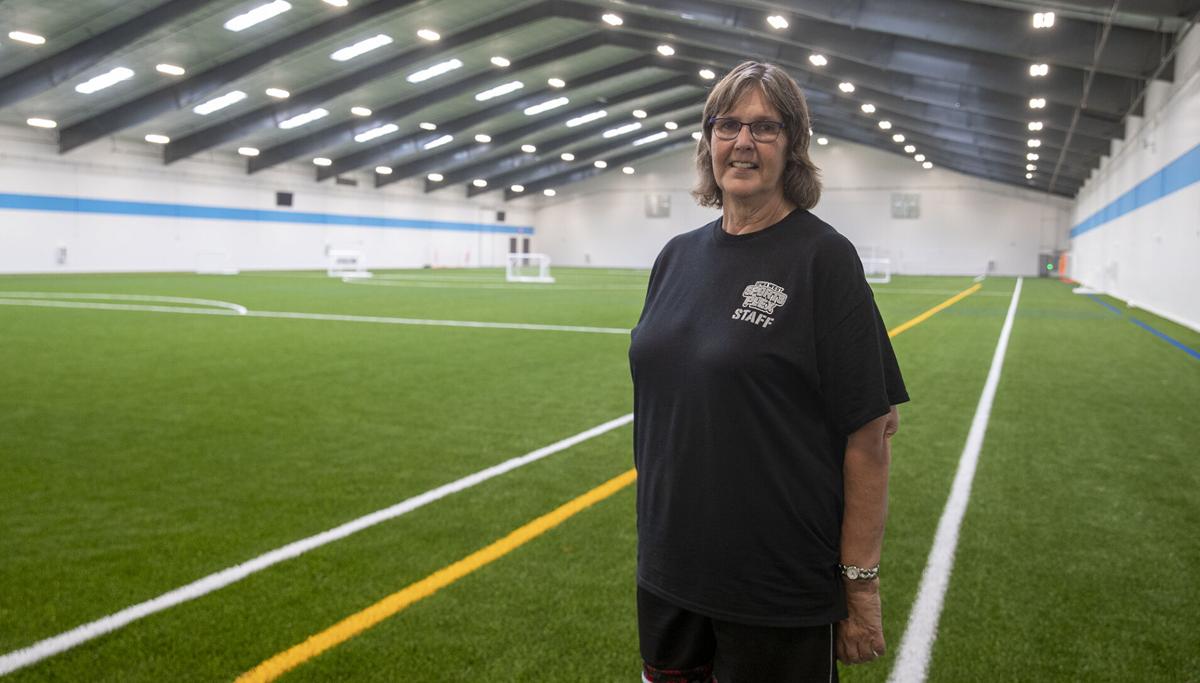 Joyce Bartels has worked in youth sports for decades, and she's excited to be a part of the new Iowa West Sports Plex.
Bartels is a native of Tobias, Nebraska, living there until graduating from Meridian High School when she was 18. She then attended Kearney State College, which is now the University of Nebraska at Kearney, where she studied physical education. After that, she studied colloquy and education at Concordia University in Seward, Nebraska.
After that, she taught for six years at Trinity Lutheran School in Grand Island, Nebraska, and then moved to Denison to teach at Zion Lutheran School. During her time in Kearney, Bartels picked up umpiring slow pitch softball, which she did "for a very long time." Later, during her time in Grand Island, she became the executive director of the state chapter of the American Softball Association, where she took in registrations and scheduled umpires, among other things.
While in Denison, Bartels realized that teaching just "wasn't my gig," and moved to Council Bluffs in 1983. She studied computer programming at Iowa Western Community College and then went to work for the Lozier Corporation for a year before moving to First National Bank in Omaha, where she utilized both of her fields of study to train fellow programmers in the information technology department for 15 years.
She then moved to First National's information security department, and she just retired in January. During all this time while living in Council Bluffs, Bartels got involved with the then-named Council Bluffs Youth Soccer Assocation, where she operated as a league representative. She served on the association board for about 15 years, and also worked in several other positions along the way. Around 2006, she helped get things organized for the new Council Bluffs Football Club, which later merged with the CBYSA to become the Council Bluffs Soccer Club about four years ago.
Fast forward to today, and Bartels is the league director for the CBSC and a supervisor at the new Iowa West Sports Plex. Located off of 23rd Avenue and adjacent to the Iowa West Field House, the 75,000 square foot facility features an artificial turf the size of a regulation youth soccer field with the ability to be separated into multiple smaller fields. The fields can be used for youth baseball, softball, flag football, lacrosse and other sports in addition to soccer as well as for adult leagues in multiple sports.
The upstairs features additional seating, and a comfortable viewing area for parents and families. Bartels said it's exciting to have a state-of-the-art facility to serve the metro area's youth and adult athletes alike. Although it is officially open for use, she said youth leagues and teams can't use it yet as the COVID-19 pandemic is still lingering. "It's so awesome, but I just wish we could use it for the kids right now but they can't play indoors yet because of the virus," she said. "But when the time comes, they're going to have a great facility to utilize."
Bartels said she's been in youth sports for so long for one simple reason, "the kids." And speaking of kids, she said when she isn't working she loves spending time with her sons Ethan and Caleb and her two grandchildren.
Be the first to know
Get local news delivered to your inbox!