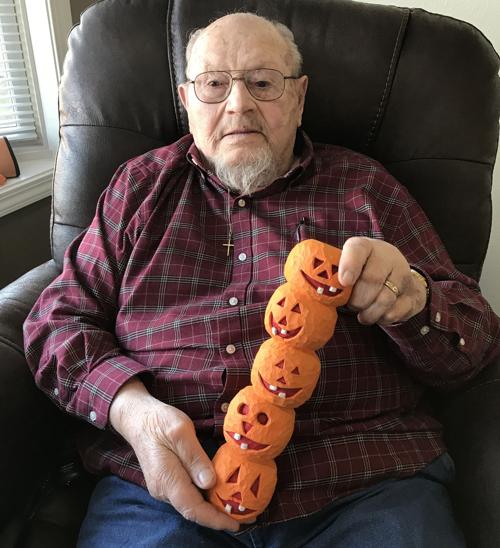 Rolland Thomas is carving for a cause.
Thomas, 87, is a native of Mondamin. He graduated from Mondamin High School, which is now West Harrison High School, in 1951. He worked just across the river for a bit before enlisting in the U.S. Army, and he later served in the Korean War.
When he got back, Thomas began a career in farming. His father let him get his start by working his land and using his machinery. He farmed with his brother, Norvin, and they eventually started taking care of 1,600 acres. They even raised cattle and hogs. Thomas farmed until 1994, when he stopped working the land to battle cancer.
He also worked selling corn seed for Dekalb, and he retired in 2013. During his time as a farmer, Thomas took up wood carving as a hobby. He and some friends found a yearly carving convention in Branson, Missouri, in the 1970s, which he attended for 10 years straight. He studied caricature carving for a few years before turning to the true to life style. He amassed a wealth of tools over the years. He said his favorite carving tools are handmade knives he acquired from various professional carvers over the years.
"It was very good steel, very hard," he said. "Most of those were better than anything you could buy."
Thomas is now using his artistic skills to raise money for a local charity. He said things have been tough for many months since the COVID-19 pandemic began, and he wanted to do a little something for the community. He's been living at The Heritage at Fox Run for a little over a year, and he said he's been needing something to do as visitors and activities have been limited to keep residents safe.
So he decided to pick up a few carving projects that had been sitting dormant. One of them was a pumpkin totem, which had been sitting around for three years. He put the finishing touches down and painted it, and he wanted it to find a nice home.
Thomas and Heritage staff members put their heads together and decided to auction the piece off on the assisted living facility's Facebook page. Those interested in the piece can put a bid in the thread on The Heritage at Fox Run's Facebook page or by emailing mgeorge@heritage-communities.com. The winner will be announced at noon on Nov. 25. Thomas hasn't decided where the money will go yet, but he said a local charity will benefit from the funds raised.
Thomas said it's been nice rekindling his love of woodworking during his time at The Heritage. He said he's enjoyed his time there and that the staff is always very sweet to him.
"They probably treat me better than they should," he said with a laugh. "I don't give them any trouble."
Thomas said he hopes the pandemic passes soon so he can go out to dinner at a nice restaurant with friends and family.
"Until then we just have to get by," he said.
Be the first to know
Get local news delivered to your inbox!