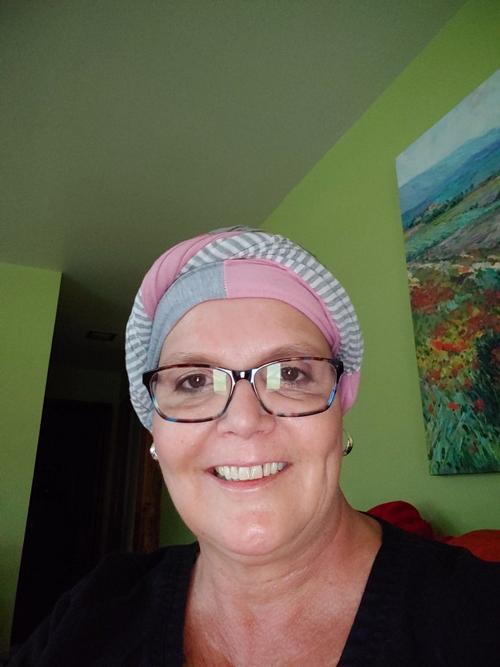 Jake Powers has worked at Methodist Physicians Clinic, Risen Son for six years as the medical receptionist.
Prior to that she worked for Methodist Jennie Edmundson for six years as the volunteer coordinator.
Powers has been married to her husband, Tim, for 36 years. They have two daughters, Beth and Julia, and three grandchildren, Jackson, Richie and Ella.
In her free time she enjoys being with friends and family, and spoiling her two boxers Elmer and Fudd.
Jake Powers has enjoyed watching Pink Out grow over the years. The Pink Out and breast cancer awareness is a cause close to Powers' heart.
Powers said, "My mother was a breast cancer survivor and I was diagnosed in April of this year. I just finished my last chemo treatment on Sept. 11. Although my journey is not yet over, I have learned that I have needed the support of my family and friends. I'm so grateful for their compassion and understanding."
Powers continued, "I want to thank everyone for their prayers and best wishes over the past few months. It is not easy to accept help it is not any easier to see a friend, loved one or co-worker struggle. My team at Jennie has been great. The Breast Health Center leads the way coordinating all the players. Heartland Oncology made my treatments at a convenient time so I could continue to work."
The foundation assisted Power with his deductibles and co-pays.
"They have all put me first and listened to my concerns," she said.
"They took time to answer all my questions and I am so thankful. I look forward when one day soon I can say I'm a survivor just like my mom!"
Pink Out T-shirts are on sale now. One-hundred percent of the proceeds from the sale of our 2020 shirts will help fund mammogram services for women who are uninsured and/or under-insured.
Your support of Pink Out fundraising events during October help make it possible for the MJEH Breast Health Center to continue its important work within the communities we serve.
For more information or to purchase your t-shirt or sweatshirt, please call 712-396-6040 or visit jehfoundation.org to download the form.
— Methodist Jennie Edmundson Hospital