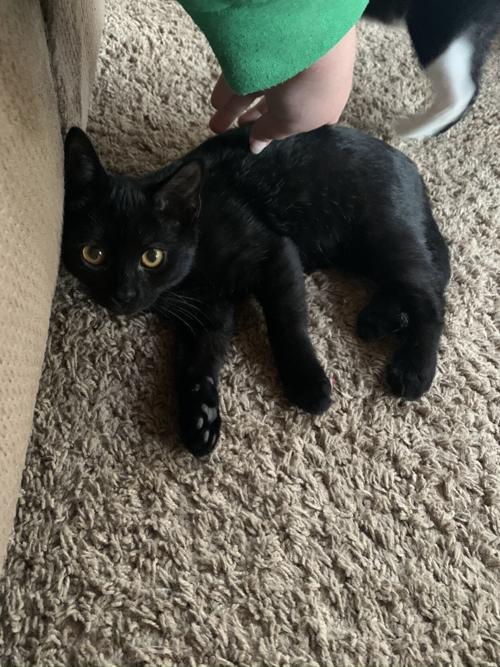 The Face of the Day is one that is very close to my heart.
Binx is fairly new to FOTD and to be honest, the interview process made him a little nervous.
He came to our home in August from the Nebraska Humane Society with his sister Salem. At the time they were both 4-months old.
When he arrived he refused to leave his space from beneath the couch. When he would you couldn't make eye contact with him because he would immediately run back under the couch, or under the bed if the bedroom door was open.
If you sat still enough on the couch for a while he would even come up to you. But if you moved too much — you wouldn't want to take deep breaths — he would run off again into the next hiding spot.
After a few days of extra treats and new toys — that were emptying out my bank account — he started to come out more. Also with the help of his sister who isn't scared of anything.
Now after three months, he doesn't hide (unless someone new and loud comes over) and is always following me around. Not to say I'm his favorite, but I definitely am.
Binx spends a majority of his days basking in the sun on the cat hammock or taking a nap in the nook of the cat tree while my boyfriend and I are at work.
When I get home he immediately starts to follow me around. Not quite sure if it's just because he is excited that I'm home, or because he wants food.
Speaking of food, you may want to watch out never leave your food unattended. He will find a way to get to it and he does eat fast.
Since him and his sister are so clingy during dinner, since they want all the food they can have, we have started giving them wet food while we eat.
Now the issue is, whenever I go into the kitchen — could be 2 a.m. or 2 p.m. — Binx will be following me and yelling at me to feed him with his little meow.
"You're starving me mom," is what I'm 99% sure he's saying even though he has a food bowl filled all day.
I blame my friends for that since they fed him Chinese food to help him get comfortable around them.
When I'm sitting on the couch watching a movie (scary movies are our favorite) Binx will hop on up and watch. He doesn't sleep, he just looks at the TV as he tries to understand what is happening on the box against the wall.
Binx is also a big fan of sleeping, right in the middle of the bed, causing two grown adults to almost fall off on the sides.
His favorite activity to do right now is to see how high he can jump up on the wall to catch the "evil red dot," but to no avail it comes back every time.
This guy and his sister have brought so much joy to my life, and I'm excited to keep making memories with them through the coming years.
Be the first to know
Get local news delivered to your inbox!