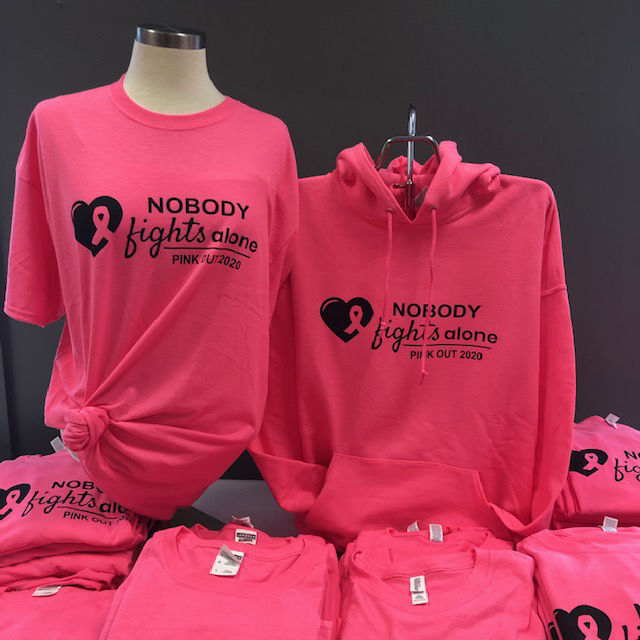 Pink is the perfect color for fall — and for Council Bluffs residents to unite with communities across Southwest Iowa in support of the annual Pink Out fundraising campaign for the Jennie Edmundson Foundation and its continuous work to provide mammograms in the fight against breast cancer.
"Council Bluffs is the home of Methodist Jennie Edmundson Hospital, its Cancer Center and its Breast Health Center, and its residents are acutely aware of the efforts the foundation takes on every year to ensure that uninsured and underinsured women have access to the often life-saving mammograms they need," said Tara Slevin, vice president and chief philanthropy officer, Methodist Jennie Edmundson Hospital.
The foundation wants the people who purchase and wear Pink Out T-shirts to know "we could not help so many women and families without their generosity," Slevin said. "Buying and wearing the MJE Pink Out shirts is especially important with our annual in-person events cancelled due to the coronavirus pandemic."
People are encouraged to buy Pink Out T-shirts and participate in this year's campaign, themed "Nobody Fights Alone," by wearing the shirts every Friday in October. Shirts can be ordered by downloading a form on the foundation website, jehfoundation.org, or by calling the foundation at 712-396-6040.
Every year, the Cancer Center and its Breast Health Center find new ways to stop the fight before it starts. The Cancer High-Risk Assessment Program is one of those ways. Piloted in 2018 and implemented in 2019, the Breast Health Center program has been screening the family health history of women undergoing routine mammograms at Jennie Edmundson and women seen in the Breast Health Center to identify those who are at higher risk for breast cancer.
In families with hereditary cancer, the cancer risk is passed down through generations by inheriting altered genes, or genes with mutations. These mutations increase the risk of developing a cancer.
"Determining families that have these inherited gene mutations is important, as the cancer risks in hereditary cancer families are much higher than the general population," said the Cancer Center's Director of Oncology Services, Michelle Kaufman, MS, R.T.
Once their family histories and other responses are collected, the information is checked by a software program that analyzes the risk factors. Women who are determined to be at a higher risk are recommended for genetic testing.
In the program's first year, a total of 4,715 mammogram and Breast Health Center patients were screened and 38 percent were determined to be high risk. Follow-up genetic testing discovered that of 327 patients tested, 32 women — 10% — had genetic mutations, putting them at particular high risk for cancer.
The results led to care management recommendations that included annual breast MRI's, clinical breast exams, annual mammograms and self-breast awareness; risk-reducing therapies and/or increased colon screenings.
The 32 whose results were positive for genetic mutations were also referred to a genetic counselor, available through Methodist Health System.
"This program is just one element of an increasingly proactive approach we are taking to cancer," Kaufman said.
The Breast Health Center, which marked its 20th anniversary in 2019, is southwest Iowa's first comprehensive care facility of its kind and is accredited by the National Accreditation Program for Breast Centers (NAPBC).
Slevin says the extraordinary tools, dedicated medical professionals and revolutionary new therapies the Breast Health Center employs underscore a commitment to give all patients a better chance at preventing and surviving.
"Just as our Pink Out theme says, nobody fights alone," Slevin said. "Community support of the Jennie Edmundson Foundation is vital in ensuring patients at the Cancer Center and Breast Health Center receive the best care available anywhere, especially those who are uninsured or underinsured.
"Buying and wearing Pink Out T-shirts is a critical element in our fight," she says, "and especially important this year as the coronavirus severely restricts our ability to raise donations. Losing funds can mean losing lives."
Build your health & fitness knowledge
Sign up here to get the latest health & fitness updates in your inbox every week!