The number of COVID-19 cases flattened out in Nebraska and the U.S. last week, raising the question of whether the delta variant that has caused cases to surge across the country has finally reached its peak.
A University of Nebraska Medical Center expert warned, however, that the virus will likely continue to be unpredictable in the weeks ahead. And hospital capacity issues continue to be reported in the state.
Nebraska reported 5,313 new cases of COVID-19 for the week ending Friday, roughly the same as the 5,329 cases the state reported the week before, according to a World-Herald analysis of federal Centers for Disease Control and Prevention data. That ended a span of 11 straight weeks of rising cases in the state.
Nationally, cases were down 12% last week from the week before, and last week's cases were down 1% from the week before that. That led some experts nationally to conclude that the fourth wave of the pandemic in the U.S. has peaked and a downturn is underway.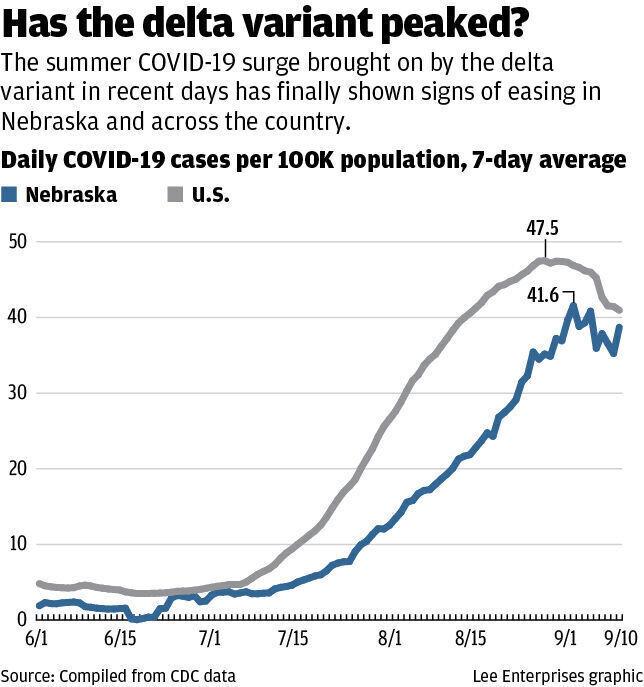 Indeed, cases were down in more than two-thirds of the states last week, according to The World-Herald's analysis, with no state seeing cases grow more than 20%. That's a far cry from recent weeks, when it wasn't uncommon for numerous states to see cases rise more than 50% in a single week.
Iowa was among the handful of states where cases are still rising, with its 8% case growth the nation's 11th highest.
Dr. James Lawler, a co-executive director of the University of Nebraska Medical Center's Global Center for Health Security, said he doesn't think the nation or Nebraska are past their peaks yet.
The nation is a collection of hundreds of small epidemics, he said, and it's a mistake to believe they go up and down together. Some places, such as Florida, have peaked and are coming down. But others, such as Idaho, still are going up.
The United Kingdom declared a premature victory over its delta wave, which began in May. But now, cases there have gone back up. And schools are just starting in some parts of the United States.
States also are collections of smaller epidemics, with what happens in Omaha being very different from what occurs in the Panhandle. The state's vaccination rates aren't significantly different from those in Florida, Alabama and other states that have seen big peaks.
"To expect it (the delta variant) to behave differently in our community would be ungrounded and unwise," Lawler said.
In addition, he said, Nebraska's testing availability isn't as good as it was earlier in the pandemic, particularly in some rural areas, which could be artificially decreasing case counts.
"I would be really surprised if we did not continue to see growing outbreaks across the state," he said.
Cases in Douglas and Lancaster counties were down significantly last week. Douglas County's 816 cases for the week ending Friday were down 26% from the 1,104 the week before. Lancaster County's cases were down 37% last week, and the Sarpy/Cass Health Department reported nearly 62% fewer cases last week than the week before.
Those dropoffs in Douglas, Lancaster and Sarpy, the state's three most populous counties, suggest the state's more rural counties might be picking up the slack in cases and evening out the state's overall tally. However, county-level data has not been readily available for the state since Nebraska Gov. Pete Ricketts ended the state's pandemic state of emergency June 30.
At least one metric also suggests COVID-related hospitalizations may be peaking. Nebraska hospitalizations due to COVID-19 overall were up 6% last week, with an average 364 patients hospitalized with the virus. But new admissions were down by 9%. Nationally, new admissions were down 7%.
Nebraska hospitals continue to struggle with capacity challenges, with the elevated number of COVID-19 patients coming on top of staffing shortages and higher numbers of non-COVID patients than during last fall's peak.
Two weeks ago, Ricketts reinstated a statewide transfer center to connect hospital staff with available beds.
Lawler said he still is hearing of health care providers who are having a hard time finding beds for patients — both non-COVID and COVID-positive ones — who need a higher level of care.
One health care provider in south-central Nebraska said she contacted the transfer center Thursday, seeking a bed for a patient who had been intubated but was otherwise stable. She was told the transfer center could not accommodate unstable patients for transfer. She and two other staff members made 17 calls before finding an ICU bed for the patient in Iowa.
Khalilah LeGrande, a spokeswoman for the Nebraska Department of Health and Human Services, said in an email that the transfer center is working the way in which it was designed and that the requirements have been clearly outlined to the providers.
A spokesman for Bryan Health in Lincoln said the health system is routinely at capacity. At midnight Sunday, the hospital had 51 intensive care patients for its 50 ICU beds.
Cory Shaw, Nebraska Medicine's chief operating officer, said the health system's capacity situation hasn't changed over the past six weeks. The Nebraska Medical Center keeps a few beds open for emergencies, but to do that it has accepted limited transfers from other facilities.
A report Monday from the Douglas County Health Department indicated that 82% of medical and surgical beds and 86% of ICU beds in the metro area were occupied. But Shaw said that data is diluted because it includes all hospitals, including ones that normally wouldn't treat adult COVID patients. Nebraska Medicine is at 95% or more of capacity most days.
Meanwhile, the pace of vaccinations continues to slow in the state. The state administered about 23,000 shots last week, down from the 30,000-plus it was averaging two weeks earlier. Nearly 66% of the state's adult population has been vaccinated, ranking 25th among states. But the vaccination rate for 12- to 17-year-olds is still well below 50%.
According to the CDC, Nebraska has tallied 253,080 cases of COVID-19 during the pandemic and 2,356 deaths.
Interactive: 9 charts that show how Lincoln and Nebraska are coping with COVID-19
Lancaster county COVID-19 deaths
Lancaster county COVID-19 cases
Lincoln hospital bed occupancy
Nebraska ICU capacity, by county
Nebraska hospital capacity, by county
Nebraska COVID-19 vaccine distribution
COVID-19 vaccination rates: How Nebraska compares
Nebraska COVID-19 hospitalizations and ICU usage
Nebraska COVID-19 testing