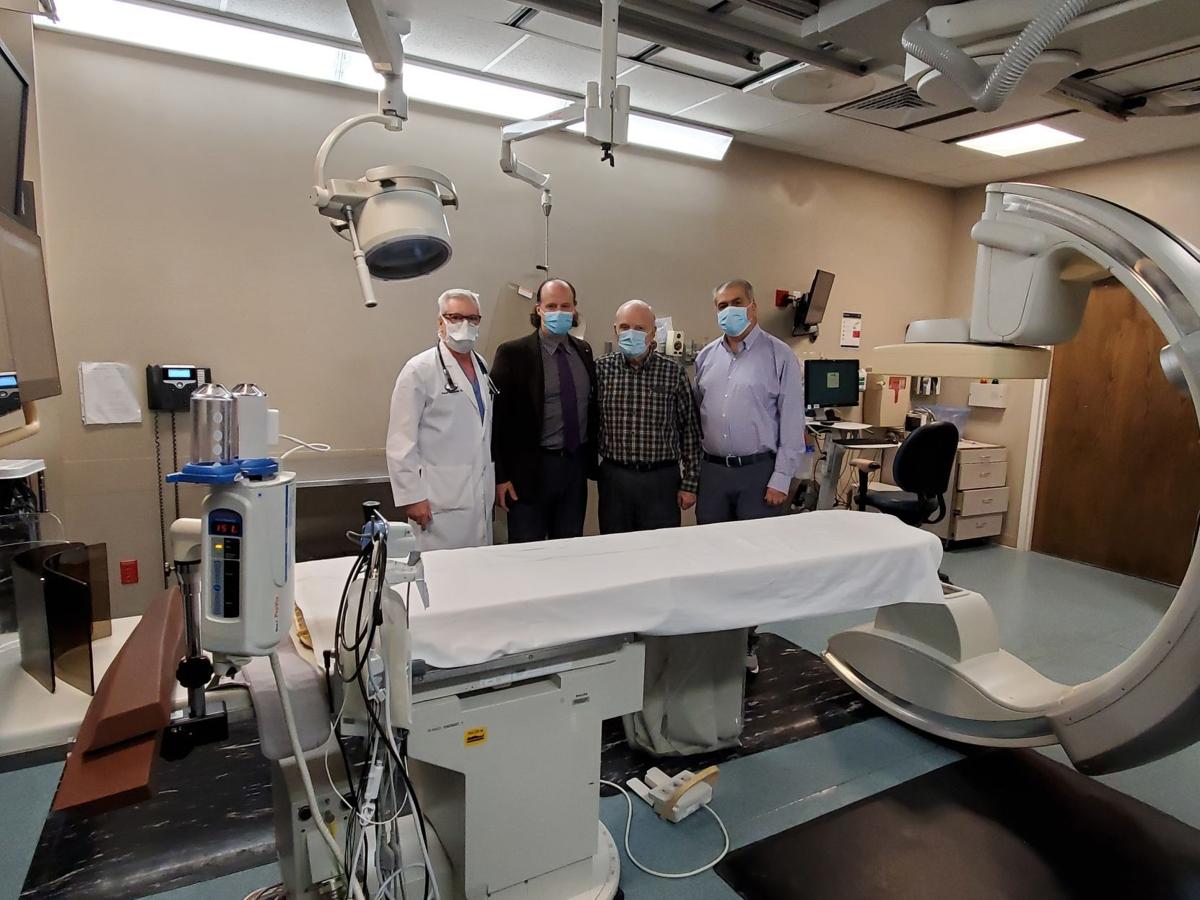 A lot of factors came together on a cold evening in January 2019 that some might call coincidence, but Dr. Ronald Bendorf believes they were blessings that saved his life, and that the greatest is the expert care he received from the Methodist Jennie Edmundson Cardiac Team.
"I am convinced I would not be here today if the ambulance had taken me anywhere else," said Bendorf, 83, a retired Council Bluffs psychiatrist. "The quality of care I received from the Cardiac Program is unparalleled."
Bendorf wants the people of western Iowa to realize how fortunate they are to have a nationally accredited cardiac program in Council Bluffs. He hopes his fellow Iowans will support the center in the annual Dance to the Beat fundraiser to benefit uninsured and underinsured cardiovascular patients at Methodist Jennie Edmundson Hospital.
Due to COVID-19, this year's Dance to the Beat on Feb. 25, will be a virtual event accessible online.
"The need for expert cardiac care, and for financial support to supplement that care, didn't stop because of the pandemic," said Tara Slevin, vice president and chief philanthropy officer, at Methodist Jennie Edmundson Hospital. "Though we can't gather together as we have in the past, we still rely upon our friends' continued generosity and support of events including Dance to the Beat."
Dance to the Beat has a two-fold purpose.
"One goal is to raise funds to help cardiovascular patients cover some of the uninsured costs of their care, such as transportation and medications," Slevin said. "The second is to raise awareness of the importance of exercise, nutrition and other factors that improve cardiac health. Without the support of our sponsors, donors and communities, we couldn't accomplish either goal."
This is the fifth year for the fundraiser, and the first for a virtual format. It will feature a silent auction, a message from the Methodist Jennie Edmundson cardiologists, and patient stories.
One of those stories will be Bendorf's.
It began in 2007 when he underwent a four vessel cardiac bypass surgery. The operation was successful, but over time, he began to experience further blockage issues. A physician he visited in Omaha recommended that Bendorf travel out of the area to have stents placed in four of his heart vessels.
Bendorf and his wife, Judy, traveled to another state and he underwent the surgery in January 2019. The cardiac surgeons, however, had difficulty placing the stents, and because of the extensive time Bendorf was under anesthesia, were able to place only three of the four stents, said Bendorf's son, Dr. Eric Bendorf, a general surgeon at Methodist Jennie Edmundson Hospital.
About a week after the Bendorfs returned to their rural home along Highway 92 midway between Council Bluffs and Treynor, Bendorf's son-in-law, Matt, offered to come and clear Bendorf's driveway of snow. Bendorf's daughter, Emily, said she would come along with the couple's children, and they would all have dinner together.
Bendorf believes that was the first blessing.
"After dinner, I started to have a pain in my chest," he recalled. "It wasn't good. I started to get up from my chair and slumped back over."
Emily immediately called 911. Lewis Township Fire and Rescue responded, and a paramedic who was nearby drove directly to Bendorf's home.
"I really think if Emily hadn't been there, what was happening might have gone unnoticed," Bendorf said. "Judy was busy in the kitchen and I was in another room."
After being placed in the ambulance, Judy telephoned their son, Eric. That, they say, was blessing number two.
"It just so happened to be the night of the annual medical staff meeting and dinner at Jennie Ed," said Eric. "I was sitting in the cafeteria and nearby were Dr. Joseph T. Ayoub and Dr. Robert W. Armbruster, two of Jennie's cardiologists. I told them my dad was on his way in."
The three doctors met the ambulance at the emergency room, and within minutes had taken Ronald to the cardiac center's cardiac catheterization lab. Ayoub and Armbruster worked together to open one of the stents that had collapsed, and also placed a stent in the fourth vessel which had not been opened in the earlier operation out of state.
Eric said his father has since had a pacemaker implanted and continues under the care of Dr. Ayoub. "He's doing very well," he said.
Eric said he was unaware of the extensive cardiac capabilities in place at Methodist Jennie Edmundson — until after his father traveled out of state for his operation and required emergency care that January evening.
"The camaraderie and collaboration between the cardiologists is amazing," he said. "In my 23 years here, I have always felt the administration strives to be partners with the physicians, and that sort of culture is conducive to good patient care all around."
The Methodist Jennie Edmundson Cardiac Program include the catheterization lab, a heart failure program, a congestive heart disease intervention program, cardiac rehabilitation services and inpatient care. The hospital's Chest Pain Center offers 24/7 comprehensive, time-critical care to patients with acute coronary symptoms.
The care team is part of an advanced cardiology services network that stretches throughout western Iowa to deliver timely, individualized procedures, treatments and therapies, along with education aimed at preventing heart disease.
In addition to Ayoub and Armbruster, the team includes cardiologist Dr. Thomas Brandt, physician's assistant Alexa Grzywa and nurse practitioners Angela Claborn, and Rachel Kraniewski. Dr. Brandt and his wife, Becky, are a driving force behind creating Dance to the Beat, and are supported by a long list of generous sponsors.
Along with the cardiac care nurses and other medical professionals, the cardiologists actively partner with caregivers at other hospitals throughout the region, as well as with the Emergency Medical Services first responders who answer the 911 calls for help every day.
The cardiac care team works directly with the American Heart Association and its Mission: Lifeline national initiative to reduce mortality and morbidity for cardiac patients while improving overall patient outcomes. In addition, the cardiac center delivers immediate and continuing treatment, follow-up therapy and community education aimed at preventing cardiac problems.
If you are interested in becoming a sponsor, or for more information about Dance to the Beat or the Jennie Edmundson Foundation, visit jehfoundation.org or call the foundation at 712-396-6040.