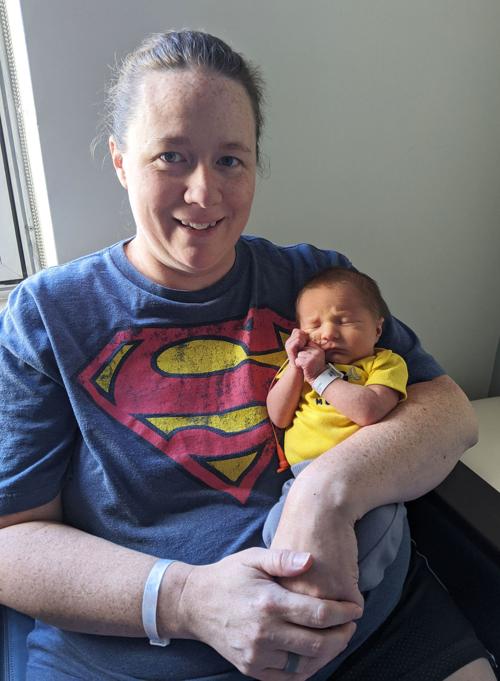 Flip a coin 100 times and you can expect to get roughly 50 heads and 50 tails — the probability of each outcome is equal.
And while the math doesn't add up quite the same way with childbirth, a perfect split is exactly what happened last week at Methodist Jennie Edmundson when 18 deliveries produced nine boys and nine girls.
"You can't even make that up, it's too perfect," OB/GYN Tana Perry said, with a laugh. "I was telling my patients that when their child goes to elementary school there will be many students who share the same birthday week."
Last week's baby boom reached near-record delivery numbers at Jennie Ed. Five deliveries occurred over a 24-hour course on both Aug. 25 and 26, according to information provided by Claudia Bohn, communications and public relations director for Methodist Health System.
The record for most deliveries in a single day, Bohn told the Nonpareil in an email, was 10 in late 1991 about nine months after the conclusion of the Gulf War. Since 2017, the most deliveries during a single day, seven, happened in March 2017.
During the past three years, on two occasions — October 2017 and May 2018 — 18-baby weeks happened at Jennie Ed. Nineteen were delivered over seven days in August 2019, and the all-time weekly delivery record sits at 20 (March 2018).
Ashley Nihsen, director of the health care facility's Birthing Center, said that these types of delivery spikes happen, albeit infrequently.
"In a month we average 1.2 babies per day," Nihsen said. "So if you are talking on average, we will do between seven and 10 deliveries per week. So to do 18 in one week, it was a busy week."
Entering the world at 2:38 a.m. Aug. 25 was Asher Bisbee. His mother, Jennifer, was complimentary of the care she received.
This was her third delivery, and while she acknowledged the birthing process wasn't smooth sailing, she said she received top-tier care.
"They were all just amazing," she said of her care team. "I've never had such good care anywhere."
Nihsen said that when a bit of controlled chaos hits the Birthing Center that she and her team channel their hours of extensive training and preparation. Putting practice into play is the name of the game, she said.
And much like an athlete heading into a big game, there's the healthy nerves associated with getting ready to perform. It was a performance last week requiring all hands on deck: six OB/GYNs, one midwife and five pediatricians.
"This is kind of what we thrive on," Perry said. "That's the exact kind of thing that we train for. You just kind of get this adrenaline rush and it's just so much fun; each delivery is so special, even when it's multiple deliveries in a day."
The current setup for expectant mothers utilizing the hospital's services consists of nine delivery rooms and five for postpartum recovery. The digs get the job done, but a major face lift is right around the corner.
In January, Methodist Health System announced a $10.75 million renovation to the fifth floor of the Council Bluffs hospital to expand its women's services to area residents and those encompassing other portions of western Iowa.
Upon expected completion later this year, the 18,000-square-foot space will feature six new private delivery rooms, 12 postpartum rooms for mother/child bonding, a cesarean section suite, four Level 2 NICU bays, expanded space for childbirth education and prenatal breastfeeding education and a larger waiting room area for family and friends, among other amenities.
The floor, Nihsen said, will further serve as a benefit to mothers going through a nerve-wracking, vulnerable experience.
But whether a delivery happens in the current space, the renovated fifth floor or somewhere out of the ordinary, Nihsen has confidence in her staff to get the job done the right way, every time.
"I mean, we could deliver a baby in the hallway if we absolutely had to. Obviously, that would not be ideal, though," she said, with a laugh.
Be the first to know
Get local news delivered to your inbox!