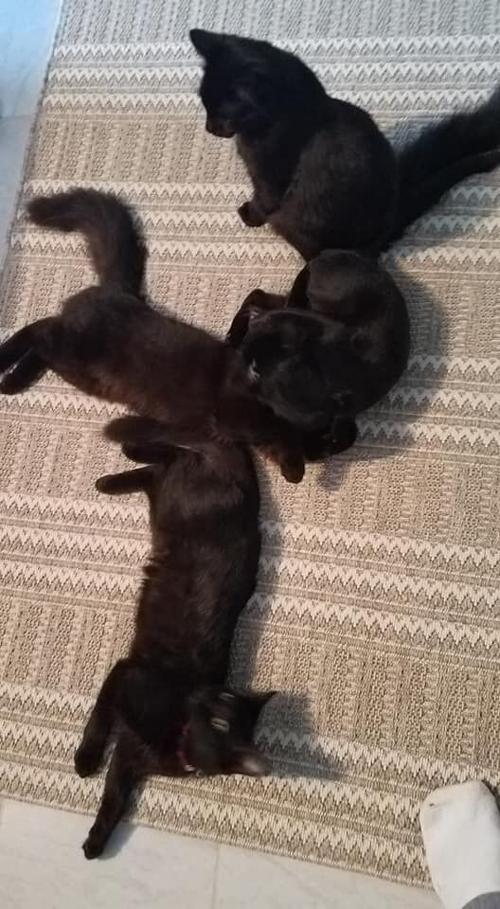 Hello from SOLAS, and welcome to the next chapter of "Cats, Cats, Kittens!"
This week is just a bit different than usual. Normally we have individual pictures of the cats but when all four are almost identical — that makes it a little hard. So instead, we present one big picture with all four brothers together.
Found in a locked shed with no food or water, no way in or out, these 10 month old male survivors are amazing cats. When one is picked up, they mold to your body purring — just happy to get human attention. While they all look black, in the sunlight their fur shines with varying amounts of chocolate brown.
These four siblings are not aggressive in the least, and I doubt they ever learned to hiss or growl and they all play gently even with young children. They are very good with other cats and children.
Domino was named for some white hairs in his coat which turned out to be areas when he'd been injured, including a small piece missing from his ear. He is incredibly playful and creative and if there is fun to be had, this energetic boy will find it. He's the first to warm up to new people and comes running to people he knows. Out of the group, he has the shortest hair.
Onyx and Domino are special friends because they both love to play. When they come to greet me, they are together with tails entwined. They are the same size but Onyx has hair a bit longer on his tail and though he loves to play, he generally waits for Domino to find the fun but then, he's in.
Obsidian is a playful longhair who loves to cuddle and just seems to melt into your arms. He will politely and quietly meow while rubbing your leg as a reminder that he wants love.
More relaxed and cuddly than his siblings, Umber likes to play if his human is involved but definitely prefers to cuddle. He has the longest hair and the most gorgeous chocolate brown. He is a relaxed, lap cat that is happiest when he can be near a human. He is slower to warm up to new people but never met a person he didn't like as long as that person will love him. He will do best in a quiet home.
All four are ready for adoption now.
As always, all SOLAS animals are fully vetted and microchipped prior to adoption. If you want to help, SOLAS always needs volunteer fosters, or you can donate supplies through our Amazon wish list at tinyurl.com/solaslist or donate via PayPal at paypal.me/solaspetadoption.