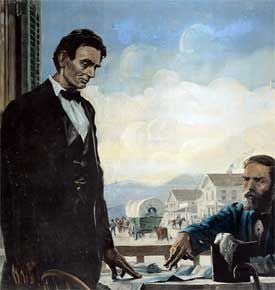 Abraham Lincoln had many great attributes, but his sense of humor topped the list. And in the summer of 1859, the residents of Council Bluffs witnessed firsthand the quick wit that helped catapult Lincoln into the White House the following year.
When the tall, gangly, clean shaven lawyer from Illinois visited Council Bluffs that fateful summer, the citizens prepared for him a frontier farm feast (known back in the day as a "bowery dinner"). Among the fare: pounds of fried chicken, fresh baked cakes and more.
About an hour before dinner commenced, "a gang of marauders" watching the preparations from just outside of Bayliss Park rushed in and, in a flash, scooped up and ran off with the whole spread.
Keeping his cool — and with customary dry wit, — Mr. Lincoln praised the thieves on the "astuteness" of their taste.
With the theft of dinner, Lincoln walked across the street to the Pusey home (now occupied by Cutler O'Neil funeral home) for a private dinner. Lincoln had been acquainted with the William Pusey and his family when the banker lived in Springfield, Illinois. During dinner he drank from among a delicate set of Baccarat crystal goblets now on display in the Dodge House dining room.
"Not one, but many railroads will center here," Lincoln is remembered to have proclaimed to his host — a bold pronouncement for that time. No steel tracks had yet been laid at Council Bluffs, thus forcing Lincoln to travel by steamship up the Missouri River from St. Joseph, Missouri. The only visible railroad work to be seen from the bluffs was some grading that a young Grenville Dodge, employed by the Rock Island Railroad, had completed that year.
Lincoln's visit to Council Bluffs was serendipitous, as he was not in town primarily for political purposes, although at the time he did have his eye on a presidential run and delivered two speeches.
His visit was motivated first and foremost by personal business.
This business trip impacted the fate of the nation up and to this very day.
Dodge and his younger brother, Nathan (whose descendants continue his real estate business), had sold property to a business and political associate of Lincoln's, Norman Judd. Widespread speculation had it that land values in the area would skyrocket upon the arrival of railroads.
While that hunch would ultimately prove correct, the panic of 1857 temporarily dashed those hopes. Land values collapsed and Judd was in need of money. He asked Lincoln for a loan of $3,000. Given that he was just down the river from Council Bluffs in St. Joseph, Missouri, Lincoln decided to sail north to inspect Judd's properties which would serve as collateral for the loan.
Lincoln stayed at the Pacific Hotel on Broadway. The hotel was known for its sagging floors and double-wide porches: a perfect place for a meeting — an historic meeting.
Grenville Dodge had been on the frontier, engaged in his third survey of the Platte River Valley on the behest of his railroad employers. He returned to Council Bluffs the same day those 200 miscreant marauders stole the fried chicken and fixings.
The next day he was walking down Broadway, just blocks from his home on Pierce street, when William Pusey spotted him. And, in an event that would change history, Pusey introduced Dodge to the visitor from Illinois, telling the soon-to-be President that the young engineer knew more about railroads that any "two men in the country."
It is remembered that Lincoln sat down, crossed his long legs, paused, swung his foot for a few moments and asked: "Dodge, what's the best route for a Pacific railroad to the West?"
"From this town out the Platte Valley," Dodge replied immediately.
"Because of the railroads building from Chicago to this point." And Dodge's logic did not end with the developing infrastructure approaching from Chicago. He reasoned that the Platte River Valley was relatively level, with plenty of sand and gravel for grading, and ready access to water.
Years later Dodge wrote that Lincoln "stated that there was nothing more important before the nation at that time than the building of the railroad to the Pacific Coast. He ingeniously extracted a great deal of information from me ... the secrets I had been holding for my employers in the East had been given to him."
No doubt this moment cemented in Lincoln's mind the best route for the Transcontinental Railroad. Dodge and Lincoln would meet twice more in Washington DC, in 1863 and 1864, where further discussions influenced executive orders Lincoln issued in clarifying congressional railroad legislation.
Lincoln's prophecy proved true: "Not one, but many railroads will center here." Just over 20 years later, Council Bluffs was North America's fifth largest railroad center, with 17 passenger depots and the second largest postal exchange center in the nation. In no time at all Council Bluffs evolved from a village into a national transportation hub.
Without that fateful August, 1859 meeting between Lincoln and Dodge, the growth and development of both Council Bluffs and Omaha would have been severely stunted.
This example of how the past makes the present is one of many opportunities waiting for you to discover at the Historic General Dodge House.
Be the first to know
Get local news delivered to your inbox!