Wednesday was a warm day for a cool occasion as one of Council Bluffs' newest businesses officially opened its doors to the community.
IceCap Cold Storage celebrated the first phase completion of its first state of the art cold storage facility with a ribbon cutting ceremony outside the building, complete with a playlist of cold-themed songs, including Springsteen's "Tenth Avenue Freeze Out" and Vanilla Ice's eponymous "Ice Ice Baby."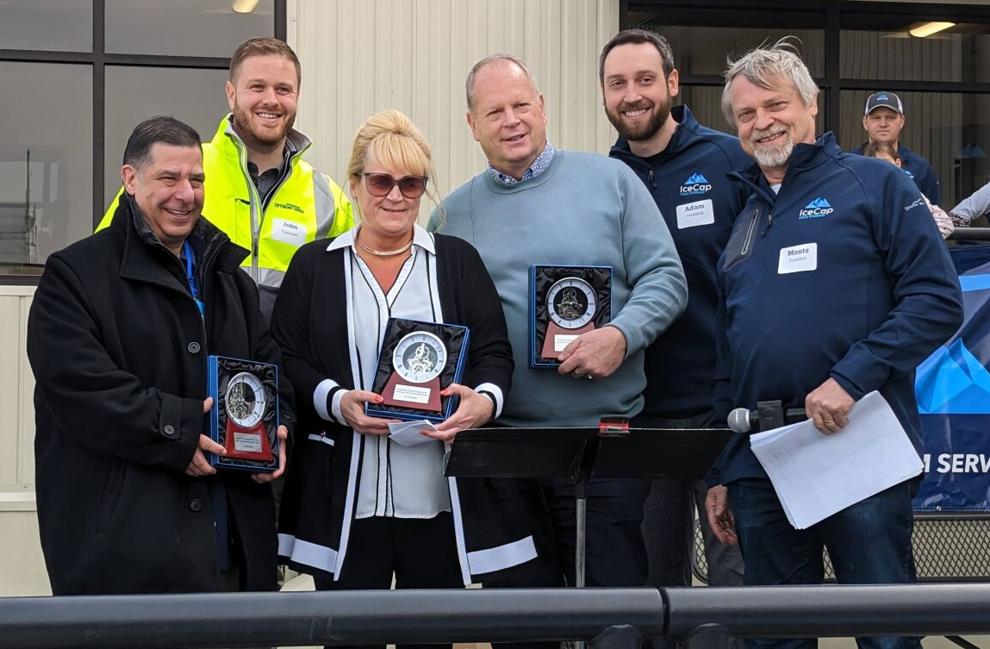 IceCap, whose slogan is "Warm service in a cold industry," is the brainchild of U.S. Property's Lisa and Monte Froehlich, who partnered with local economic development organization Advance Southwest Iowa and Tippmann Group, a cold storage and construction firm based in Fort Wayne, Indiana, to, facilitate, design, and build the 189,000 square foot facility, located at 1720 16th Ave., next to the Union Pacific railyard.
"One of the exciting things about this location is that we're in the center of the breadbasket of the world," Monte Froehlich said in his remarks. "And world hunger is an issue, and we have an opportunity to play a key role in that, ship what is produced by the hardworking people of this region to the rest of the nation and even around the world."
The IceCap facility features more than 7.3 million cubic feet of freezer space and can hold 24,000 pallets in temperatures ranging from five degrees below zero to negative 35 degrees Fahrenheit in the "quick freeze zone," where blast freezing will completely freeze pallets of product in 36 hours.
While the ribbon cutting was the official grand opening of the facility, IceCap actually started receiving product from its first customer — Omaha's J. Skinner Baking — the first week of March.
The building's dock has 25 truck doors, while the side that faces the railyard has a rail dock with four doors for loading and unloading railcars.
Construction for phase two of the cold storage facility is already underway and it will add an additional 280,000 square feet to the building, enough room for more than 30,000 more pallets. Completion of phase two is expected to be finished by January 2024.
"The IceCap project embodies the full scope of the economic development definition," Advance Southwest Iowa CEO Paula Hazelwood said. "Advance (Southwest Iowa) coordinated an in-person meeting on July 22, 2021 … to introduce the City of Council Bluffs to the project, which was codenamed 'Project Tiptoe,' and yes, I did make that up. … Long story short, after a multitude of virtual and in-person meetings and substantial work by all … during and despite COVID, between July 2021 and today, March of 2023, which is 21 months, voila, Monte's vision for IceCap became reality."
In addition to phase two of the Council Bluffs facility, IceCap Cold Storage is also setting up shop in North Platte, Nebraska, and Thomson, Georgia, a small town about 30 miles outside Augusta.