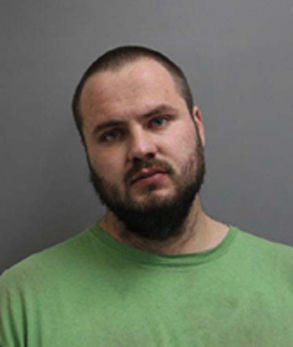 Three men were sentenced in connection with the January murder of 38-year-old Council Bluffs man Adam Angeroth.
Nicholas Haner, 20, of Harlan; Liam Stec, 21, of Omaha; and Ryan McDonald, 25, of Glenwood, were each sentenced to 50 years in prison by Fourth Judicial District Judge Michael Hooper after pleading guilty to second-degree murder charges. Haner and Stec were sentenced Tuesday, while McDonald appeared in court Monday.
Angeroth was found dead in his apartment at 35 N. First Street on Jan. 24. No one had seen him for several days. An autopsy revealed signs of blunt force trauma and knife wounds to Angeroth's body. According to court records, Haner thought that Angeroth had him arrested on Jan. 18, which, according to Pottawattamie County District Attorney Matt Wilber, was unfounded.
"There was a belief that (Angeroth) had been involved with getting (Haner) arrested on an unrelated charge," Wilber said. "That just did not happen."
The trio was initially charged with first-degree murder, a Class A felony that is punishable by a mandatory sentence of life in prison, but the charges were amended to accommodate plea deals that the state, the defendants and the victim's family were all amenable to, Wilber said.
Upon receiving their sentences, Angeroth's parents, Don Angeroth and Maryann Farrell, had the chance to address the defendants in open court.
"You took something away from me that I can't replace," Don Angeroth said to Stec.
Stec, whose nickname is "Lucky", was then asked by Don Angeroth if he "feels lucky now", after Hooper handed down the 35 to 50-year prison term.
To Haner, the elder Angeroth expressed even more disdain.
"You instigated the death of my son for something that you thought he did, that in reality, he didn't do" Don Angeroth said to Haner, the alleged ringleader of the murder. "We all know what you did. No one will let me have a proper discussion with you. You've given me something — I'm going to be about 108 (years old), but when you reach your 35 years, I hope I'm there."
Angeroth's mother expressed a different sentiment. She wanted the defendants to know what a positive influence her son, a popular cosmetologist, had on his friends and clients.
Farrell described Adam as a "kind soul," who influenced others to "be fabulous." Adam wanted people "to look fabulous," she said — a mantra Farrell repeated throughout his professional life.
"Several people have sent me notes after Adam died about the impact he had on their lives," Farrell said. "One of them was the mother of a young junior high girl. She talked about how Adam had made her daughter feel special and fabulous and pretty."
She also mentioned poet and activist Maya Angelou to Stec and then Haner, who were sentenced separately.
"If you know anything about Maya Angelou, she led a decadent life," Farrell said to Haner. "Someone mentioned to her and it actually stuck — so I hope this sticks for you as it did for her — and that was that God loves everyone. My hope for you, is that you use this time to perhaps maybe make a positive influence on someone's life."
Neither Stec nor Haner spoke on their own behalf Tuesday, nor did McDonald on Monday when Hooper offered them a chance to address the court.
"It would have been nice to hear some remorse from the defendant," said Hooper of Stec after handing down his sentence.
As Stec was ushered out of court, he looked toward his family and said "I love you guys."
Once the proceedings concluded, Wilber said he had "mixed feelings" about the result of the verdicts.
"I'm not going to suggest that I'm happy with the end result," Wilber said. "I'm professionally satisfied with it. I think it's the right decision. I think we had to look at the evidence that we had and the potential for acquittals. I don't think those were high, but they're always a possibility. Taking that into account, taking into account not putting the family through multiple trials, avoiding years of appeals — there is definite value to closure and finality."
Wilber, along with investigators who worked the case, believed that Haner was the ringleader of the group. The fact that Haner received the same sentence as his co-defendants didn't sit well with Wilber.
"We definitely believe that Mr. Haner was the one that was the instigating force of this event happening," Wilber explained. "Sometimes the most culpable individual is not necessarily the strongest case. All of them are equally legally responsible. That's why (Haner's verdict) is probably harder to swallow than the others, who maybe just got wrapped up in the situation. Ultimately, we have to make the best professional decision we can with the evidence we have."
During court, Wilber said the Haner verdict "gives him the most heartburn."
In an interview after the sentences were imposed, Wilber expressed gratitude for the hard work put in by local officials that helped solve the Angeroth case.
"The work done putting this case together by Ron Branigan and the (Council Bluffs) police department as a whole was just phenomenal," Wilber said. "I'm grateful that we were able to give some measure of justice to the family. I'm not going to say it's perfect justice. The only perfect justice would be that Adam's back."
All three men are required to serve at least 70 percent of the 50-year terms — a minimum of 35 years — before they will be eligible for release or parole.
The fourth and final defendant in the case is Xavier Smith-Catchings, of Omaha. Smith-Catchings was 15 at the time the murder occurred, and is now 16. He will be tried as an adult. Wilber said he expects a resolution to that case to be forthcoming, but is unsure when.