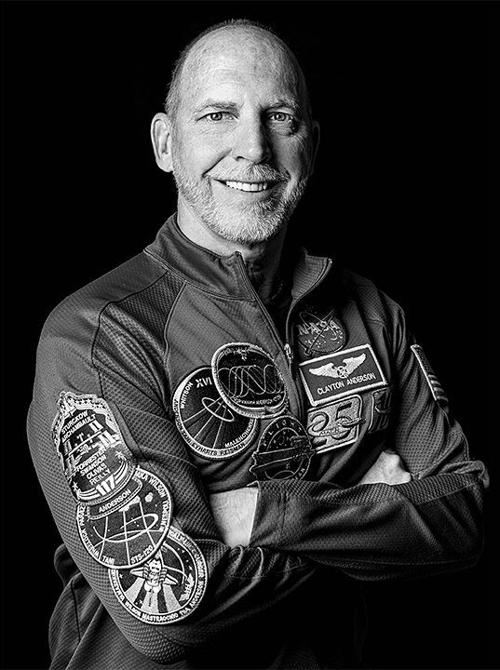 A visit by retired astronaut and Omaha native Clayton Anderson will highlight a day of aerospace-themed activities on Oct. 24 at the Strategic Air Command and Aerospace Museum near Ashland, Nebraska.
Anderson, who grew up in Ashland, flew on space shuttles Atlantis and Discovery and completed a five-month tour of duty on the International Space Station in 2007 and a resupply mission to the ISS in 2010, according to a profile on the NASA website. Between the two missions, he completed six spacewalks totaling 38 hours and 28 minutes. He retired from NASA in 2013 after 30 years with the agency.
The event will begin with "Behind the Scenes: Suited for Flight" at 12:30 p.m., a curated presentation featuring pilot and space crew gear, including items donated by Anderson not previously displayed in public, a press release from the museum stated.
In addition, Anderson will sign copies of his latest children's book, "Letters from Space." The book takes a fun and lighthearted look at how astronauts manage their feelings of isolation living and working in space.
Writing a "letter from space" will be one of the activities for children and families during the afternoon, along with astronaut ice cream tasting, planetarium shows and Anderson reading from his book at 3:30 p.m., followed by the book signing.
"Communication is paramount in spaceflight and is very helpful when dealing with feelings of isolation," Anderson is quoted in the press release as saying. "Reaching out to a loved one or good friend through a thoughtfully written letter is always beneficial for both the writer and the reader. The difficulty of our current global situation pushes each of us to be a bit more creative with the additional time on our hands. What better way to encourage more creativity than giving little ones a push to become letter readers and writers!"
After joining the Lyndon B. Johnson Space Center in 1983, Anderson worked on trajectory designs for early space shuttle and ISS missions until 1988, when he moved to the Mission Operations Directorate as a flight design manager, leading the trajectory design team for the Galileo planetary mission while serving as the backup for the Magellan planetary mission, the NASA website stated.
In 1989, Anderson was chosen to be supervisor of the Mission Operations Directorate Ascent Flight Design Section and, following reorganization, the Flight Design Engineering Office of the Flight Design and Dynamics Division. In 1993, he was named chief of the Flight Design Branch.
From 1996 until his selection for space flight, Anderson held the post of manager of the Emergency Operations Center at Johnson Space Center. He was selected as a mission specialist in June 1998 and began training two months later.
The Strategic Air Command & Aerospace Museum is located off Interstate 80 at Exit 426 in Ashland. The museum is open from 9 a.m. to 5 p.m. daily. Admission for non-members is $13 for adults, $11 for seniors and military personnel and $6 for children ages 4-12. Children 3 and younger are admitted free.
Be the first to know
Get local news delivered to your inbox!