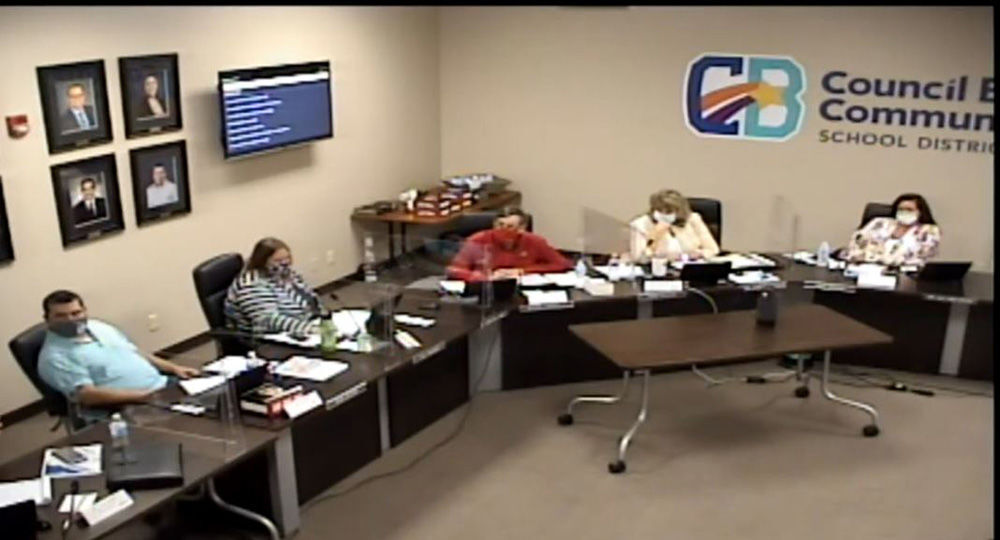 The Council Bluffs Community School District appears likely to start the 2020-21 school year in a hybrid mode that includes both in-person and online instruction.
Meeting in person for the first time since March 10, the district's board of education approved a Return to Learn plan that encompasses on-site, hybrid and remote learning phases and authorized Superintendent Vickie Murillo to implement the phase she believes is "in the best interest of the students and staff of the district."
"Our intent is to start in hybrid phase," Murillo said.
She said she didn't think the district was ready to fully return to on-site learning and she doubted the state would allow the district to go into a district-wide remote learning phase.
"Even if I've got an outbreak, I have to get approval not only from the board but from the (Iowa) Department of Education and the health departments (both state and county)" in order to switch to a remote learning phase, Murillo said. "And then when we close, they're only going to grant us permission to close for two weeks at a time."
However, she does have the authority to close an individual classroom where someone has tested positive for COVID-19, according to board President David Coziahr.
In the hybrid mode, about half of the students will attend on Tuesdays, Thursdays and alternating Mondays, and the other half will attend on Wednesdays, Fridays and alternating Mondays, according to Corey Vorthmann, chief academic officer. On the schooldays they do not attend school, students will be required to participate virtually and complete all class work, which will be graded just as it would be if they attended every day in person. Teachers and staff will report to school in person every school day, he said.
Students and staff will be "expected" to wear facial coverings, according to the plan. A few board members questioned that wording.
Murillo chose to state that staff and students would be expected to wear facial coverings in situations where social distancing was difficult or impossible. She said she wanted to build up support for masks by emphasizing safety.
Jill Shudak said if face coverings were not mandatory, some students would not use them.
"I re-watched the graduations, and half the people did not wear masks," she said.
Said Coziahr, "…in my opinion, it would be nice to have that mandate," with exceptions where appropriate for health reasons.
Murillo said she did not want the language to sound punitive.
"If we say mandatory, there has to be a consequence" for not complying, she said. "If we build this up, we do it because it's the right thing to do."
In small classes where there is room for social distancing, Murillo doesn't want students to automatically have to wear masks all day, she said.
Teachers can set expectations in their own classrooms, said Tim Hamilton, chief of student and family services.
Students and staff will be educated on proper care of masks, said Garry Milbourn, chief of human resources.
Murillo does not see checking everyone's temperature before they enter the building as being practical. Each school building will have an isolation room for students who are showing symptoms or not feeling well, she said.
"We are going to remove them from the classroom as soon as we find out they're not feeling well," she said.
Board member John Minshall said where he works staff members come out and check workers' temperatures while they are still in their vehicles.
Murillo said schools would have observers posted who watch students as they arrive to see if they are showing signs of illness.
"We just felt like it would eliminate a lot of instructional time if we (took temperatures)," she said.
Individual buildings are formulating plans on how to screen students, said Mark Schuldt, chief of elementary schools.
Employees will be encouraged to stay home when they are sick, Milbourn said. Social distancing will be practiced as much as possible. Unauthorized visitors will be prohibited. Only essential vendors will have access to buildings.
Routine functions will be arranged to provide opportunities for social distancing, Murillo said.
"We're running six lunches at our secondary schools to be able to have no more than two at our tables," she said.
Outside of the school district's phase, the district will also offer a Virtual Academy that parents can choose for individual students or families both inside and outside the district's boundaries. The academy will offer "teacher-delivered, high-quality instruction," Vorthmann said.
"Regardless of the phase we're in — on-site, hybrid or remote learning — the Virtual Academy is always available for families," he said.
The district was one of six in the state accredited by the state to offer a virtual school, Vorthmann said. Requests were submitted by 29 families to open-enroll students to the Virtual Academy.
About 100 teachers have expressed an interest in having their instruction used by the academy, he said. There will be a $3,000 stipend offered for teachers who volunteer to be part of the Virtual Academy during its first year.
Hybrid and virtual classes will be parallel, not separate, Vorthmann said. Participating teachers' classes will be simulcast for the Virtual Academy. Students will be able to interact with the teacher and their peers through the internet. Families are encouraged to make a commitment of at least one semester to the Virtual Academy, although exceptions can be made.
"We don't have a specific building attached to the Virtual Academy," Vorthmann said. "Kids are tied to the schools they would attend," assuming teachers from that building are participating in the academy.
A total of almost 900 students have registered for the Virtual Academy, Murillo said. Resident students can sign up through Aug. 7.
"We have 400 out of elementary and 500 out of secondary," she said.
Given the number of students in the Virtual Academy, some classrooms may only have five or six students on site, Murillo said.
If a student starts out in the hybrid mode and gets sick, he or she can stay home for 10 days, then return to hybrid or do remote learning for the rest of the semester, she said.
One of the main reasons the district sought state accreditation for a Virtual Academy was to give families choices, Vorthmann said.
Teachers will receive training on teaching in a virtual environment during professional development this summer and during the school year, Vorthmann said. They will also have an opportunity to do online tutorials on virtual instruction, Google Classroom and Google Meet.
Concerned about COVID-19?
Sign up now to get the most recent coronavirus headlines and other important local and national news sent to your email inbox daily.