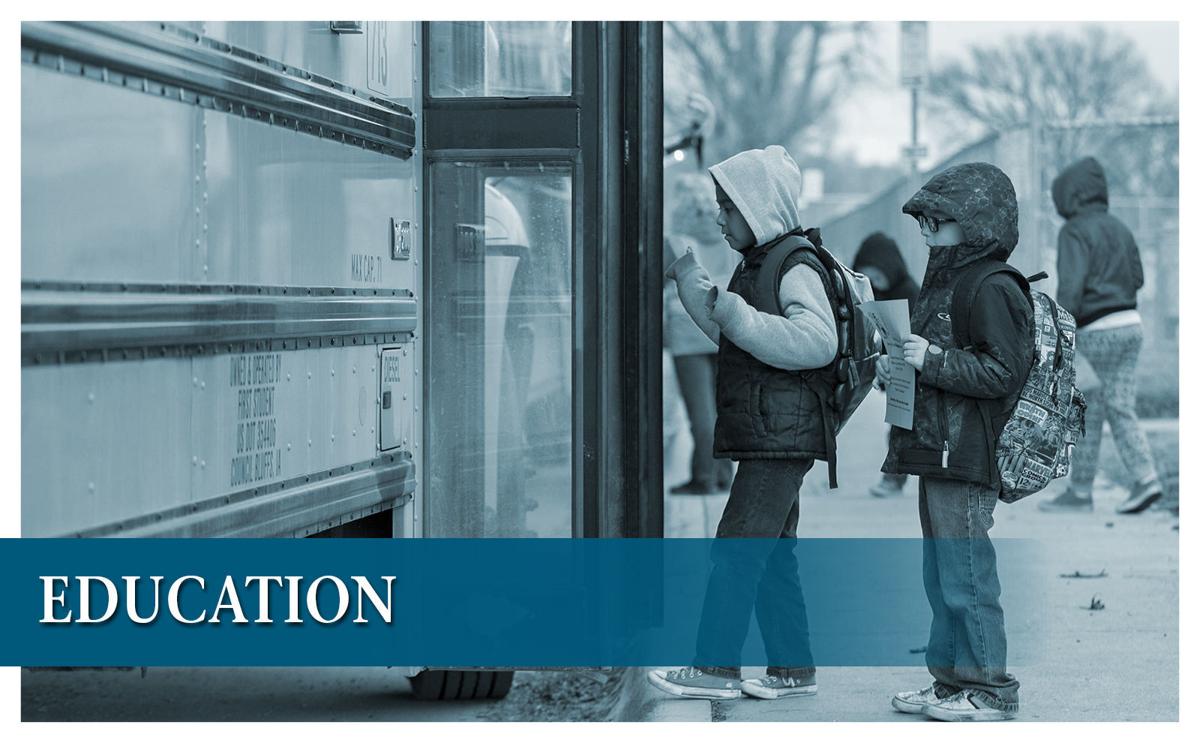 Council Bluffs Community School District will temporarily return to remote learning, followed by hybrid learning, as the holidays approach, Superintendent Vickie Murillo announced Thursday in a letter to parents.
The school district will go into the remote learning phase for Nov. 23-24 – just before Thanksgiving break – and operate in the hybrid mode from Nov. 30 until winter break begins on Dec. 21.
Murillo cited Pottawattamie County's rising positivity rate and the impact of COVID-19 cases and quarantines on schools as key factors in the decision.
"To make this decision, we considered the county-wide COVID-19 test positivity rate that has now reached 21.2%," she wrote. "We also considered our own student and staff absenteeism due to positive COVID cases and quarantines. Please note that the sets of data cannot be compared, since the county's rate tracks the percent of tests taken that are positive, not the total population of the county. Our data is based on total student enrollment and total number of employees."
As of Thursday, the school district had 16 staff members, or 1.24%, with active cases of COVID-19. However, there were 97 staff members, or 7.5%, quarantined out of school because of illness from, or possible exposure to, the coronavirus, the letter stated.
Similarly, the district had 19 students, or 0.3%, positive with COVID-19 but 292 students, or 3.9%, quarantined out of school.
"Our goal is to help mitigate the spread of the virus in our community, especially if we all continue to follow health and safety practices at home and in the community," Murillo said. "We also believe this temporary shift will help lower stress levels that have naturally been affected with the virus prevalent in our community. Additionally, this will also allow our custodial staff to thoroughly sanitize all areas of our school buildings.
Parents can expect more details next week, she said.
"I will continue to keep student and staff well-being as the priority as we make decisions," Murillo wrote. "We will continue to monitor the county data and our district's absenteeism (and) COVID-19 data in the weeks to come to make future decisions."
Could break here and make the rest a sidebar or separate story.
Increased teacher absences at Council Bluffs schools have made it impossible to find enough substitute teachers and forced schools to have other staff members fill in – or, in extreme cases, combine classes and/or turn them into study halls.
Already during the 2020-21 school year, the number of teacher absences have numbered 6,415, Garry Milbourn, chief of human resources, said in a presentation to the Council Bluffs Community School District Board of Education Tuesday. The total for the 2019-20 school year was 7,433, although in-person instruction was shortened by the extended closure at the end of the year. One reason is that staff members have been more cautious, staying home when they have symptoms that could be caused by COVID-19 but would normally be attributed to minor maladies, he said.
Substitute teachers have been needed for 4,536 slots this year, and the district has been able to fill only 3,062 of those, or about 68% - down from 84% last school year, Milbourn said. Only 9% to 15% of the paraeducator absences have been covered, he said.
"COVID-has definitely complicated the problems schools were already having finding subs," he said.
The school district contracted with a substitute placement agency this year to try to shore up a supply. The service, Teachers On Call, is part of Kelly Services and partners with more than 1,700 schools, performing more than 500,000 placements a year, Milbourn said.
"Coming into the pandemic, we knew there was going to be a sub problem," he said.
But Teachers On Call hasn't had much success. The district gave the agency its roster of substitutes so they could continue to be active, and most did, Milbourn said. Teachers On Call advertised and tried to recruit new subs at job fairs. Still, the number of people in the district's active substitute pool fell from 222 last school year to 122 this fall. Milbourn hopes to expand that to 152 by the end of January and 182 by the end of the school year.
Human resources employees have begun contacting retired teachers to ask if they are willing to sub and are hoping to recruit December college graduates, he said. In addition, the school district is offering incentives to those who join the substitute pool or refer someone to the district. The school district will pay the cost of someone's license if they agree to substitute at least 10 days and offers professional development opportunities. It also offers a bonus to those who substitute on Friday, when by far the most absences occur.
The district has developed a system of tiered support for substituting, Milbourn said. The first tier is to secure a substitute when they are needed. Tier II is building coverage, when another teacher or staff member in a school is asked to fill in for an absent teacher. Tier III is to pull a specialist, such as a reading interventionist or instructional coach, into a classroom to substitute. Tier IV is districtwide coverage, which means filling a vacancy in a core subject area with someone who teaches in another area, such as elective classes.
Sometimes students at the secondary level have been placed in a gym under supervision to work on schoolwork without a substitute, said Julie Smith, director of secondary education.
"It has happened, and it's our least desirable thing to do," she said. "But we can't leave kids in a room without someone watching them."
This has happened at the middle school level a few times, but the students still did classwork remotely, Murillo said.
"It takes a village," Milbourn said. "If you know anybody who wants to make a difference in our community, ask them to sub. It's really the most important thing we can do so we don't lose this generation of learners."
Besides finding substitutes, human resources also provides other support, including verifying test and symptom dates, answering return-to-work questions, interpreting and applying the Families First Coronavirus Response Act, organizing and supporting contact tracing and filing COVID documentation, Milbourn said.
"Sixty-five to 90% of my team's work every single day is COVID-related," he said. "I can't even tell you how many hours our contact tracers put in."
Some school administrative managers are busy all weekend doing tracing, Milbourn said.
He emphasized that any employee who tests positive for COVID-19 should notify human resources promptly.