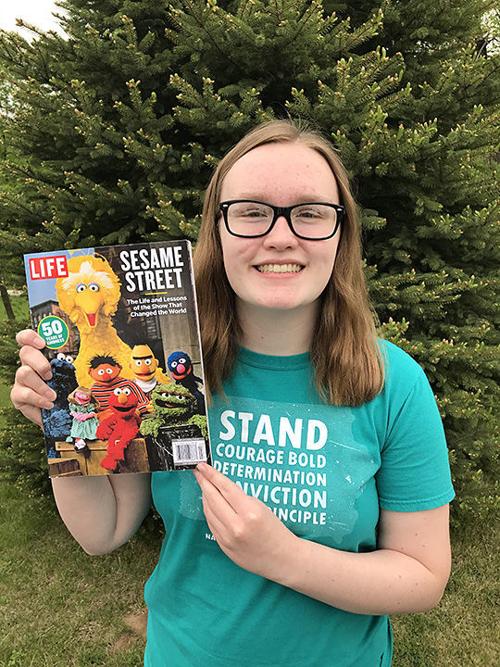 A Council Bluffs student reached the finals in the 2020 National History Day national competition.
Anna Newby, a sophomore at Abraham Lincoln High School this past year, placed eighth among 100 contestants in the Senior Individual Documentary category with her video, "Getting to Sesame Street: Fifty Years of Breaking Barriers Along the Way." The project was designed to follow this year's theme, which was "Breaking Barriers in History."
This year's finals were held online earlier this month because of the COVID-19 pandemic.
Anna's documentary shows how the groundbreaking television program, launched in 1969, embraced diversity, children with disabilities and women's rights and created an inclusive atmosphere. In addition, it brought educational programming to lower-income children whose families couldn't afford to send them to preschool.
She went to nationals last year in Washington, D.C. but did not make the finals. She went to state during seventh and eighth grades.
"I like having the opportunity of going to state or nationals and seeing what the other students created and how far I can get," Anna said.
Deb Masker, faculty advisor for the school district's National History Day participants, applauded Anna's work.
"I feel that the national contest is highly competitive, which it should be, and was very pleased to find out that Anna's project was in the finals and placed eighth," Masker said. "I felt that she had a strong documentary and bibliography to show the depth and breadth of her research.
"Anna is detail-oriented and, after being involved for (four) years, she understands the process well — the importance of a strong thesis statement, broad research with a balance of primary and secondary sources, as well as being able to write a great script and finding effective visual images to use to help tell the story," she said. "She was also able to conduct a great interview, which helped to hone the direction of the project."
Anna said she wasn't sure if "Sesame Street" fit the theme, at first.
"As I started to look at the research, I decided it probably fit the theme the best," she said.
"Anna was able to take a topic that people could relate to (who doesn't like 'Sesame Street'?) and really dig into the barriers the program faced as it was being developed and on into today and show how they were able to break through those barriers to provide a quality children's television program that helped young people learn," Masker said. "It was hard to condense the information to just 10 minutes — always a struggle with documentaries, I think. I think it is important to know that 'Sesame Street' helped to fill an education void for children who did not have access to preschool and make learning engaging and fun. The puppets were a huge innovation and were a barrier that had to be broken through, as well."
Anna was one of three students from Council Bluffs who advanced to national competition. The others were Abraham Lincoln High School senior Ashley Hipnar, who entered a Senior Individual Exhibit; and Kirn Middle School eighth-grader Emily Newby (Anna's sister), who entered a Junior Individual Documentary.
Anna plans to participate in the National History Day program her junior and senior years, too.
"I really like history," she said. "History is something I can understand, and it interests me."
Next year, when the Newby sisters are both in high school, they plan to partner on a project for National History Day, Anna said.
National History Day is a year-long academic enrichment program that challenges students to research, develop and present papers, exhibits, documentaries, websites and performances about historical topics related to an annual theme.
The National History Day in Iowa program has been coordinated since 1994 by the State Historical Society of Iowa, a division of the Iowa Department of Cultural Affairs, and is sponsored by State Historical Society Inc.; Principal Financial Group; Bravo Greater Des Moines; Prairie Meadows; and Luther College.
Be the first to know
Get local news delivered to your inbox!