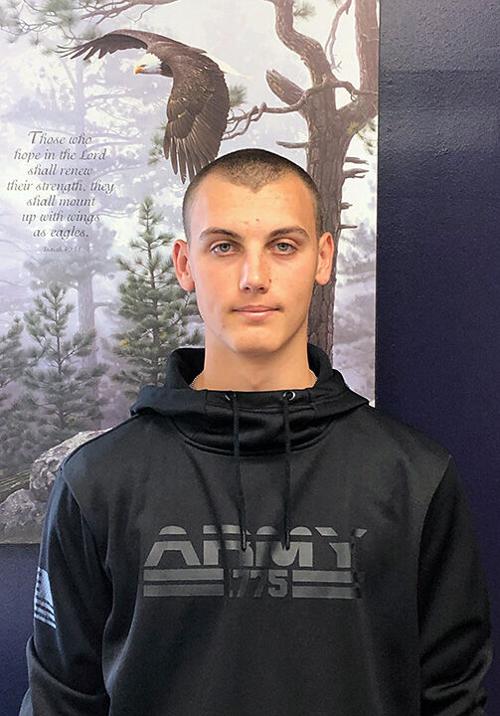 It's not unusual for a young person to enlist in a branch of the Armed Forces before graduating from high school, but Max King went one step further.
A senior at Heartland Christian School, he completed basic training at Fort Benning, Georgia over the summer.
"Max showed a lot of determination to pursue the military at such a young age, and he takes pride in his military training," Principal Carolyn Parton said. "The entire school staff and administration are very proud of Max."
Since Max was already 17, he signed up for the Iowa Army National Guard on April 15, 2021.
"I started talking to a recruiter about November," he said. "From there, I just followed the process.
"I wanted to do the military, and National Guard was the easiest, because I could do basic and do (Advanced Individual Training) later," instead of all at once, Max said. "I enjoyed basic. I just made a lot of good friends — and it's just a different experience."
After completing his senior year at Heartland Christian, he will return to Fort Benning for Advanced Individual Training. In AIT, a recruit learns the skills they need to perform a specific Army job, such as artillery or engineering, according to militaryonesource.mil. Max wants to train to become a paratrooper.
Max, the son of Robert and Susan King, is a lifelong resident of Council Bluffs. He has two adult brothers who graduated from Heartland Christian and now work in Omaha. He attended Council Bluffs Community Schools for most of elementary school and has been at Heartland Christian since fifth grade.
At Heartland Christian, he has participated in track, cross country and basketball and served on the student council for several years.
"Max is very active at school," Parton said. "He goes out for sports throughout the entire school year. This year, Max was voted to be student council president."
Max has footsteps to follow in his military service. Both of his grandfathers served in the military — one on active duty in the Army and one in the National Guard. One served in Korea.
"I just wanted to serve my country," he said.
As a member of the Iowa National Guard, Max will be assigned somewhere in Iowa after his training. He will probably be deployed to provide disaster relief somewhere in Iowa or the nation, at some point. He could also be deployed anywhere in the world for disaster relief or a military action.