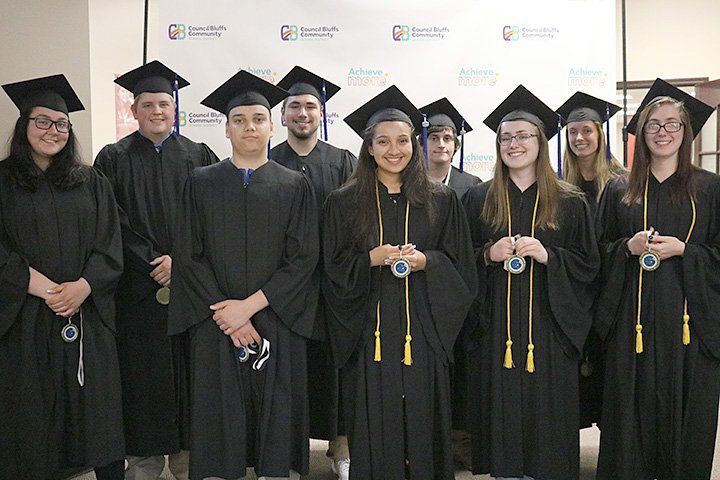 High school sophomores with extra time during their winter break may want to consider the option of applying for the Council Bluffs Community School District's Early College Academy.
"I would encourage all sophomore students to consider this opportunity," Superintendent Vickie Murillo said. "The Early College Academy, along with our other Diploma Plus One programs, are designed to propel students forward and prepare them for next steps after high school."
The program offers high school students the opportunity to earn both a high school diploma and an associate's degree or career-area certificate or credential at Iowa Western Community College during their junior and senior years — at no cost to the student or family. They can still participate in athletics and other activities at their home schools.
"They should consider it, if they want to pursue a more rigorous curriculum their last two years in high school," coordinator Spencer Mathews said. "We're looking for that student who's highly motivated and wants an opportunity to earn a two-year degree while they're in high school."
All 24 of the seniors in the program during the 2019-20 school year received associate's degrees from Iowa Western in May, along with their high school diplomas, he said. Of the 25 juniors and 26 seniors currently in the program, 19 earned a 4.0 GPA in their fall classes.
ECA students take all their courses at Iowa Western, Mathews said. If they need more credits in a particular subject area for high school graduation, they take the class at Iowa Western, and the credits apply to both high school and college.
"That's how students are able to simultaneously graduate from both high school and Iowa Western," he said.
Selection for the ECA is based on grade-point average, credits in advance placement and concurrent-credit classes, attendance, an essay, teacher references and an interview.
The minimum grade point is 3.0. Applicants will have their choice of five topics for the essay. Only 25 to 30 students can be accepted into the academy each year.
The school district held three informational meetings about the program in November – one at each of the high schools and one virtual, Mathews said.
"Those went really well," he said. "We had over 100 families attend the in-person sessions at A.L. and T.J. We had about 30 individuals log on and do the online session, as well. We've had a really strong response so far."
Already, 42 students have applied, Mathews said.
Applications will be accepted through Jan. 31. Interviews will be conducted in February.
It is helpful if students know what major or career they want to pursue. However, if they are undecided, they can complete an associate's degree in general studies and apply the credits toward any four-year degree, Mathews said.
"We have a lot of career exploration discussions," he said. "A lot of what I do is really help students plan for the future."
Students outside the district can apply, too. They would also have to apply for open enrollment to Council Bluffs to participate. The deadline for open enrollment for 2021-22 is March 1. By that time, the student would have already applied for the ECA but may or may not have heard if they have been accepted.
So far, all of the ECA students have been from within the school district, except one St. Albert student who graduated with the spring 2020 class, Mathews said.
"We expect ECA students to go on to bigger and better things," he said. "Really, ECA is just the beginning of a long and successful journey for the students."