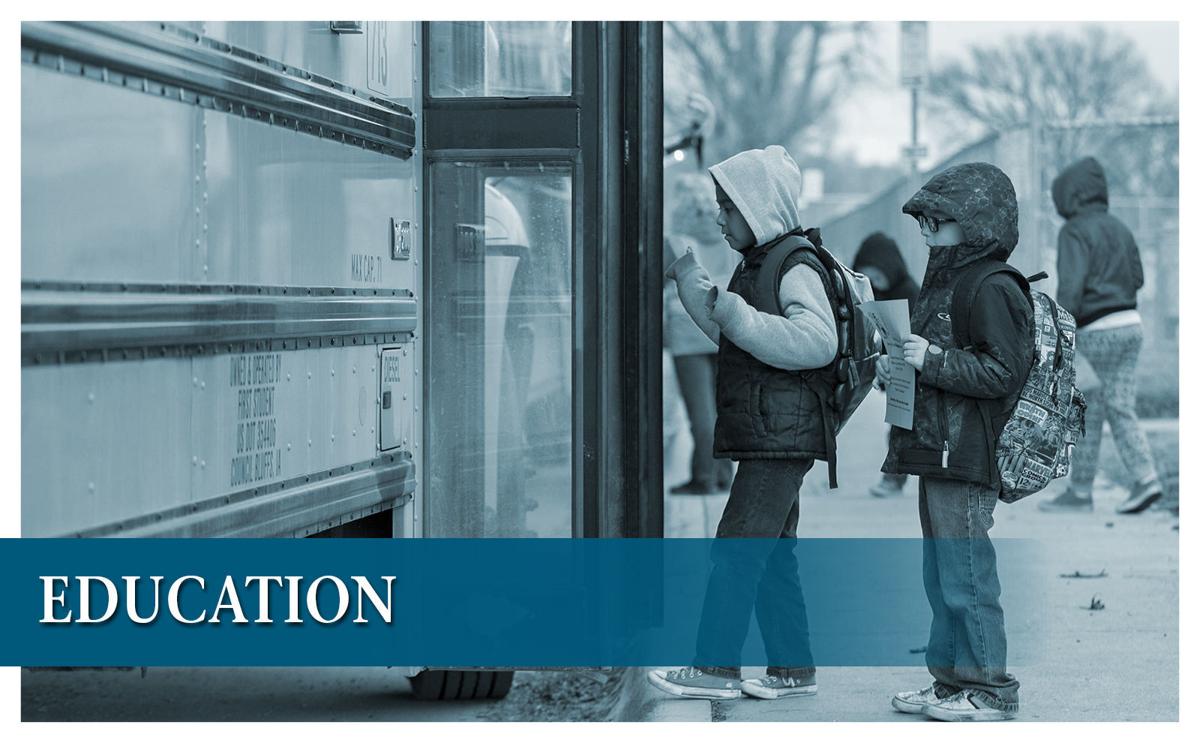 An Iowa School for the Deaf official called on the Iowa Board of Regents Wednesday to establish a bachelor's degree program on interpreting for the deaf at one of the universities it oversees.
Currently, the only degree program in the state is an associate degree program at Scott Community College in the Quad Cities area, according to Deb Cates, coordinator of ISD's sign language program.
"We have a lack of qualified personnel," she said.
To become licensed in Iowa, interpreters must score 3.5 out of 5.0 on the widely used Educational Interpreter Performance Assessment — a level Cates called the "bare minimum" — and take 40 hours of continuing education every two years.
Many fail to achieve this score, so 12 to 15 of the 115 interpreters working in the state's schools have only a temporary license. These are issued without a degree and "without any demonstration of skill," she said.
"Any of you could get a license and walk into a school and work for four years with no skills," she told the board's Academic Affairs Committee.
Just raising the score required for licensure would not solve the problem, Cates said. Some states do require higher scores — including Nebraska, which requires a 4.0 out of 5.0.
"We also see, in rural states that require a 4.0, they have a hard time filling the need … and they end up using a lot of temporary-licensed interpreters," she said later.
What is needed is for the state to require a bachelor's degree in interpreting for the deaf and for one of Iowa's Regents universities to offer such a program, Cates said.
"There is great passion about getting better quality and more interpreters in the schools," said Nancy Boettger, chairwoman of the Academic Affairs Committee. "When you think that the quality of a student's education is dependent on their interpreter, this is huge."
Cates also recommended that interpreters be retested every five years to make sure they have maintained their skills.
"It's a population of students we should not fail," Boettger said.
In Iowa's neighboring states, the University of Nebraska at Omaha, Augustana University in Sioux Falls, South Dakota, William Woods University in Fulton, Missouri and one of the schools in Chicago all offer a four-year program, Cates said afterwards. However, sending people to other states for training is not much of an answer.
"The difficulty of sending interpreters to school in other states is that they don't come back," she said. "We're constantly exporting the most promising ones."
The Iowa Department of Education and ISD offer support for interpreters, and ISD also supports the deaf education degree, she said. ISD could offer internship opportunities for a bachelor's degree program.
ISD set up its support program in 2014 with some grant funding, Cates said. The school offers a two-year training program (non-accredited), online mentoring, intensive study, an American Sign Language immersion conference, a workshop for school districts, research and a Deaf Cultural Celebration. She has 14 students in her two-year program this year — up from five last year.
With the exception of Area Education Agencies in northwest and southeast Iowa, AEAs don't generally try to supply school districts with interpreters, Cates said.
"Each student that needs an interpreter needs an interpreter the entire day," she said. "There's no standard for determining whether an interpreter will be effective for a student or not."
ISD employs four full-time interpreters and has three other staff members who have the skill but whose primary responsibilities lie elsewhere, Cates said.