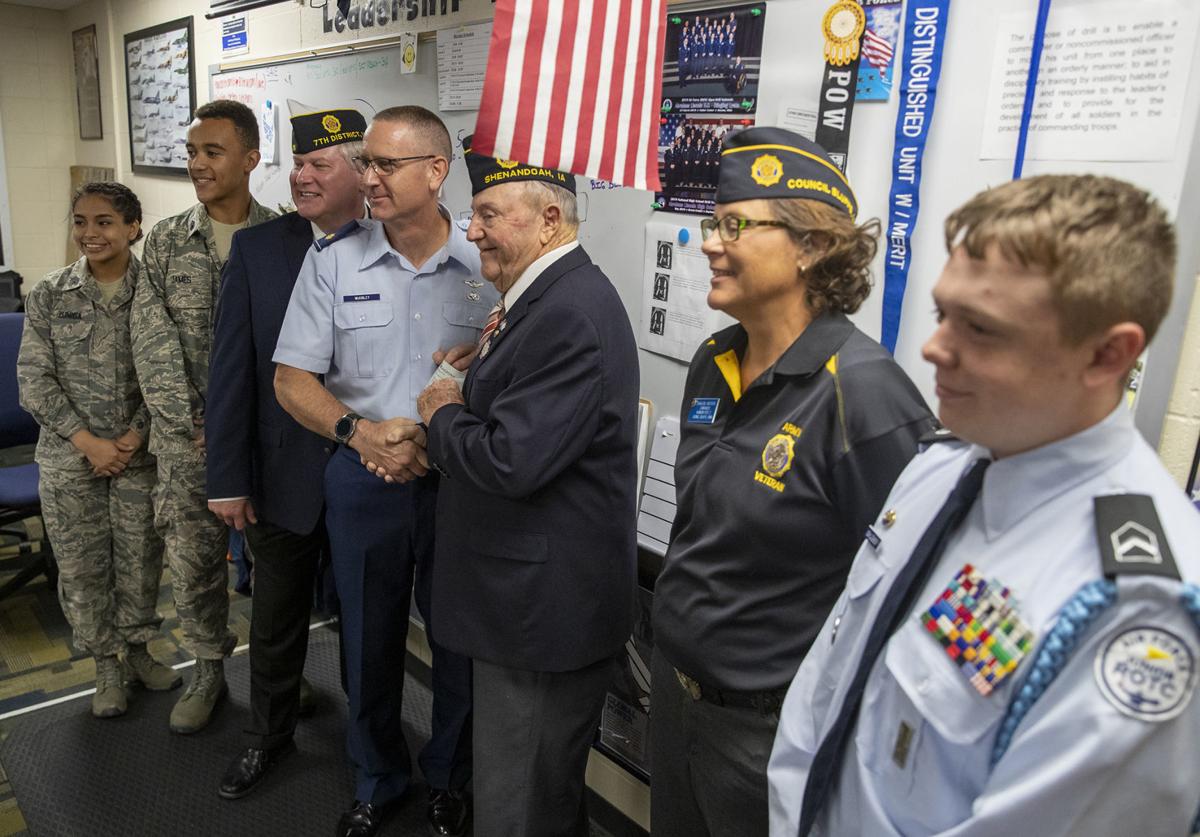 Representatives from the American Legion gave a $500 donation and some advice to members of Air Force Junior Reserve Officer Training Corps IA-951 Tuesday.
Doug McGinnis, director of the American Legion of Iowa Foundation, presented the check to Retired Air Force Maj. Chuck McKinley, senior aerospace science instructor for the corps, in a brief ceremony in the JROTC classroom at Abraham Lincoln High School. McKinley took over this year after Lt. Col. Steve Ament retired, although Ament is still involved with the unit.
Sharlene Anderson, commander of American Legion Post No. 2, said the Legion provides ongoing support to the JROTC program.
Brett Martin, Seventh District commander, advised cadets to learn as much as they can while in JROTC.
"You'll set your ship on the course for your future," he said.
Anderson encouraged them to stay in the corps.
"You get a sense of what the military is like," she said.
Students can also learn more about government and participate in Boys State or Girls State, Anderson said. It's also a chance to learn leadership skills.
"Whether you go in the military or not, leadership is needed among our civilians, as well," she said. "We need leaders to help our young people get through this, because I know high school is not easy."
Anderson encouraged cadets to take advantage of the opportunity while they're still in high school.
"Find out what you want to do," she said.
"Whether they go in the military or not, they're going to be better citizens," Martin said afterwards.
The American Legion of Iowa Foundation was incorporated Nov. 29, 1978 as the charitable entity of the Iowa Department of The American Legion, according to The American Legion Department of Iowa website. The foundation provides financial assistance in support of veterans' assistance, educational programs, patriotic endeavors and children and youth programs.
Be the first to know
Get local news delivered to your inbox!