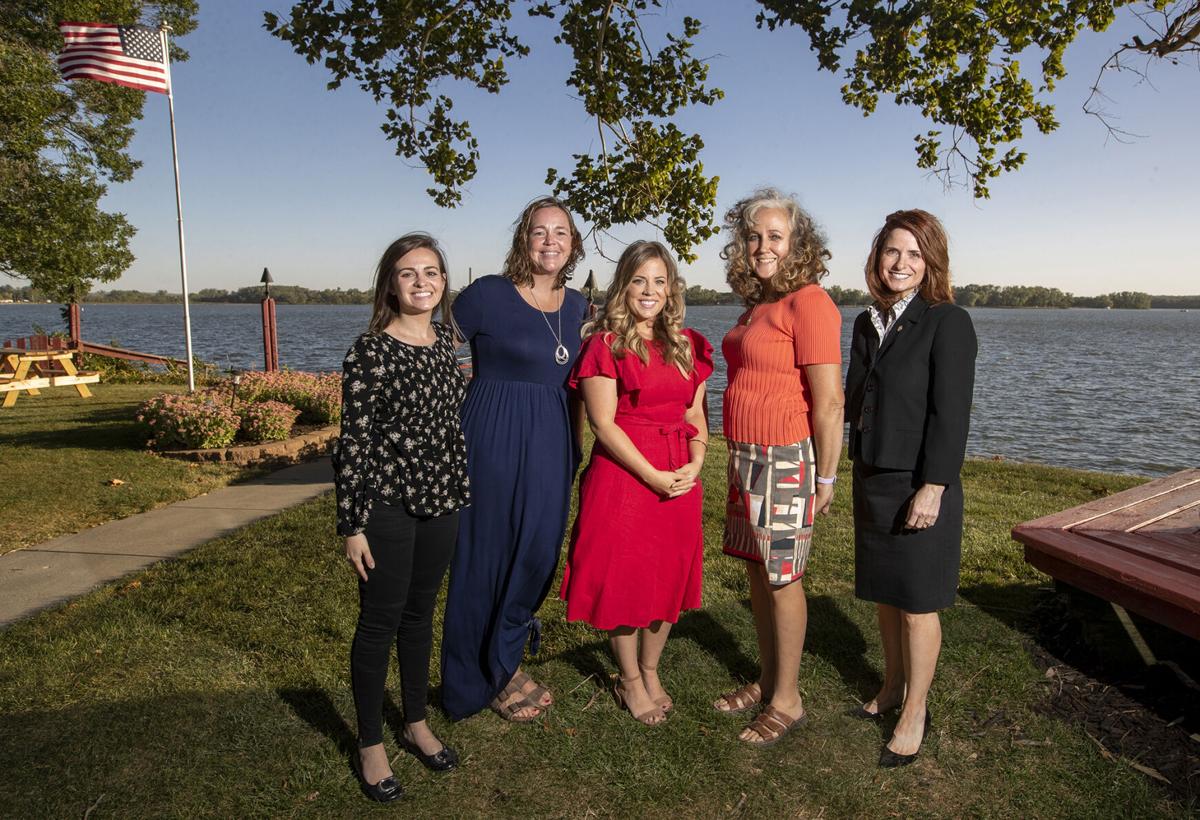 The Nelson Family Foundation honored five teachers during an awards ceremony Thursday at the Council Bluffs Country Club.
Receiving Excellence in Teaching Awards were Council Bluffs Community School District teachers Joanna Drummey-Weber of Rue Elementary School; Jane Hanigan-Kinney, Abraham Lincoln High School; and Deb Hernandez, Kirn Middle School; and Lewis Central Community School District teachers Taylor Lund, Kreft Primary School; and Corrie Wohlers of Lewis Central Middle School.
"Tonight, five teachers will be awarded a generous $5,000 check, $250 in Sonic gift cards to be used as incentives for their students, and specially designed trophies and lapel pins," she said. "I know how vitally important and what a gift it is to have teachers as committed to their professions as those we have the privilege to honor tonight. These teachers nurture our young people and coach them to take risks, to challenge themselves, to be accountable, to grow, to collaborate and wherever possible, engage parents as partners in the process. They inspire and awaken the spirit of our young people to bring out the best of their potential – and they recognize that they can be the difference-maker in the life of a child who may not show up the first day presenting as a model student."
"After a brief hiatus last year due to COVID-19, we are excited to host our 13th year of recognizing educators with our Excellence in Teaching Award," John P. Nelson said. "Both of my parents were very active in promoting excellence in teaching, and after they passed away in 2007, we created this award to honor their dedication to education.
"Teachers are so much more to our students than just a voice lecturing at the front of a classroom," he said. "They become our children's coaches, mentors, and role models. They teach life lessons, they teach hard truths and they teach you how to pick yourself up and try again. After the past 18 months we've had, we are even more aware of the vital role our teachers play in our students' lives, and we thank all teachers for their time and commitment to educating the future leaders of our country."
Joanna Drummey-Weber
"Joanna Drummey-Weber has been with the Council Bluffs Community School District since 2014," Nelson said when introducing her. "She has been teaching at Rue Elementary School for the past four years and currently teaches in the specialized autism program. She holds a bachelor's degree in special education and general education from the College of St. Mary and a master's degree in curriculum and instruction from Doane University. She holds an Instructional Strategist II endorsement to work with students with moderate to severe disabilities from Morningside University, and she is currently working towards a Special Education Consult endorsement from Morningside.
"The consistent feedback from Joanna's nominations is that she is much more than a teacher — she has become family and friend to her students, their families, and her fellow educators. As one parent explained it, 'She's a cheerleader, a nurse, a comforting shoulder to cry on, and someone you can always count on during the difficult days our kids have.' Joanna's compassion and care for her students has led to many student success stories, special relationships, and grateful parents.
"As one colleague highlighted, Joanna helps families feel at ease through her attention to students' needs but also through her personal approach: 'Autism students are all so different, and Joanna pulls out all the stops (including her own money) to make sure they all have successes. She talks to all the families of her students like they are old friends, and I know that puts their minds at ease. Joanna puts her heart and soul into her job, and it shows with the success of her students. I can absolutely understand the trust these families give to Joanna with their little ones. The care and support she gives to all of them is endless.'"
"Jane Hanigan-Kinney's first teaching job was with the Council Bluffs Community School District following completion of her degree from Creighton, and she has continued to work in various assignments within the district for the past 25 years," said Tom Whitson, who introduced her. "Currently, Jane is in her fifth year teaching as part of the Language Arts Department at Abraham Lincoln High School, where she instructs courses ranging from ACT preparation to composition.
"Jane's nominations paint a picture of an extremely intelligent and gifted educator but also highlight the influence she has over her fellow educators and students," Whitson said. "Jane's teaching goes above and beyond every day, and she serves as a model of a teacher who is not just teaching coursework, she is encouraging students to find their voices, to discover their gifts, and to make it through even the darkest of times.
"As one of Jane's colleagues stated, 'There is no one I have worked with during my nearly 20 years in the Council Bluffs Schools who is more deserving of this honor. Jane is as unassuming as she is passionate. She is as humble as she is intelligent. She is as quietly committed as she is dedicated. And she is just as self-effacing as she is effective. For as much talk as there is in education about ACT scores, Iowa Assessments, and MAP testing, Jane's impact on the lives of her students is immeasurable. The evidence of her impact lies in the number of students who visit after graduating; the thank you cards; the wedding invitations; and the success stories.'
"The impact Jane has on her students is immeasurable, and several former students were among those who nominated Jane for this honor," Whitson said. "One student shared a story of terrible loss, writing that his mother passed away two months before he graduated high school. Amidst that loss, there was little comfort to be found from general platitudes, and it was Jane's honesty and advice that helped this student continue moving forward. He wrote, 'I am eternally grateful to her for this advice, and I hope that she knows she deserves many more awards than this one. She is one of the good ones, one of the greats, and her legacy is more than teaching, more than essays and grammar and split infinitives, but one of love, acceptance and the realization that we must carry the torch, even in the darkest days — it is in that darkness, because of that darkness, that we know who we truly are.'"
"Deb Hernandez has been with the Council Bluffs Community School District for 32 years," presenter John Jerkovich said. "She has taught a variety of grades and subjects, including math, science, and social studies. She also served as Kirn Middle School's teaching librarian. After working as a technology coach for the district, Deb returned to Kirn Middle School, where she has been teaching science for the past two years. Deb completed her undergraduate studies at University of Northern Iowa. She went on to complete her master's degree in educational leadership from Drake University, along with a certification in library science from University of Iowa.
"The resounding consensus about Deb as both an educator and person is that she is one of the most selfless people you will meet," Jerkovich said. "She constantly offers her time to others and does not rest until she has helped her fellow educators create meaningful experiences for students, or inspired students through the many activities or lessons she leads — and then, after all that is said and done, she still keeps going!
"As one colleague stated, 'You will never see Deb sitting. This woman is constantly on the run helping everyone. She doesn't care if you are in her building or her district — if you need something she is there. She meets with her Battle of the Books club every weekend during the school year. She has hosted a game club before school for students who need somewhere to go before school starts, and after school you would find her hosting a cooking club and a club that makes crafts to be delivered to nursing homes and the children's floor of hospitals. Even in the summer, you will find Deb reading up on her professional studies, organizing ideas for the next school year, and hosting a summer club — or two or three — for students.'"
"Taylor Lund is beginning her second year with the Lewis Central Community School District, having taught for five years prior to moving to the Council Bluffs area," said Bill Cutler, who introduced her. "She is currently a special education teacher in a Level Three classroom that specializes in behavioral programming needs. While teaching full-time, she also provides 1:1 tutoring, teaches summer school for students who are eligible in special education and develops curriculum for the Lewis Central School District. Taylor holds a bachelor's degree in elementary education, special education-mild and moderate disabilities, and a reading endorsement from Iowa State University. She also holds a master's degree in special education-mild/moderate and severe/profound disabilities from Pittsburg State University.
"Both colleagues and parents have been impressed with Taylor's endless dedication, high energy, and carefully thought-out approach to interacting with her students," Cutler said. "These traits were highlighted again and again by Taylor's nominators, and they showcase how Taylor has made a large impact in the Lewis Central Community School District in a short amount of time.
"As one nominator described, Taylor is wholly dedicated to her profession, using her time and resources to support her students: 'Although Taylor is only in her 20s, she is the most dedicated and caring educator I've had the pleasure to work with. She truly sees every child as an individual with their own specific needs, and she works tirelessly to make sure each of their needs are met. She works through lunches every single day and is always there working both early and late. She is beyond inspiring and has taught us all more than we can even imagine in a short time of being with our school.'
"Taylor is a wholly exceptional educator, who is focused on the individual needs of each of her students. As one parent stated, 'The way she approaches daily life with the kiddos in her class is life-altering, and they will carry that with them throughout their lives. This is such an important time for [my child] and I believe this is setting the precedent for how he will feel about school in the future. Because of Taylor's dedication to [his] personal and academic growth, he feels safe and loved at school and is now able to relax and focus on learning.'"
"Corrie Wohlers has been with the Lewis Central Community School District for 13 years," Nelson said. "She is currently a math teacher at Lewis Central Middle School, as well as the volleyball and girls basketball coach. Corrie holds a bachelor's degree in math and computer science with a secondary education endorsement from Central College and a master's degree in curriculum and instruction from Peru State.
"Parents and fellow educators alike nominated Corrie as an advocate for students, an incredibly hard worker and a mentor and support system for all those around her — for students, for fellow educators and for parents," he said. "As one nominator stated, the best word to describe Corrie's educational career is true advocacy. 'Corrie believes whole-heartedly, with every bit of who she is, that every student in her classroom deserves the very best opportunities, and that they can be their very best. No matter who the student is, she finds a way to not only help that student become a better thinker and a better mathematician, but more importantly a better person. And if anyone knows anything about 8th grade students, this is quite a feat.'
"This mindset drives Corrie to always provide the best resources and mentorship she can," Nelson said. "As a parent and substitute described, Corrie is the teacher who never wastes a moment that can be spent helping her students. This nominator found herself subbing for Corrie for a two-week span in late 2020, and she highlighted Corrie's dedication: 'For the first two days Mrs. Wohlers was gone, she zoomed with every class and taught the students. I simply made sure the students were behaving and not having technical difficulties. On day three, she was told she
needed to rest and could no longer zoom with her students. I know it was so hard for her to not be able to teach. However, she immediately went into preparing me to be the best teacher for her students that I could be. She is a wonderful mentor, teacher and person. There is no one more deserving of this award, especially for how she has navigated the past year, than Mrs. Corrie Wohlers.'"
The Nelson Family Foundation was established in 1997 by John's parents, H.H. "Red" and Ruth H. Nelson. In total, the foundation has granted more than $2.7 million in the Council Bluffs and Omaha communities.