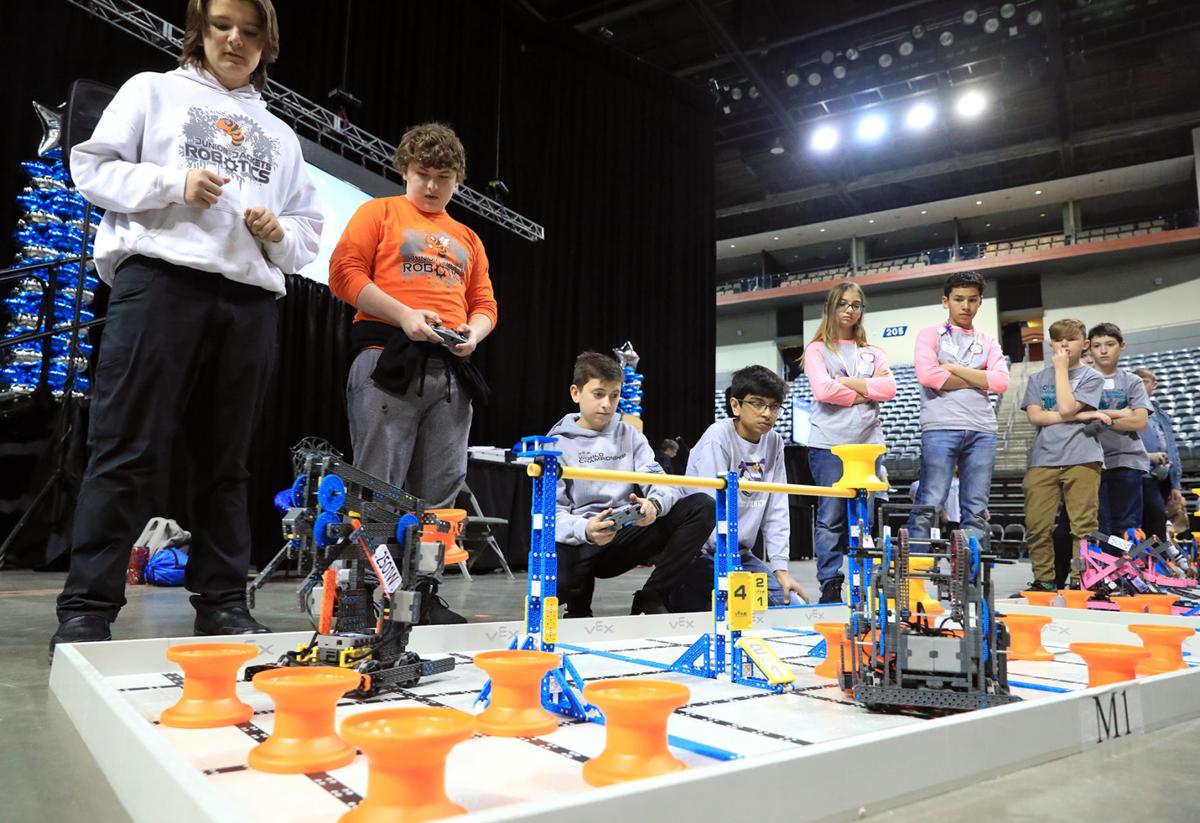 Several Council Bluffs teams placed or won honors at the JR Jacket Robotics Elementary and Middle School VEX IQ tournaments Saturday at Thomas Jefferson High School.
"We couldn't be prouder of CBCSD kids," said Christy Arthur, who helps coach many of the teams.
The Narwhals and The Hive, both Jr. Jacket teams, finished first and second in the middle school division with 605 and 541 points, respectively. Both also won Teamwork Champion awards. Team Xenon, another Jr. Jacket team, placed eighth and won the Think Award. Jr. Jacket teams The Killer Vees and the Pandas placed ninth and 13th, respectively. All of Jr. Jacket teams are coached by Arthur, Matt Koletzke and Sara Large.
The Bionic Lynx from Kirn Middle School, one of 14 new teams in the district this year, won the Judges Award and placed 23rd. Kirn teams Black Squirrels 2.0, M.A.M., Eagle Robotics (not to be confused with the elementary team) and Jr. Lynx placed 16th, 18th, 21st, and 24th. The five Kirn teams, all new, are coached by Arthur and community volunteers Ryan Higgins, Andrea and Larry Britton, Misty Kuiper, Erica Wilkins, Tiffanie Keller and Lindsay Doane-Large.
"Kirn won their first award, so that was very exciting," Arthur said.
Team Wilson Gears placed 17th, and Steel Jackets, also a Wilson team, placed 22nd.
On the elementary level, the Mighty Jackets of Carter Lake Elementary finished 15th, and the Vex Flying Techs from Franklin Elementary placed 17th overall but got 10th place in skills. Edison Flight placed 18th, and Eagle Robotics, also from Edison, placed 20th. Robot Roo from Roosevelt Elementary placed 22nd and also earned 18th place in skills, while Lake Robotics of Carter Lake placed 23rd but earned 14th place in skills. Roosevelt Robotics placed 24th.
"While our elementary teams didn't earn any judged awards, they did a fantastic job," Arthur said. "These kids have already made plans for what they want to change to be ready for state tournament in February."
Volunteers and community organizations helped with the effort, Arthur said.
"We had awesome volunteers," she said. "Jr. Jacket parents did so much, but there was also Mid-America Cares — and Buck Snort Restaurant and Sports Bar brought a food truck. It was really a terrific day."
Be the first to know
Get local news delivered to your inbox!