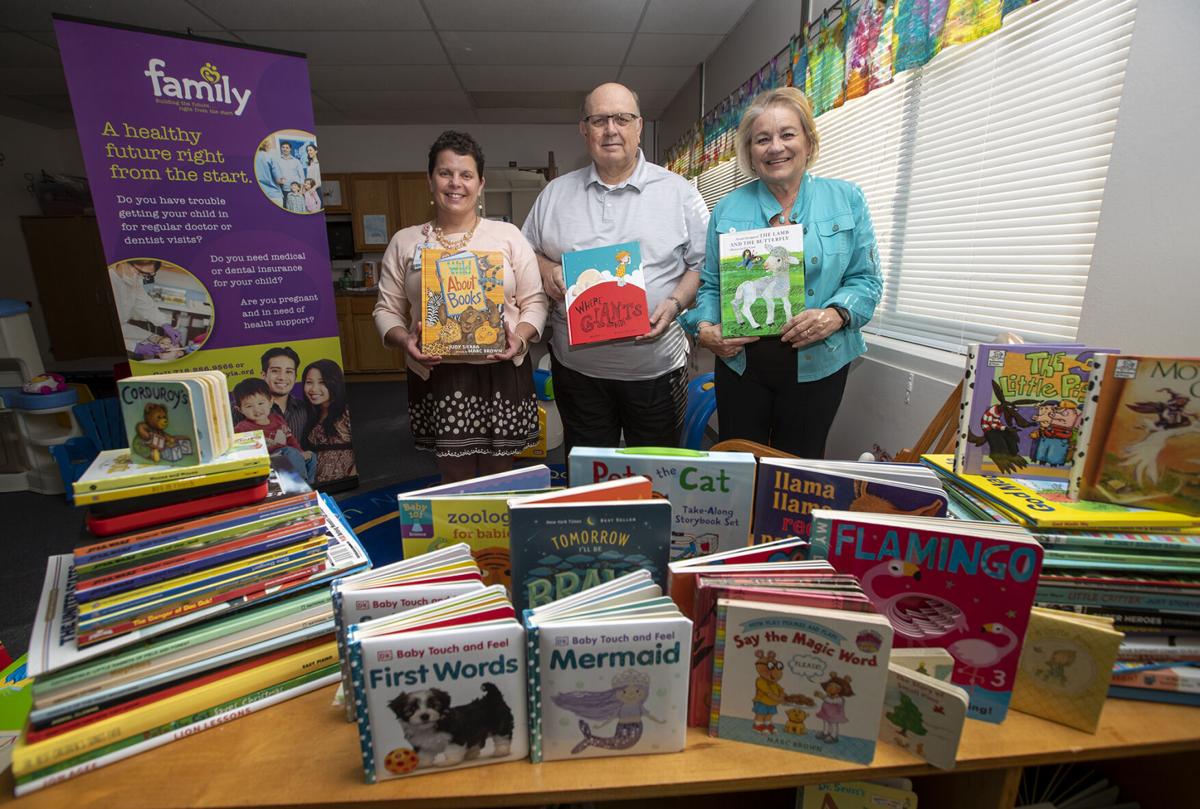 The Council Bluffs Noon Rotary donated 156 children's books to Family Inc. to be given to children during weekly visits through its home visitation program or used in the Raise Me to Read initiative housed at its offices.
Club members donated the books, mainly for children ages 0-5, in September, which is Basic Education and Literacy Month for Rotary.
"We are so grateful for a community that so generously supports children and families like ours does," said Kimberly Kolakowski, executive director of Family Inc. "These books from the Rotary Club will help create at-home libraries for children who otherwise would not have that opportunity and will establish a love of reading right from the start."
Globally, more than 775 million people older than 15 — about 17% of the world's adult population — are illiterate, according to a release from Rotary. Rotary's goal is to strengthen the capacity of communities to support basic education and literacy, reduce gender disparity in education and increase adult literacy. Rotary supports education for all children and literacy for children and adults.
Locally, 30.6% of third-graders in Pottawattamie County are not proficient in reading, the release stated. In support of our local children, the Noon Rotary Club asked members to donate children's books.
Family Inc. provides public health and family support services to women, children and families in Pottawattamie and Mills Counties. It is Family's primary goal to assist parents in becoming their child's first and most influential teacher through education, empowerment and wellness. These services are administered in homes, shelters and community settings. Through its various programs, Family works to ensure families have access to the services and support they need to allow their children to enter school healthy, safe and ready to learn, the release said.
Raise Me to Read is a local community-based initiative that supports literacy and early learning for every child across Pottawattamie County. The initiative focuses on three key areas proven to positively impact grade-level reading by the end of third grade: school readiness, school attendance and summer learning.
The Noon Rotary Club has been a part of the Council Bluffs Community since 1905, the release stated. "Service Above Self" is the leading purpose. Club members participate in various service projects and fundraise to support those projects. Weekly meetings are held on Thursdays at noon at the Hoff Family Arts & Culture Center, 1001 S. Sixth St. in Council Bluffs. To learn more about Rotary, explore membership and other opportunities to get involved — or to make a gift to support the many service projects in which the Rotary Club is involved — contact club administrator Cieandra Tripp at cbrotaryclub@gmail.com or send a note to the Council Bluffs Rotary Club at P.O. Box 673, Council Bluffs, IA 51502.