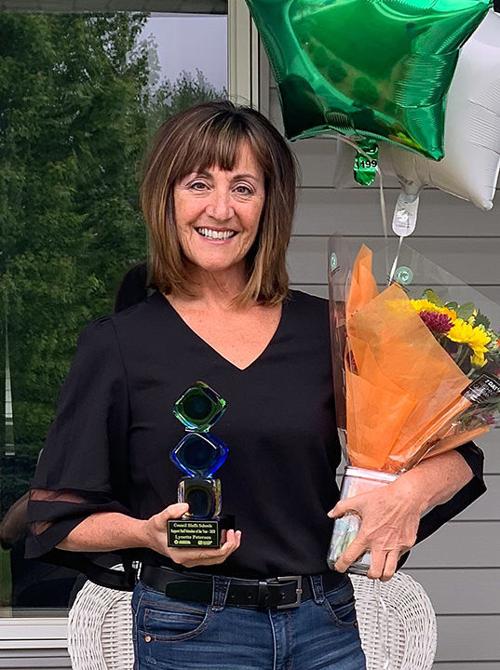 Lynette Petersen, school administrative manager at Hoover Elementary School, has been named Support Staff Member of the Year for Council Bluffs Community School District.
She has been employed by the school district since August 2013 and has been the SAM at Hoover since January 2014.
"She is one of the most important pieces to our team," said Brittany Hettrick, principal at Hoover.
Petersen helps out at the school in a variety of ways. She works on the budget, is responsible for attendance, supervises classified employees, manages the school's website and Facebook page and directs visitors to their destinations. She fills in for teachers when they need to step out of their classrooms for a short time and is the "first responder" when there are behavior issues.
"There's such a diverse set of tasks, and I love that," she said.
Petersen enjoys problem solving and often gets a chance to practice it when students come to the office for help.
"I always tell them almost every problem can be solved," she said. "I do a lot of problem solving with families who may be going through something."
Said Hettrick, "She strives to build meaningful relationships with every student and family in order to make school a positive experience."
She also makes sure students' needs are met so they enter the classroom ready to learn, Hettrick said.
Petersen also coordinates things like visits by the Council Bluffs Fire Department, assemblies presented by outside organizations and school picture day.
"It's fun for me to have that challenge," she said.
Said Hettrick, "She keeps things running smoothly so others can just do their jobs."
Petersen helps plan the annual talent show held on the last day of school. Students audition for a spot in the show, and the final act is put on by staff.
"Usually, another staff member and I come up with the act, but usually I don't participate because I'm taking pictures," she said.
Petersen said Hettrick is "amazing" and sets a positive tone for the building.
"We just have an exceptional staff throughout the building," she said. "We have veteran teachers who are so creative and capable."
And the head custodian, who has been at Hoover for about 30 years, is very helpful, Petersen said.
"I could never do my job without him," she said.
Petersen grew up in Onawa and graduated from West Monona High School. She attended Nettleton Business College in Sioux City.
Prior to joining the school district, Petersen worked as a commercial property accountant and manager in Omaha for eight years. She has also worked as a lease administrator and as a project manager at Gateway Computers in North Sioux City, South Dakota, when the company was based there.
She moved to Underwood about 17 years ago.
Despite her business background, Petersen was glad to put her skills to use for the school district.
"I have always been interested in working with a school," she said.
Petersen first came to the district as a part-time teen pregnancy navigator. In December 2013, she began training for a SAM position and was able to move into one at Hoover the following semester.
"I thought it would be a great opportunity to work with kids and make a difference in their lives," she said.
Petersen was grateful to have the opportunity, she said.
"There's not very many careers where you can say that," she said. "I see people every day who take that opportunity very seriously."
Petersen and her husband, Keith, have five adult children and nine grandchildren, she said. Three of their children live in the area, and the other two live in the Sioux City area.
Be the first to know
Get local news delivered to your inbox!