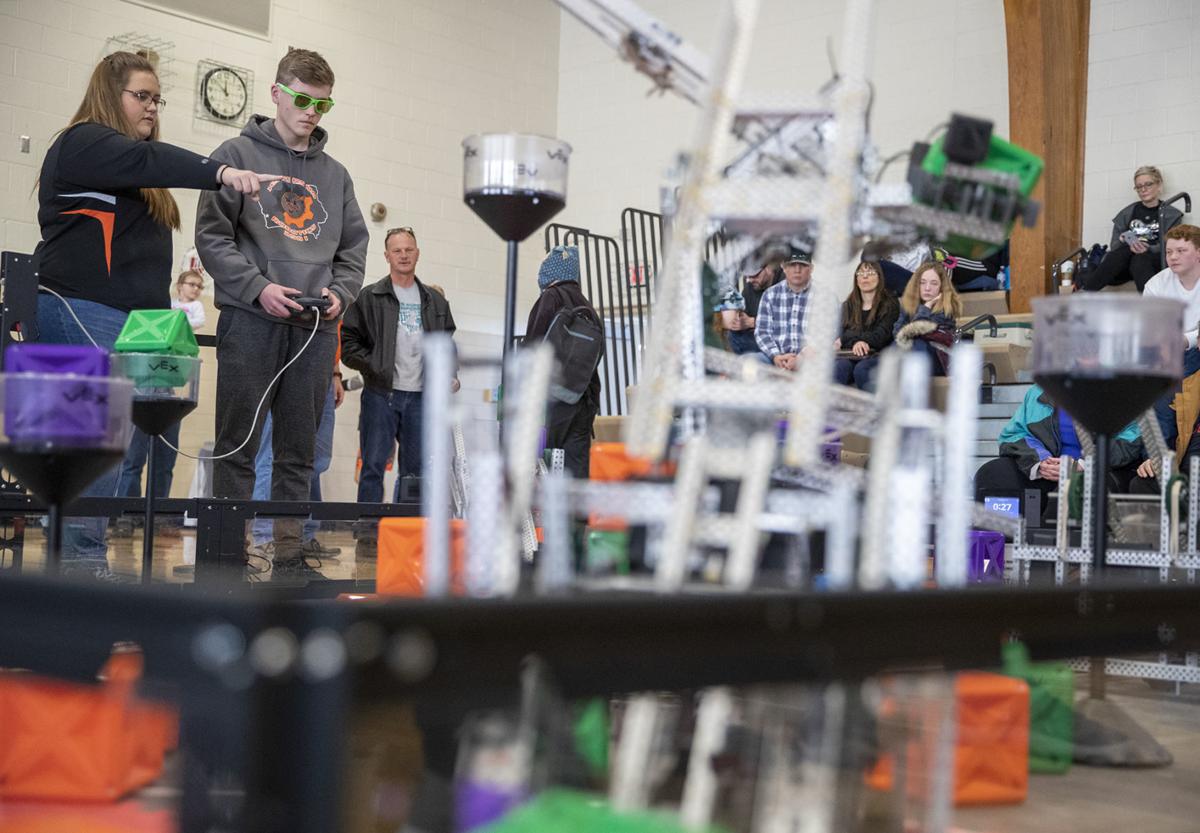 Four robotics teams from Thomas Jefferson High School advanced to the elimination bracket, and one qualified for a Virginia competition during a tournament Saturday at Thomas Jefferson.
The Thomas Jefferson VEX Robotics Tournament attracted 32 high school teams from Iowa, Nebraska, Missouri, South Dakota, Minnesota and Montana, according to James Crum, T.J. robotics coach. That included eight from Council Bluffs – four from T.J., two from Abraham Lincoln High School and two from a home school group called Techna Pwn.
"The Thomas Jefferson teams were all selected to participate in the elimination bracket," Crum said. "All lost in the first round."
Teams faced the VEX Tower Takeover challenge in which they tried to operate their robots to put more cubes in towers and/or goals than their opponents. There was also a test for robots operating autonomously.
T.J. team 2501T qualified for and will attend the Night at the Museum VEX Robotics Competition Signature Event Jan. 31-Feb. 1 at the Smithsonian National Air and Space Museum in Chantilly, Virginia, just outside of Washington, D.C., Crum said. Two of the school's teams — 2501T and 2501J — qualified for the CREATE U.S. Open Robotics Championship at previous tournaments, he said.
"We will be competing again Jan. 18 in Mason City and Jan. 25 at St. Albert," he said.
Upcoming robotics competitions include the following:
• Lincoln Intermediate VEX Robotics Tournament, Jan. 18, Lincoln Intermediate School, Mason City.
• The 2020 Western Iowa VEX Pwnament, Jan. 25, St. Albert High School, 400 Gleason Ave.
• Iowa State Championship, Feb. 21-22, Lewis Central Middle School, 3820 Harry Langdon Blvd.
• CREATE U.S. Open Robotics Championship, April 2-4, Iowa West Field House, Five Arena Way.
Be the first to know
Get local news delivered to your inbox!