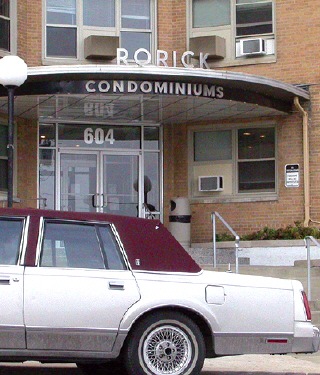 Authorities announced that the 23-year-old mystery surrounding Lois Tomich's death was solved Thursday after her ex-husband committed suicide in Omaha.
On Wednesday, Pottawattamie County Sheriff Jeff Danker announced that it was Lois Tomich's remains discovered in a 55-gallon drum north of the Pottawattamie County Jail on May 6.
Omaha Police officers discovered Thomas Tomich, 50, dead outside of the Rorick Condominiums at 604 S. 22nd St. in Omaha, where he apparently worked as a janitor, on Thursday shortly after 7 a.m. Pottawattamie County Attorney Matt Wilber said that Thomas Tomich apparently died as a result of suicide.
"Tom Tomich was the lone suspect in the murder of his ex-wife, and this investigation is now officially closed," Wilber said.
Sheriff's investigators Lee Bennett and Dwayne Riche interviewed Thomas Tomich at his home in Omaha on Wednesday night. Wilber said that he was extremely nervous throughout the interview. Thomas Tomich was scheduled for another interview with investigators at 4 p.m. on Thursday.
"We were focused on Mr. Tomich (as the suspect)," Danker said. "We were confident that we would get an arrest warrant for the murder of Lois Tomich."
With the case officially closed, authorities were able to release addition information on the investigation.
The barrel that Lois Tomich's remains were discovered in was filled with cement and submerged in water in a marshy area north of the Pottawattamie County Jail. Natural drainage of the area caused the barrel to be located by two mushroom hunters May 6.
It is still unclear when the barrel was submerged, but Wilber said that Lois Tomich had been missing since shortly before Thanksgiving in 1983.
She was reported missing in 1983 by her father, George Fraissinet. The investigation into her disappearance was briefly reopened in the 1990s by the Council Bluffs Police Department. Wilber said that the department was unable to obtain sufficient evidence at that time to determine that she was deceased or that Tom Tomich was responsible for her disappearance.
A preliminary examination of the cement in the barrel at the Iowa Crime Lab indicated that the cement may have been a rare variety, generally only available to the construction industry. Additionally, the weight of the barrel, which Wilber estimated at between 800 and 1,100 pounds, would have likely required access to heavy equipment to be moved.
Wilber said that in 1983, Thomas Tomich was working for a construction company that specialized in paving.
Located around Lois Tomich's neck in the barrel was a coat hanger that had been fashioned into a garrote-type device. Wilber said that strangulation was ruled the cause of death and the manner of death was homicide.
Danker said that investigators received dozens of leads from concerned families with missing women fitting the description of the remains developed by Dr. Michael Finnegan, a forensic anthropologist from Kansas State University.
"We checked a lot of dental records and all proved to be negative," Danker said. Dental records for Lois Tomich were not available.
"But everything we knew about the case pointed right back to (Lois Tomich)," he added.
A sample of the remains and a DNA sample from Lois Tomich's 28-year-old daughter were sent to the Minnesota Bureau of Criminal Apprehensive Forensic Science Lab, an FBI-funded regional laboratory in St. Paul, Minn.
Wilber said that the lab has the capability of conducting mitochondrial DNA testing, a method that can match DNA that is passed down the maternal line. The testing confirmed that the remains were those of Lois Tomich.
The focus of the murder investigation had been on Thomas Tomich all along.
"We were aware of a history of domestic violence between Lois and her ex-husband," Wilber said. Wilber said that Lois and Tom Tomich were married in 1980 and were divorced in 1981.
Shortly before Lois Tomich's death, Wilber said that she became involved in a "romantic relationship," with Thomas Tomich's brother.
"This enraged Tom Tomich to the point that he got into a physical altercation with his brother and made statements to the effect that he was not going to tolerate his brother living with his ex-wife and raising his child," Wilber said.
Thomas Tomich was questioned immediately after his ex-wife's disappearance, and told law enforcement officials that he believed she went Texas. His brother was living in Texas at the time of his statement.
Danker said that Thomas Tomich had made previous statements to a woman several years ago that, "he had killed his wife and put her in a barrel and if she wasn't careful, it would happen to her."
"Mr. Tomich had a history of trying to intimidate people," Danker said. "We had a number of consistent statements, and we felt comfortable proceeding with the investigation."
Wilber said that based on circumstantial evidence, he believed he had enough evidence to obtain an arrest warrant for Thomas Tomich for the first-degree murder of Lois Tomich. Danker and Wilber said that they were preparing to sift through the evidence and begin preparing a search warrant application.
"We certainly would have filed for the warrant before the end of the year," Wilber said. He was concerned with filing it to quickly because he would have only 90 days to try the case after the arrest, and he wanted to have all of the evidence in order before an arrest was made.
"We are saddened for the Fraissinet family for having this painful episode in their lives reopened. We are particularly saddened for (Lois Tomich's daughter) who has now lost both of her parents in a violent fashion," Wilber said. "Our hope is that the family can at least be at peace that Lois will now be able to be laid to rest and that her killer, who, while not brought to justice in the courts, was identified."
Investigators probe Tomich connection to Mills County body
The apparent suicide Thursday of Thomas Tomich may have closed the 23-year-old murder of his ex-wife Lois Tomich, but questions remain about Tomich's possible involvement with two other bodies found in Mills County within the last six months.
Investigators are still working on identifying female remains found Tuesday on a farm north of Glenwood.
An Omaha family is fearful that the remains may be those of 44-year-old Debra Barajas, who has been missing since May 25. Barajas, court records show, also has a connection to Tomich.
Court documents indicated that Tomich paid $250 to bail Barajas out of the Sarpy County (Neb.) Jail on May 16. She was last seen nine days later.
Barajas' sister, Mary Lieb of Omaha, said that detectives on Wednesday obtained permission from Mabel Gutierrez, Barajas's mother, to obtain her medical and dental records. Lieb said the family told authorities about surgery Barajas had on her head due to an aneurysm she suffered when she was in her late 30s.
"We were told the body they found had a metal plate in her head," Lieb said.
She said she was not certain if Barajas had a plate inserted during her surgery.
"That is why they want the hospital and doctor records," she said.
"It is difficult to wait," Lieb said. "We are still hoping for the best, but too many pieces are fitting together. (Tomich) bonded her out of jail, she showed up missing and Debra had surgery on her head. We believe it is probably her."
Lieb said no one in the family had met Tomich or was aware he and Barajas had a relationship.
On June 10, the body of 25-year-old Brianne Smith of Omaha was found in a roadside ditch in rural Glenwood by a family's dog.
Sheriff Mack Taylor said that Smith's death remains under investigation and no arrests have been made.
Mills County Attorney Marci Prier said that it is too early to consider Tomich a suspect in either of the cases.
"At this point in time, we need to identify the body (found on Tuesday) before we suggest that anyone is a person of interest in the investigation," Prier said.
Prier said that Iowa Division of Criminal Investigation Lab is currently working to identify the remains. She said that it is unclear whether the remains can be identified by x-rays or dental records, or will need to be identified through DNA testing.