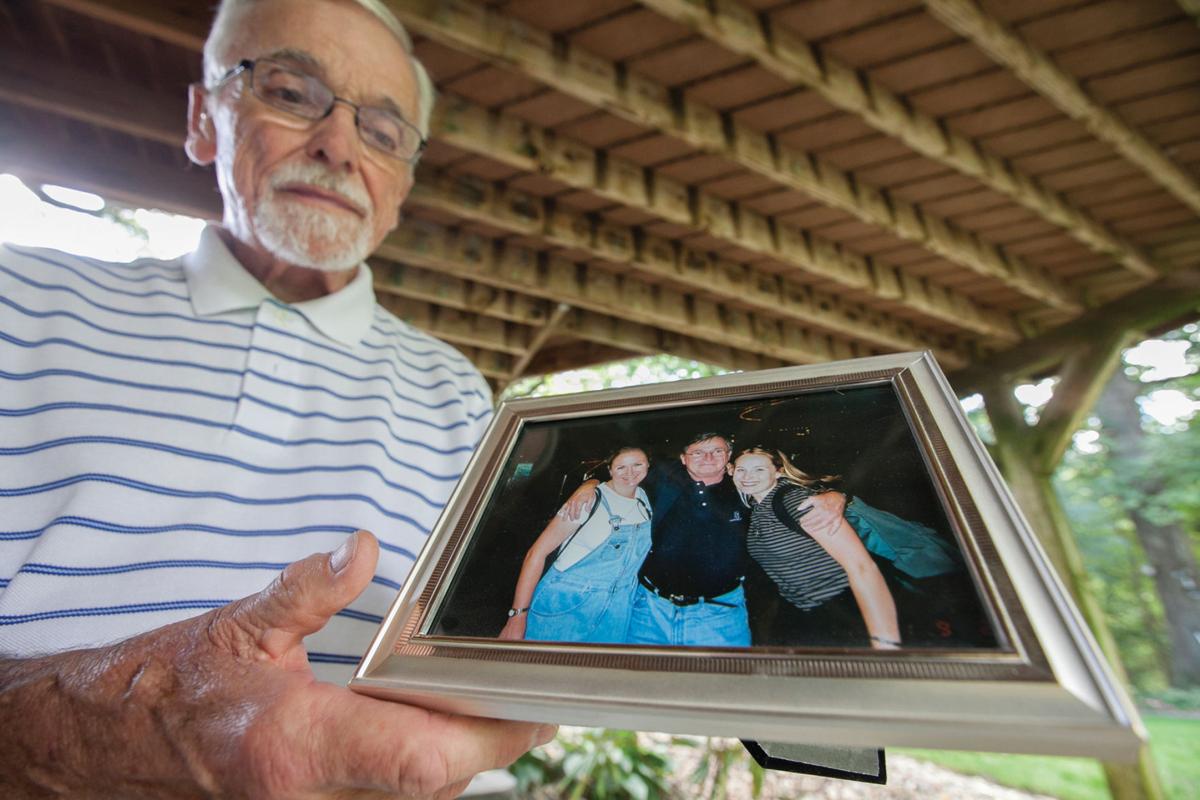 Although New York is more than 1,200 miles away, the Tinley family of Council Bluffs was personally touched by the terrorist attacks of Sept. 11, 2001.
Mike Tinley, 56, originally from Council Bluffs, was killed when terrorists flew the first jetliner into the north tower of the World Trade Center.
Tinley, who was living in Dallas at the time, was in New York on business attending a meeting on the 100th floor. The plane struck the building about 10 stories below them and exploded.
The news quickly reached Council Bluffs relatives.
"I had just walked into my office, and my sister, Jeannie, in Omaha, called and said she had heard from our sister, Suzanne, in New York," said Emmet Tinley III of Council Bluffs, Mike Tinley's brother. "I went to turn on the TV and, about the time I turned it on, the plane hit the second tower."
Interestingly, Mike Tinley had called Suzanne Tinley shortly before the meeting just to say hi and had remarked what a nice day it was, his brother said. It gave them an emotional connection during his final minutes and made her aware of his specific location.
"We were fortunate that we knew where he was," Emmet Tinley said. "Because we knew where he was and where that first plane hit, that helped me a lot, because he must have gone right away."
Also comforting was the knowledge that Mike Tinley's daughters, Lisa and Jenna, had recently visited him in New York while staying with Suzanne Tinley and her husband, Charles Fishkin, he said.
"They had a good visit with him," he said.
It wasn't until later in the day that Emmet Tinley's youngest daughter, Kathleen Tinley, then a student at Creighton University, learned that a relative had been at the scene.
"I was in class when I first heard what happened — not knowing Mike was in New York at the time," she said. "It was outside my thoughts of what could happen in this country. Then I got home and found out that Mike was there, and it still didn't seem real. I guess I was waiting for a call from Mike saying he was OK."
Having a loved one in harm's way brought the attacks close to home for the Tinleys, but Kathleen Tinley knew they were also much bigger than that.
"It was a personal loss for my family, it was the loss of security to our country, the loss of stability," she said. "Up to that point, that kind of violence, that kind of terrorism happened to somebody else. It happened on the other side of the world."
Less than a week after the attacks, Emmet Tinley and his wife, Sue, boarded a plane with less than two dozen passengers and flew back to New York to meet with other family members, he said. Mike Tinley's body was never recovered, so the family held a memorial service in Council Bluffs later that month and one near Redondo Beach, California, where his daughters were living, in November.
All in all, the family dealt with the loss pretty well, Emmet Tinley said.
"The girls really did very well," he said. "I think the girls were a help to one another and to others. I was able to handle things to get people through it, and, I think for the most part, they did. There were some tears, but there was an awful lot of laughter and remembrances."
Of course, nothing makes up for the loss of a loved one.
"We sure miss him," he said. "He was a lot of fun to be around. Every family has their favorite uncle, and that was Mike in our family."
Though Mike Tinley and his family had lived out of state while Kathleen Tinley was growing up in Council Bluffs, he was special to her, too. When they were visiting, it seemed like they had only been apart a couple days, she said.
"He just had this big personality," she said. "He made you feel like you were the center of attention — you were the focus."
After the attacks, Kathleen Tinley joined a group called Sept. 11 Families for Peaceful Tomorrows.
"It was a group of family members that came together and really felt strongly that we didn't want our loss to be used as a justification for violence against other people," she said. "That was so much a part of why I had to go to Iraq – to meet individuals there and bring their stories back."
In January 2002, she and other members of the group traveled to Iraq and met Muslim women and children who had been injured from the violence in that country. It was before the U.S. invaded Iraq.
"It was immediately after we went into Afghanistan, and then people started talking about al-Qaeda and the possibility of weapons of mass destruction," she said. "People were still very raw with emotion and just wanted someone to pay. In going to Iraq, I wanted people to realize those who would be paying the highest cost were people who were completely innocent."
The involvement helped Kathleen Tinley deal with the loss of her uncle, she said.
"Being with other people who lost someone they loved on that day was part of it, and being with people who lost people in totally different situations — because there was a connection," she said.
She said she felt like she was somehow honoring her uncle by doing that. But there was one time during the visit when things got scary.
"We were this group of Americans in the middle of Iraq, and the children started coming out to see what was happening," Kathleen Tinley remembered.
"All of a sudden, the air raid (siren) sounded. We loaded back into the van and went back to our hotel" but didn't hear about any air strike occurring. "One of my favorite people I met there," she said. "The only thing he wanted in life was to make sure his son was happy and his wife had a good life."
When the group returned to the U.S., members spoke to the press and to the public, Kathleen Tinley said.
"We obviously didn't prevent the war, but I couldn't not try — I couldn't not do anything," she said.
She spoke to a lot of groups individually.
"I did a lot of speaking in front of small groups, large groups, political rallies, media work, international work," she said. "From the people that approached me, I know there was an impact .. that people heard not just the story of my loss but of the things I experienced."
She said she has seen many people's attitudes change. "There's so many people I'm really inspired by how much they have opened their eyes and how they have opened their hearts" to people of other religions.
— This story originally ran on Sept. 11, 2016.