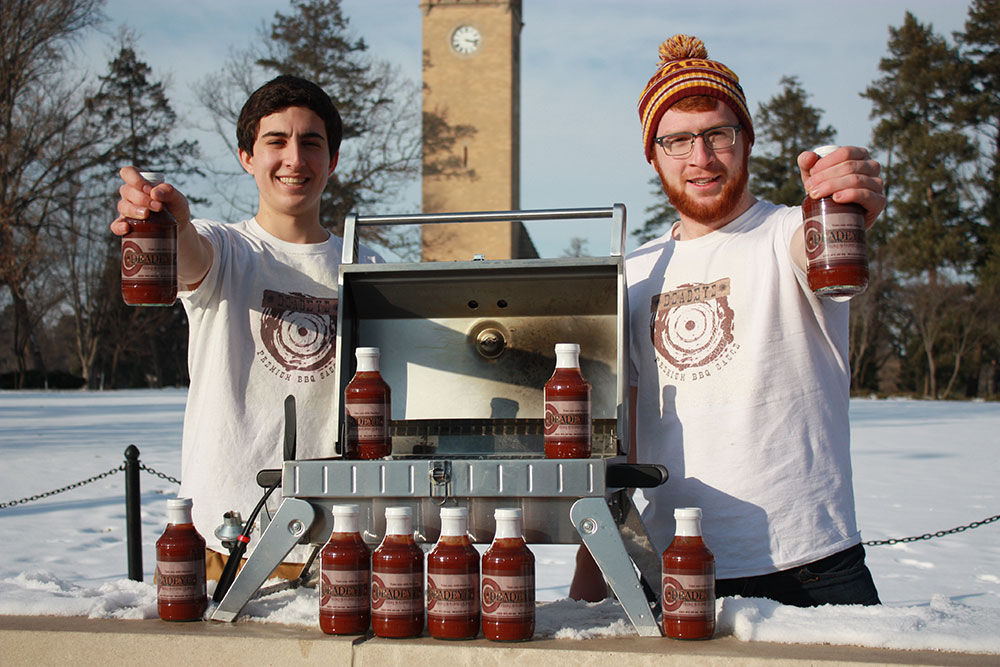 SHENANDOAH – A barbecue sauce company started by two Iowa State University students has made its way to every Fareway Food Store in Iowa as well as 20 Iowa Hy-Vee Food Stores.
What is even more captivating is that the gluten-free sauce is bottled in Shenandoah at Triple K Manufacturing.
Michael Hanstad of Johnston and Tyler DeVos of Le Mars, both business majors, started DeadEye Premium Barbecue Sauce two years ago during their freshman year.
The two were in the same business classes and were housed in the same dorm.
They were also both interested in starting their own business.
"We got together and started talking," Hanstad said. "Tyler said his family had a barbecue recipe they used at family gatherings. He then took me to his uncle Rich Kneifl's house to try some. The first time I tasted it I remember thinking, 'This stuff is really, really good.'"
Hanstad said he and DeVos agreed that they were young and, if they were going to shoot for the moon by starting their own business, it was the right time.
"When we looked around for a place to have it bottled, we found Brian at Triple K. He knew we hadn't filled a single bottle of sauce yet and wanted to help us get things rolling," Hanstad said. "We had no idea what we were doing, and Brian really helped us a lot. He really wanted to work with us and help us get started."
Once given the recipe, Brian Maxine, who operates Triple K Manufacturing, agreed to make the sauce. After a nondisclosure agreement was signed, Hanstad said Maxine sourced everything for them.
"We told him the bottles we wanted and the caps and had our labels done elsewhere, but Brian does everything for us," Hanstad said. "He puts the ingredients together, mixes it, heats it, bottles it, seals it, labels it, puts it in a box and ships it to us here in Des Moines."
Hanstad added, "We wouldn't be where we are today if it weren't for Brian helping us out in the beginning."
With two sauces, Regular and Magnum, Hanstad said they started by selling their bottled sauces at area farmers markets. From there, they agreed to try grocery stores and started with the Iowa chain, Fareway.
"Our first Fareway was in Marshalltown and then Ankeny," Hanstad said. "Soon we had 10 stores and now, we are in all of them throughout the state."
As for the name, Hanstad was somewhat hesitant to confess, as it comes from the nickname of a friend.
He said Kneifl's longtime good hunting buddy is Aaron Chapman. Aaron's brother's nickname is DeadEye, as he has only one eye that he can see with.
When the three of them were hunting one day, they were also trying to come up with unique names for the sauce. Chapman asked DeadEye what he thought the name should be, DeadEye's response, "Name it after me."
Hanstad, who graduates in December with a degree in business marketing, said he has learned to juggle the business and classes. He did add that it helps when the two cross over.
"I'm crazy busy but I do well in school. I'm actually graduating a semester early," he said. "I take my classes on Monday and Friday mornings so I can do demos and deliveries in the afternoons."
DeVos is working full-time for the business as well as Lola's Fine Hot Sauce, also based out of Des Moines.
"I was hoping, crossing my fingers the business would go somewhere but not to the level it is now. I never saw 150 stores within a couple years," Hanstad said.
Hanstad said they will always remember the kindness and generosity shown to them by Maxine and their home state of Iowa.
"We are made in Iowa, which is a big thing for us and we will continue to have it made in Iowa for as long as we can," Hanstad said.
Get local news delivered to your inbox!
Subscribe to our Daily Headlines newsletter.