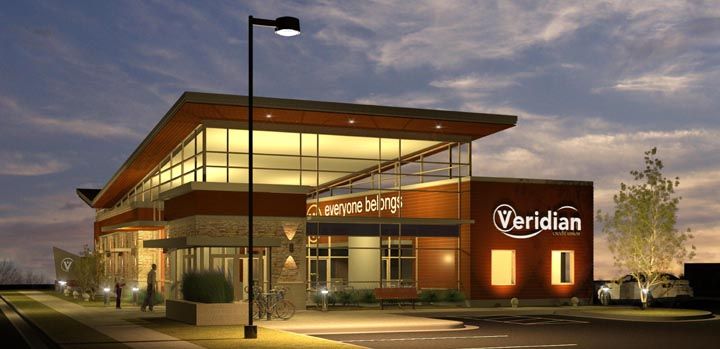 Veridian Credit Union, headquartered in Waterloo, will open a branch office in Council Bluffs, a company official announced Monday.
The 6,880-square-foot building will be located on the north side of West Broadway at 21st Street. Opening date is set for the first quarter of 2016, said Jason Ferris, market president.
The credit union has a policy that welcomes everyone, whether they're affiliated with a particular group or not, he said.
"Anybody can join our credit union," he said. "We want everybody to feel welcome. No affiliation is necessary."
Even the building's design beckons people to come in, Ferris said.
"There'll be a lot of windows, a lot of lighting. It will be so inviting."
The building's roof line will feature a "subliminal V" for the company's name, plus a large community room available to members, community groups or local non-profit organizations.
"You don't have to be a member to reserve it," Ferris said.
Entering and leaving that room will be away from the main banking area, allowing for evening and weekend meetings while ensuring the security of that main area, Ferris said.
All major financial services will be offered, such as checking and/or savings accounts, CDs, home equity loans, line of credit availability, credit cards, commercial lending, and home mortgages. A drive-through and ATM area will be available.
It's also about customer service, Ferris added.
"We're very community minded, and every member is appreciated and valued. We want to make that most recent transaction, even if it's just a deposit, the most memorable experience you ever had."
During financial dealings at the desks, employees will sit alongside the members, not on the other side of the desk.
"Research has shown people value someone sitting next to them," Ferris said.
Between seven to 10 employees are expected to be hired.
The credit union was founded in 1934 in Waterloo as a financial service for the employees of the local John Deere Co.
"In 2000, a decision was made to diversify our base and secure financial stability, and to do that through growth and acquisition," Ferris said. "We set out a plan to grow our membership base."
Veridian currently has branches in Des Moines, West Des Moines, Cedar Rapids, Iowa City and Ankeny.
"And, now Council Bluffs," said Ferris, long a local community activist.
Last Friday, the company closed on the purchase of the land for its future site and will demolish the structures there, Ferris said.