As of 10:30 p.m., Council Bluffs remains quiet.
At Bayliss Park and on the 100 Block and West Broadway, a large police presence remains, but little civilian activity after the 8 p.m. citywide curfew. At Tom Hanafan's River's Edge Park, law enforcement from Council Bluffs and Omaha have blocked access to the Bob Kerry Pedestrian Bridge.
Access between the two cities on Interstate 480 is also blocked.
The curfew remains in effect until 7 a.m. Monday.
Read below for a timeline of Nonpareil coverage.
Businesses in downtown Council Bluffs – including the Historic 100 Block and around Bayliss Park – boarded up windows and taking precautions after hearing rumors that non-peaceful protests might be moving into the area.
Few details are available at this time. However, the Nonpareil is working with the city to provide timely and accurate information to the public. 
City of Council Bluffs officials announced an 8 p.m. curfew today. Police officers will be on duty throughout the day and into the evening, according to city communications officer Ashley Kruse. 
Kruse added there are no active permits for lawful protests in Council Bluffs at this time. More information on the curfew can be found here:
Motorists are asked to avoid the 100 Block at this time as businesses owners are transporting equipment to protect storefronts.
Sheryl Garst, CEO of the 712 Initiative, and husband Matt were among those putting up boards on business fronts Sunday afternoon. The couple were taking measures to protect the Hughes-Iron building that houses the Council Bluffs Chamber of Commerce, Em & Liv's Hard Bean Coffee, Lincoln's Pub, Jefferson's Lounge and a handful of living spaces. Garst said she understood why the protesters are angry.
"I'm very empathetic to how people are feeling in regards to the death of George Floyd," she said. "Their voices haven't been heard for years."
Omahan Keith Salda was helping the Garsts board up the windows outside of the Council Bluffs Chamber of Commerce. Salda owns two businesses in south Omaha that have so far been untouched by rioting. Still, he said he needed to help out in Council Bluffs when he heard about the potential for unrest.
"Protest all you want, just stop destroying shit," he said.
At 4:27 p.m., only a handful of people could be seen in Bayliss Park.
Walmart at 1800 N. 16th is closing "right now" but a manager could not confirm if the closure is due to rumored protest in the area. Pallets now block its entrance and windows.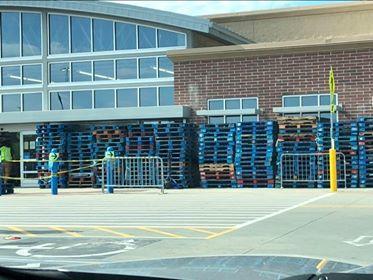 Target at Metro Crossing Shopping Center is closing at 5 p.m. but could not confirm any further details.
Hy-Vee stores are reportedly "closing early with the curfew" according to a store director.
The citywide curfew has been in effect for 25 minutes. It lasts until 7 a.m. Going to and from work is acceptable, according to the Council Bluffs Police Department.
Police staged throughout Council Bluffs amid protesters who came to voice their concerns in the public eye.
Adam Mohr of Council Bluffs held a Black Lives Matter sign while marching down the 100 Block of West Broadway. Mohr said he was out because "I'm black. What I want is for people to know – that people wouldn't dislike the police if this country took police reform seriously," he said.
Before the curfew went into effect, Mohr cited a lack of major policy initiatives regarding reforms, budgeting and more of police departments.
"No one has seen a major change," he said. "I'm representing everybody. I'm representing my family."
Mohr mentioned serious talks with his parents while growing up, regarding race. 
"Every person of color has endured at least 2 to 5 racist encounters, moments where you walk away saying, 'I didn't deserve that. I'm just going about my day.' We want to be seen and respected. And not be seen as a threat," he said.
"We don't want to be (out) here, but if we need to be, we will," Mohr added.
As the Council Bluffs curfew went into effect, Mohr said he was going to head home and eat dinner.
– This story is developing. Susan Payne, Mike Brownlee and Courtney Brummer-Clark contributed to this report.