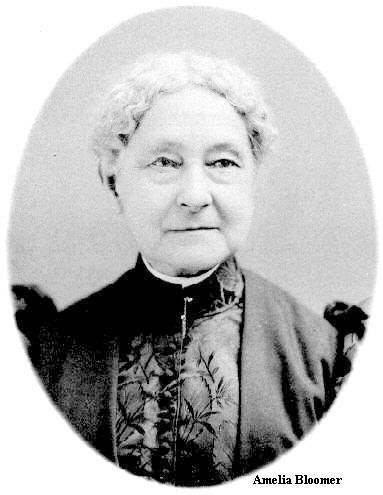 If all goes well, there may be a sign at Bloomer Elementary School by the end of the year recognizing Amelia Bloomer for her work for women's suffrage and other rights.
In honor of the Centennial Celebration of U.S. Women's Suffrage, which was actually in 2020, the William G. Pomeroy Foundation has offered grants through its National Women's Suffrage Marker grant program to recognize historically significant people, places or things instrumental to women gaining the right to vote, according to information from Council Bluffs Community School District. Ben Johnson, former adult services manager at the Council Bluffs Public Library, and library volunteer Linda Knell put together a grant application to secure a permanent historical marker for Amelia Jenks Bloomer because of her ties to Council Bluffs.
"It all started approximately a year ago," Knell said. "I had been working with Ben Johnson on a number of other projects."
Then, last spring, the library got a call from the Iowa Office for the Status of Women asking if the library was interested in applying for a National Women's Suffrage Marker. Johnson formed a committee of people he thought might be interested in it. The group included Ashley Kruse, communications director for the city of Council Bluffs; Diane Ostrowski, chief communications officer for Council Bluffs Community Schools; Knell; and Johnson.
"We thought Amelia deserved some kind of recognition," Knell said.
There is no historical marker about her in the city, except at Fairview Cemetery, where she is buried, she said.
"Prior to coming here, she did a lot of suffragette work in New York and Ohio," Knell said. "We felt she had never been recognized for her suffragette work when she came here."
Bloomer lived in Council Bluffs for 39 years before her death, and the house where she and her husband, Dexter, lived has been gone for years, Knell said. Bloomer school is actually named after Dexter Bloomer, who was the city's first school board president.
"Amelia had supported his efforts to start the school district, and teachers had stayed at their house – and she had (lobbied for) women teachers to get equal pay," Knell said.
Amelia Bloomer wrote articles in her newspaper, The Lily, supporting temperance and women's rights, including equal education and employment opportunities for girls and women, school district materials stated. When the Bloomers moved to Council Bluffs in 1855, they helped establish the public school system and a library. They supported co-ed education and often housed teachers in their home.
To apply for the grant, the committee had to do extensive research to prove what Amelia Bloomer had done and cite sources used, Knell said. Last spring, they sent the application to the National Votes for Women Trail. The organization then did its own research to verify the sources and information.
The Historical Society of Pottawattamie County has offered to pay for installation and maintenance of the marker, according to the school district.
On Tuesday, the Council Bluffs Community School District Board of Education approved a land use agreement that would allow the Amelia Bloomer Suffrage Centennial Historical Marker to be placed on the Bloomer School property.
"That's the last piece we need to submit for our application," Knell said.
Now, the group is waiting to see what the foundation decides.
"We're very optimistic that we will receive the grant," she said.
The foundation board, which meets every other month, will meet again in March, Knell said.
"We are hoping we can receive the marker sometime this summer and complete installation of the marker in late summer or fall," she said.
"We are also asking for the school to be renamed after both Amelia and Dexter," Knell said.
The school district will form a committee to discuss and study that issue and report back to the board, the board decided Tuesday.