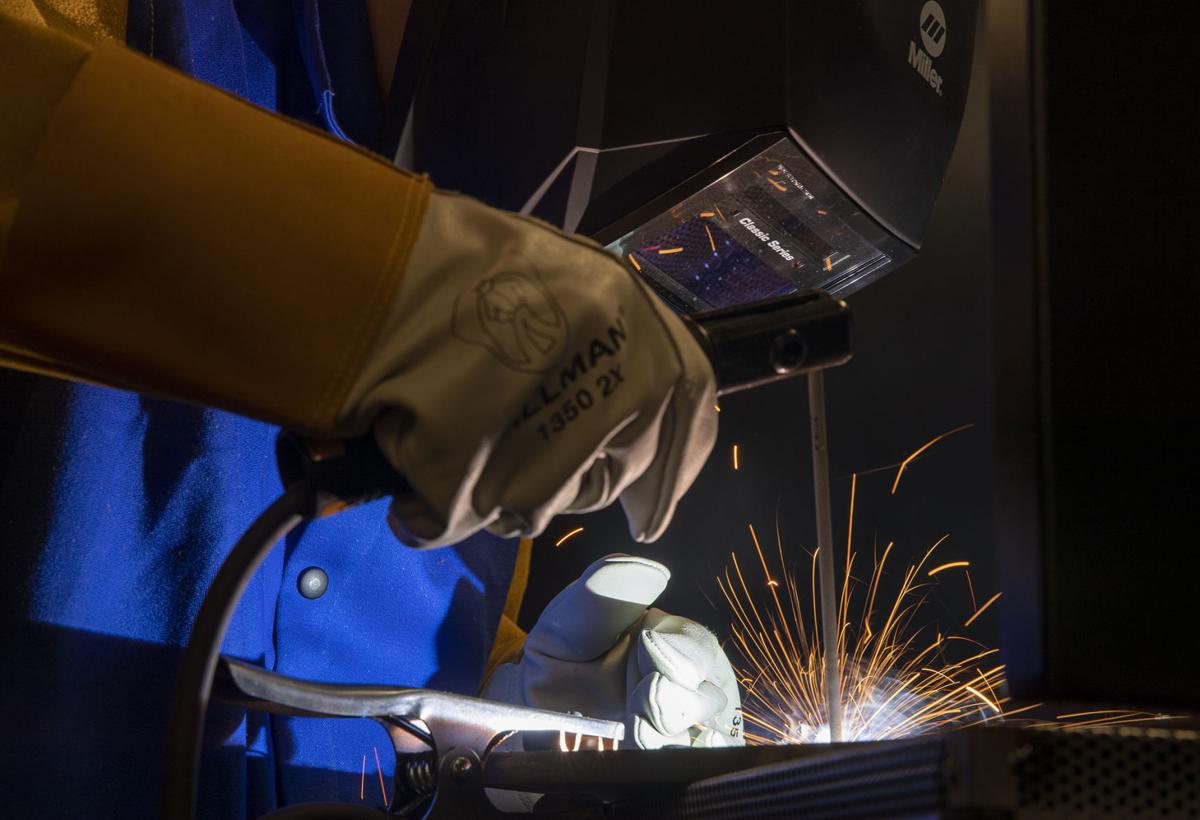 The Council Bluffs Community School District is expanding its Plus One Pathways programs, providing more opportunities for students to learn job skills and earn college credit.
This spring, the district will launch welding and nursing assistant registered apprenticeships and offer a new, after-hours construction technology program for students and community members, Corey Vorthmann, chief academic officer, said in an update on the district's Plus One Pathways programs Tuesday at a meeting of the board of education. All will incorporate work-based learning in their curriculum.
"I'm really excited about this update," Superintendent Vickie Murillo said. "This is one of the areas we have focused on, and it's going to be a tremendous opportunity for our students."
The CNA apprenticeship, part of the district's Certificate Advancement program, was made possible by a $50,000 Coronavirus Relief Registered Apprenticeship Incentive Grant the district received through Iowa Workforce Development. Participants will earn a professional certificate, as well as college credit, at Iowa Western Community College. The grant money was used to purchase a geriatric patient care simulator, human anatomy virtual reality software and a van to help students get to work-based learning sites. Thirty-two students have enrolled for the program's debut semester.
The after-hours construction sessions will be held from 5-8 p.m. Jan. 12 through March 2 at the Behrouz and Christiane Rassekh Foundation TradeWorks Academy Learning Facility at Thomas Jefferson High School, according to board materials. The Associated Builders & Contractors, Cornhusker Chapter, will sponsor half of the students and provide training and evaluation needed for students to qualify for certification by the National Center for Construction Education and Research. Training will be provided by ABS with Thomas Jefferson instructor Terrence McGurren.
There are now 248 students enrolled in TradeWorks 1 and 100 students enrolled in TradeWorks 2, Vorthmann said. There were 44 students enrolled in TradeWorks continuation programs at Iowa Western last fall, he said: 15 in welding technology, 6 in industrial technology, 10 in construction technology, two in diesel technology and 11 in automotive technology. Of those, 39 students are continuing in the programs this spring.
Beginning this fall, students will have the opportunity to earn college credit in information technology and early childhood education programs at Iowa Western, Vorthmann said.
"We now have close to 500 students at Iowa Western," he said. That includes all of those in the programs the district and college partner on and students taking classes at Iowa Western individually but not those taking online courses, he said.
Part of the district's College Credit Acceleration program, the new Information Technology Pathway will include courses on programming, web design, networking and cybersecurity.
The Early Childhood Education Pathway will be part of the district's Certificate Advancement program at Iowa Western. There are 76 students enrolled in the health science Certificate Advancement program, 32 in the CAN program and 17 in culinary arts.
In the district's Early College Academy, 51 students completed 694 credits during the fall 2020 semester, Vorthmann said. Of those, 19 earned 4.0 grade-point averages. All 26 seniors are on track to graduate in May with high school diplomas and associate's degrees. Collectively, the seniors have already been accepted to more than 40 colleges and universities and received offers for $2.7 million in scholarships.
Board member Jill Shudak congratulated Vorthmann for building the career programs.
"That's amazing information, and it's amazing to see the new programs," she said.
"I'm just really proud of these programs, and it's impressive the way your team keeps building these," board President Chris LaFerla said. "I think the enrollment numbers show that students have been hungry for programs like these."
Early College Academy applications are currently being accepted from sophomores who want to join the program this fall.
All of this relates to the following two of the district's strategic goals:
• By 2021, 60 students will earn an associate degree or postsecondary certificate along with a high school diploma through the Early College Academy; and
• By 2021, 50% of seniors will earn a high school diploma and a second credential.
"We are providing more opportunities for our students to be successful in high school and beyond," Murillo said. "They have more choices than ever before to gain experience and earn credentials that will save them time and money as they pursue their college and career goals."
"Through college credit courses in our high schools, as well as through our Early College Academy, students have multiple opportunities to complete their first year of a college degree program," she continued. "Through our TradeWorks and Certificate Advancement programs, students are securing the foundational skills needed for careers in specialized fields.