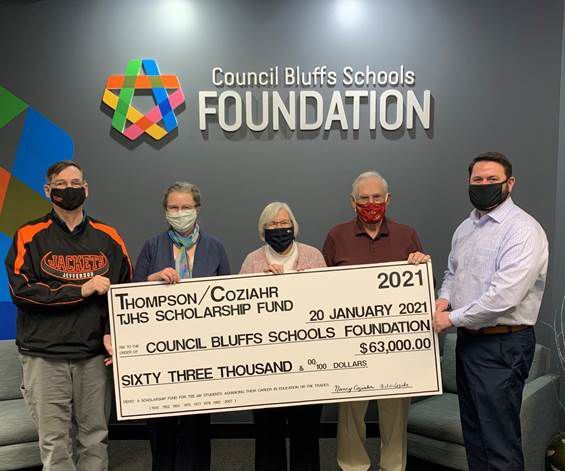 A local family has established an endowment fund to provide an annual scholarship to a graduating senior at Thomas Jefferson High School who plans to pursue a career in education or a trade.
The fund was set up during the past week through the Council Bluffs Schools Foundation with $63,000 from the late George "Jim" Thompson estate. The family plans to make additional contributions to the fund in future years, according to a press release from the foundation.
The first Thompson-Coziahr TJHS Scholarship of $3,000 will be awarded this spring, according to Nancy Coziahr, Thompson's sister and executor of his estate.
"It's to recognize the Thompsons that graduated from TJ and the Coziahrs," she said. "Having four generations of TJHS graduates had a great deal to do with us wanting this scholarship at TJ."
Nancy and Walter Coziahr; her father, George Thompson; her brother, George Thompson; Nancy and Walter's daughter, Mary; Tom Coziahr; Jane Van Horne; Nancy and Walter's son, David Coziahr; and David and Luanne Coziahr's twin sons, Matt and Will, all graduated from TJ, Nancy Coziahr said. Her family's history at the school goes all the way back to its founding in 1921.
When Nancy Coziahr inherited some money from her brother, the family thought of TJ, she said.
"We just thought that was a good way to carry on his memory," she said.
The vocations targeted by the scholarship reflect those that have dominated the two families, Nancy Coziahr said. She taught at Franklin Elementary School and at local preschools and childcare centers, her aunt taught at schools in Atlantic and Walker and Mary, daughter of Nancy and Walter Coziahr, is a retired science teacher. Walter served on an advisory committee for vocational education in Council Bluffs Community School District, and David has served on the Council Bluffs Board of Education for 17 years and is currently vice president of the board.
As far as trades, Walter's father founded Coziahr Heating and Air Conditioning in 1936, he took it over when his father died and David Coziahr took it over when Walter retired, Nancy Coziahr said.
"To express my feelings of thanksgiving in words pales in comparison to the deep gratitude I have for the countless people who raised me up," said David Coziahr in the press release. "Giving back to the community is a way of life in our family, and while financially that has not been our main source of giving, our volunteerism to the causes most dear to us, both individually and collectively, is."
"As a graduate of Thomas Jefferson myself, I relate to the deep sense of pride for the school that the Thomas (and) Coziahr families share," said Chris LaFerla, executive director of the foundation, in the release. "This scholarship endowment will exist in perpetuity and impact the lives of countless future graduates."