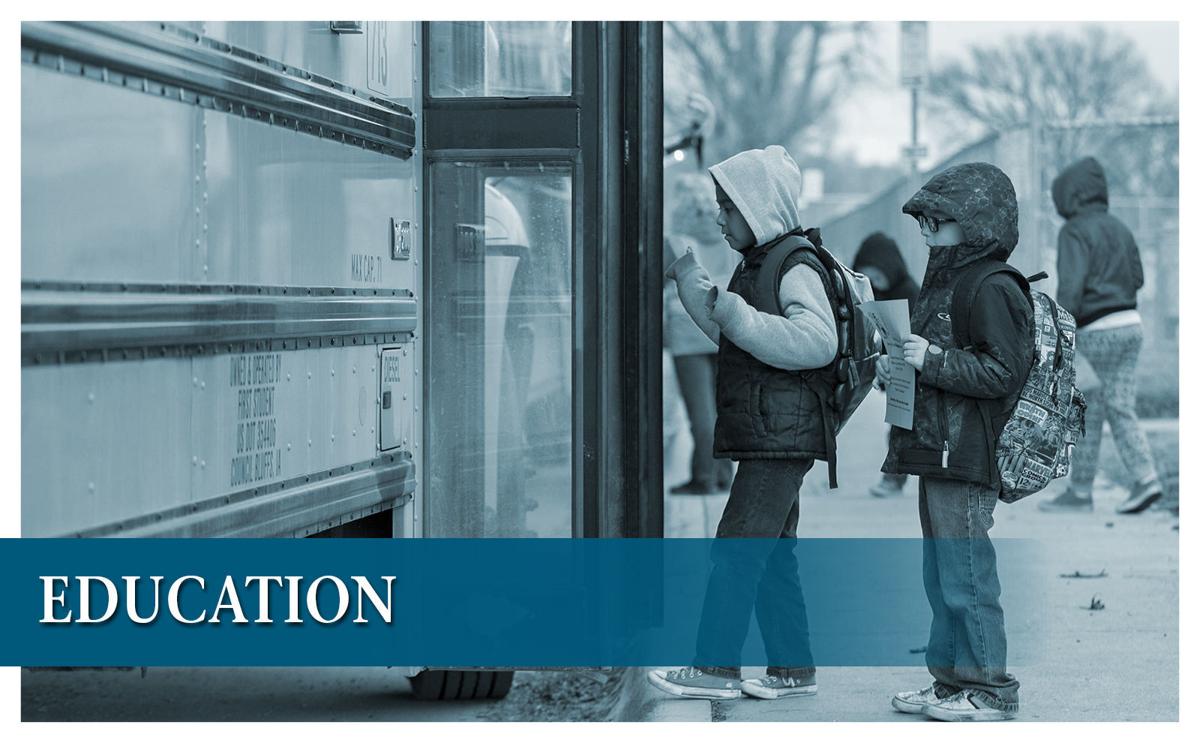 Iowa is among 11 states to be awarded a grant to make sure the COVID-19 pandemic doesn't stop the high school classes of 2020 and 2021 from enrolling in education and training beyond high school.
Iowa was chosen through a competitive process by the National College Access Network and with funding provided by the Kresge Foundation's Education Program. The recipient of the $50,000 grant was the Iowa College Access Network, a statewide nonprofit organization dedicated to improving college and career readiness for all Iowans, according to a press release from ICAN.
COVID-19 has caused many disruptions to the planning process among Iowa students and their families, leading to a large decline in financial aid applications and pointing to lower college enrollments, the press release stated. The Iowa Initiative will amplify the current FAFSA Ready Iowa program and specifically target members of the Class of 2021 and 2020 who are college-bound but have yet to apply for financial aid through the Free Application for Federal Student Aid.
"It has been a difficult year with many students delaying decisions and putting off steps in the process that will help them succeed after high school," stated Rob Miller, president of ICAN. "In a normal year, 78% of Iowa high school seniors go on to college and 60% of those seniors file a FAFSA form. Currently only 45% of high school seniors have filed the FAFSA this year, which is concerning."
Lewis Central Community School District Eric Knost said he does not expect a drop in postsecondary enrollment among Lewis Central High School 2021 graduates.
"If there is, and if it were significant, then yes, I would have some concerns and would want to look further into the matter," he said. "We do work with ICAN through Iowa Western Community College, and we appreciate their efforts to help soon-to-be graduates find their pathway to a post-high school experience.
"Postsecondary experiences come in many varieties for our graduates, and some take different routes, like getting directly involved with the trades, serving our country, helping with a family business and so much more," Knost said.
"The FAFSA completion rate is yet another reason why it is so important that we provide students with access to postsecondary opportunities while they are still in high school," said Corey Vorthmann, chief academic officer for Council Bluffs Community Schools. "Our Plus One Pathways provide students with the ability to earn work-ready credentials, college credit and even postsecondary degrees at no cost while we are able to support them along the journey."
The pandemic apparently knocked down the number of 2020 graduates who enrolled in college for that fall nationally. Enrollment in postsecondary education last fall by 2020 graduates was down 6.8% — an unprecedented one-year drop, according to the National Student Clearinghouse. The National Student Clearinghouse Research Center collects data from almost 3,600 postsecondary institutions representing 97% of enrollment in postsecondary, degree-granting institutions.
Community colleges saw the biggest drop, with enrollment by new graduates falling 18% among students from low-income schools and 8.8% among students from higher-income schools, the National Student Clearinghouse stated in an updated report released in March.
The FAFSA form has long been a key indicator of post-high school success, according to ICAN. Data indicates that students filing the FAFSA are more likely to immediately enroll in an education or training program following high school. It is this connection between FAFSA completion and college attainment that ICAN will focus on in the coming months through this grant program.
"Iowa traditionally has a strong FAFSA completion initiative that in normal years allows for community- and school-based events to take place across Iowa, providing face-to-face assistance to families." explained Miller. "The pandemic made many of these events impossible to hold. Coupled with delays in planning by students, the Class of 2021 is just behind. We plan to change that through this grant program."
Research indicates that students who delay enrollment in a postsecondary education or training program after high school are 64% less likely than their "on-time" peers to complete a bachelor's degree and 18% less likely to complete any credential.
ICAN, in partnership with state and community organizations, as well as 49 high schools across Iowa, will use targeted strategies and statewide virtual and in-person events to reach members of the Class of 2021 who still need to file the FAFSA and provide assistance. The goal through this program is to return Iowa to pre-pandemic completion levels of 60% or more.
"Iowa College Aid is eager to support these efforts to increase FAFSA completion in Iowa," said Dr. Mark Wiederspan, executive director of Iowa College Aid. "We know from our research that filing the FAFSA increases the likelihood that a student will go to college. We're ready to provide resources for students and families, for schools and for communities to make sure Iowans know how to take this important step."
Utilizing FAFSA completion date supplied by Iowa College Aid, ICAN and its partnering high schools will work to target members of the Class of 2021 that are still determining their path after high school graduation.
"We had 26 high schools across Iowa volunteer to participate in the grant program, along with five community-based Local College Access Networks that represent an additional 23 high schools." stated Miller. "Each community has strategic benchmarks to increase their FAFSA completion rates and help their college-bound students complete the final steps before high school graduation."
The grant will also assist special populations and members of the Class of 2020 who may have delayed planning for a year due to the pandemic. Special summer and statewide events will be geared to assist any students still in need of assistance following Class of 2021 graduation.
The grant program runs through Aug. 31. ICAN is partnering with Iowa College Aid, the Iowa School Counselor Association, the Iowa Association of Student Financial Aid Administrators, Carroll Regional College Access Network, Mason City College Access Network, Black Hawk County Local College Access Network, Dubuque College Access Network, Aligned Impact Muscatine County, as well as 26 individual high schools, including Fremont Mills, Lewis Central and Logan-Magnolia High Schools in southwest Iowa.