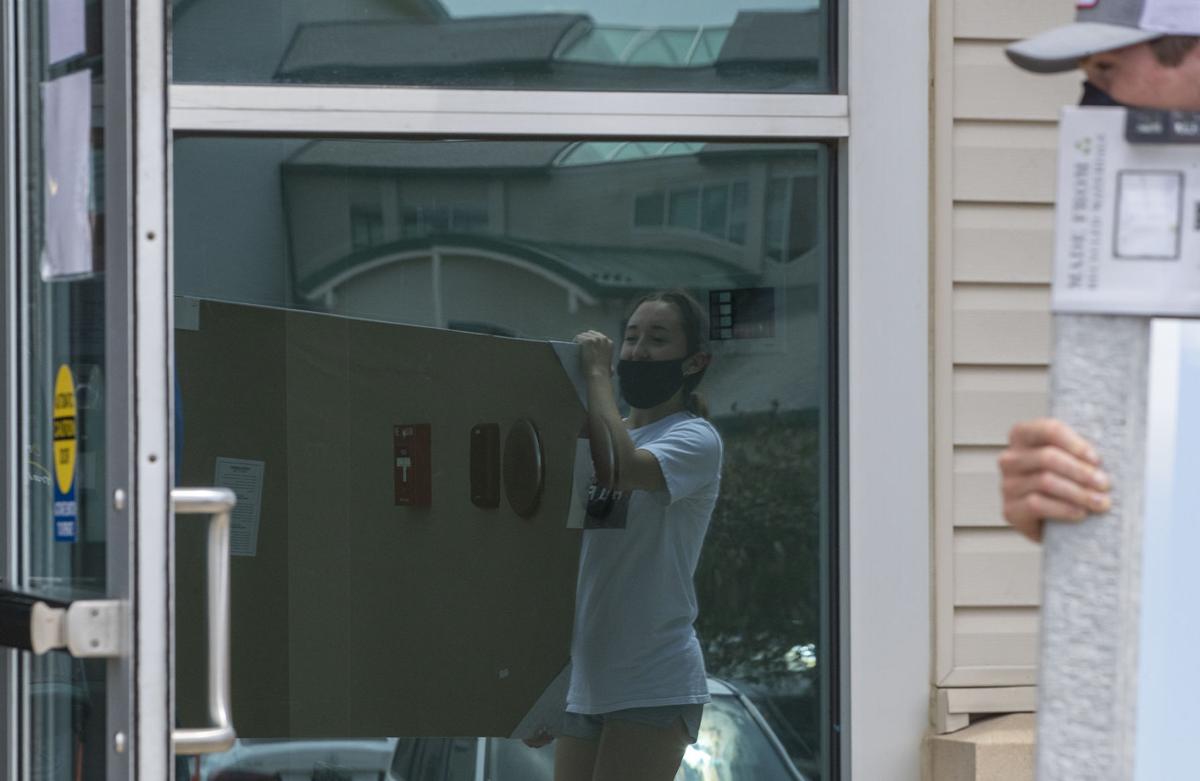 Iowa's community colleges have demonstrated their resilience during the COVID-19 pandemic and remain in a strong position to train the state's workforce and help their graduates prosper.
They adapted quickly last spring when the pandemic forced them to move most instruction online so students could safely stay on schedule with program requirements, according to the Iowa Department of Education's "Annual Condition of Iowa's Community Colleges" report, based primarily on data the department receives from the state's community colleges through the community college management information system.
Although enrollment was down slightly in 2020, the community college system continues to be the state's largest educator of postsecondary students.
"Iowa's 15 community colleges educate over half (51.3%) of all Iowa residents enrolled in public or private two- and four-year postsecondary institutions in the state, exceeding the national average of 41% reported by the American Association of Community Colleges," the report stated. "Iowa's community colleges are responsive to local communities and provide an open door to all who desire to learn, regardless of education level, background or socioeconomic status."
The colleges are responsive to the needs of employers and help students develop the skills they need to succeed — whether that is by transferring to four-year colleges and universities to complete bachelor's degrees or by directly entering the workforce by completing the increasingly popular career-technical programs at community colleges.
"Iowa's 15 locally governed community colleges play vital roles in the economic development of their communities and the state," the report stated. "By working together and forming connections with local business and industry, community organizations, state agencies and other key stakeholders, Iowa's community colleges are tightly linked to regional economic development and labor force needs and well positioned to collaboratively address statewide challenges.
"As key partners in statewide industry, workforce and education initiatives, Iowa's community colleges provide individuals with access to high-quality education and training to ensure employers have a pipeline of skilled workers that meet their specific needs."
The state's community colleges are a good value to taxpayers and students, according to the report.
"For every dollar of public money spent on educating students at Iowa's community colleges, taxpayers receive an average return of $3.50 over the working lives of the students … Over a working lifetime, the average associate degree completer will see an increase in earnings amounting to an undiscounted value of approximately $418,000," the report stated.
Enrollment
Enrollment in credit classes was down 1.3%, with 127,013 students taking 1,673,726 credit hours (fall 2019 through summer 2020). At Iowa Western Community College, fall 2020 enrollment totaled 5,791 students, down 186 students, or 3.1%. Credit hours were 54,828, down 2,644 hours, or 4.6%.
Iowa Western Community College President Daniel Kinney said he thinks enrollment will rebound this fall. Students are getting used to the COVID-19 protocols, and vaccines are being rolled out that will eventually reduce or eliminate the need for those.
"We've got a great future ahead of us here at Iowa Western," he said. "We're still going to have some of the virtual instruction, but we'll get back to more face-to-face. The economy will continue to build back. We're going to be able to get our campus back to more normal than we've been since March 13," when community colleges closed because of the pandemic and switched to online instruction."
Still, Kinney thinks technology will continue to play a bigger role in education after the pandemic than it did before, he said.
"I think we've learned a lot from this," he said.
Students enrolled in both high school and college through dual-credit courses have become a major part of the student population at the state's community colleges. Statewide, joint enrollment was up 2.4%, with 51,800 high school students comprising 40.8% of total students and 25.6% of credit hours, the report stated. Over a five-year period (2015 through 2019), joint enrollment increased by 45%.
At Iowa Western, joint enrollment, which had been increasing, was down by 24 students, or 1.1%, and credit hours of jointly enrolled students were down 140, or 1.2%.
Still, Kinney expects that area to continue to grow as high schools focus more on career tracks.
"I think we're already seeing that this semester," he said. "I think we're going to continue to build some strong relationships" with area high schools.
Statewide, online courses made up 37.9% of enrollment; 54.8% of students took at least one course online. At Iowa Western, online courses accounted for 57% of enrollment.
Credit enrollees broke down into arts and sciences, 27.2%; career-technical, 22.5%, with 35.1% in health sciences; 6.8% in developmental education, down 13%; and adult education-literacy, down 16.4%, with a total of 13,843 students.
Noncredit enrollment across the state decreased 23.2%, with 145,814 students receiving 4.5 million contact hours of instruction.
Demographics
The average age of students taking credit classes at Iowa's community colleges is 21.3 years. Statewide, women make up 55.8% of those taking credit classes. Among joint-enrollment students, females made up 52.5%. At Iowa Western, 58% of the students are women.
Minority students comprised a record 23.1% of the for-credit students, the report stated. However, in 2010, the Department of Education changed recording methods, allowing students to identify themselves under multiple racial/ethnic categories. At Iowa Western, minorities made up 22.2% of the student population. Minority joint-enrolled students made up 16.4%.
Most noncredit students (57%) did not report their race or ethnicity, but among those who did, 9.3% were Latino, 8.7% were African American and 2.1% were of Asian descent.
Career-Technical Education award programs/options
At Iowa Western, career-technical programs showed growth in fall 2020. Students numbered 1,771, up by 126, or 7%, and credit hours totaled 19,805.5, up by 437.5, or 2%.
Kinney thinks career-technical programs will continue to grow.
"We've seen more and more students moving into that area," he said.
Iowa Western is competitive with its counterparts in Iowa on its career-technical award offerings – the combined total of degrees, diplomas and certificates.
High: Des Moines Area Community College, 206
Low: Southwestern Community College, 35
Iowa Central Community College, 75
Iowa Western introduced five new programs in 2019-20 (the Natural Gas Technician program was postponed) – more than any other community college in the state. Next wereDMACC, which added four; and Iowa Central, which added three. Iowa Western added the following programs:
• Construction Management: Iowa Western added a two-year degree program to the diploma it already offered, according to Dean Matt Mancuso.
Welding Technology: Iowa Western added a diploma program to the certificate it was offering. The diploma includes work in metallurgy and fabrication, he said.
• Plumbing Technology: This is a brand-new area offering both a certificate and a diploma.
• Civil Engineering Technician: The college added a diploma program to the certificate program it had in place, Mancuso said.
• Cyber Security Technology: The college converted this program from a transfer program to an associate degree program.
• Natural Gas Technician: This program is being finalized and will start this fall.
Many of the classes are offered in the evening so working people can enhance their skills.
The civil engineering technician diploma program, like the plumbing program, had a "soft start" because of the pandemic, Mancuso said.
"It was brought forth to me about two years ago by some companies that they were having a hard time finding people for that," he said.
The program includes computer-aided drafting, as does the construction management degree, along with an introduction to surveying, Mancuso said.
The cyber security program was changed from a transfer program to an associate degree program, he said. The new program includes more courses so students are better prepared to directly enter the workforce.
"We were finding students hadn't been doing the transfer," Mancuso said.
Iowa Western is still working on the new natural gas technician program in partnership with Black Hills Energy and postponed its launch until this fall, he said.
Success/Completion
Of all the career-technical education degrees/certificates awarded, 37.9% were in health sciences.
Statewide, of the minority students who earned awards in career-technical programs, 41.6% were Latino and 30.7% were African American.
About 64.2% of students earned an award within six years — well above the national average of 50.4%.
Cost/Aid
Average in-state tuition in 2020-21 is $179.38 per credit hour, a 3.3% increase from 2019-20. At Iowa Western, tuition is $187 per credit hour. The rate increased by $9 per credit hour for the second year in a row. In fall 2018, it jumped $11 per credit hour.
Statewide, the average 2020-21 cost for in-state tuition and mandatory fees per credit hour is $194.48. The lowest is Des Moines Area Community College at $170, and the highest is Iowa Lakes at $211.25. Iowa Western and Iowa Central tied at $204.
The federal government is by far the biggest source of financial aid for community college students, totaling $222.3 million. Aid from the colleges amounts to $24.1 million. State aid is about $5 million. The rest, $15.5 million, comes from foundations and private funds and donations.
Skilled worker/ Job creation fund
Tuition assistance for noncredit classes/training went to 898 GAP students based on need. There were 2,675 students in training. Work-based learning for students and teachers through the Iowa Intermediary Network aided 90,152 students.
The community colleges also offer training on contract for employers — some on site and some at their campuses.
That will be the subject of a future Nonpareil article.