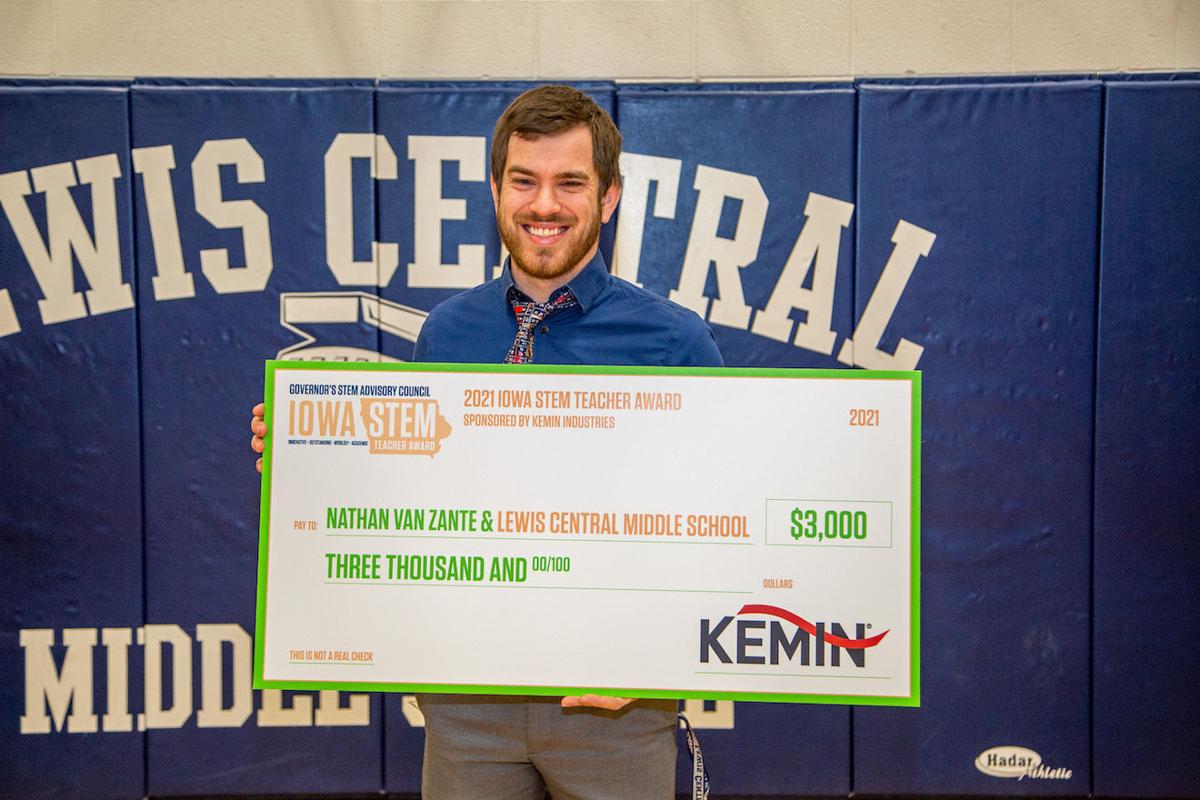 A Lewis Central Middle School teacher has won a state award for his STEM teaching.
Nathan Van Zante, eighth grade science teacher at LCMS, has been selected for the 2021 Iowa STEM Teacher Award for the Southwest Iowa Region, according to a joint press release from the Governor's STEM Advisory Council and sponsor Kemin Industries. With the award, Van Zante will receive $1,500 to use for his classroom and $1,500 for personal use.
The honor is given annually to one preK-12 teacher in each of Iowa's six STEM regions who goes above and beyond to inspire student interest in and awareness of science, technology, engineering and mathematics, the press release stated. It celebrates innovative teachers who help their students understand science, technology, engineering and mathematics are more than just academic subjects. STEM skills are essential life skills, helping prepare students for jobs of the future.
"Not only does Mr. Van Zante make science fun through interesting phenomena but he gives students a wide entry point into his lessons," instructional coach Cheryl Laughlin wrote in her nomination. "Learning occurs through highly engaging experiences, no matter what level of science knowledge his students had when they walked into his classroom.
"His passion for teaching science even continues beyond the school day, as evidenced by an after-school manufacturing and recycling program called Titan Plastics," Laughlin stated. "Mr. V. rocks!"
Van Zante has completed three STEM Teacher Externships offered through the STEM Advisory Council. LCMS received a STEM BEST (Business Engaging Students and Teachers) award and $25,000 grant last year from the council. The Titan Plastics Club, cosponsored by Van Zante, Project Lead the Way teacher Dustan Kern and science teacher Lynn Moen, makes plastic objects by melting and molding plastic bags and keyboards with machines built by teachers and students.
Members made paint trays for the school's art teachers and have also made plastic bowls and other items. The teachers also taught students to make face shields using melted keyboards, a mold for the frames from Red Oak Fabrication and clear plastic from Taylor Plastics. The students got to tour Red Oak Fabrication, Decker Plastics and the Council Bluffs Recycling Center.
Van Zante took electrical technology courses at Metropolitan Community College and now teaches wiring principles to his science students. He also attends maker fairs and STEM festivals throughout Iowa and Nebraska and in Kansas City and teaches principles of electromagnetism.
This is Van Zante's sixth year teaching and his second year at Lewis Central. Before coming to Council Bluffs, he taught science at Southwest Valley Middle School in Villisca, where he sponsored a nutrient utilization project.
"That is where students developed a strategy to take excess nutrients from Iowa's waters and grow produce, effectively cleaning the water while growing food," he said. "It became such a big deal that the eighth-graders were invited to present at Partnership Day at the State Capitol."